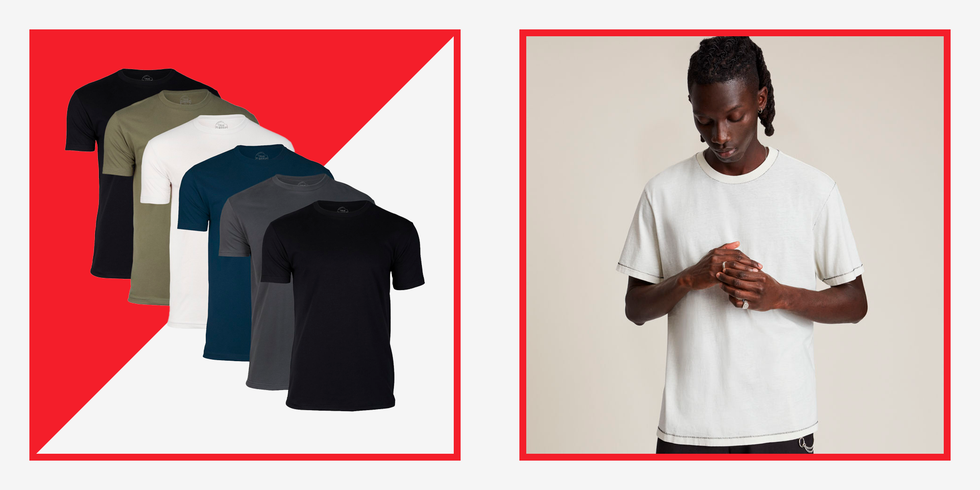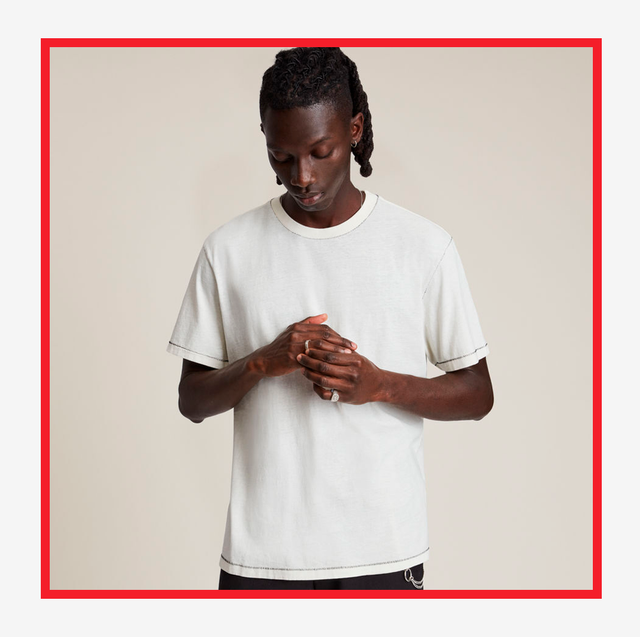 Courtesy of Retailer
T-shirts are a quintessential wardrobe staple for any man. Tees are likely the most stocked item in your wardrobe, taking you anywhere from the gym to the bar to work to a date night. Given the versatility (or versaitli-tee), there's always room for more basic T-shirts in any guy's collection. The hunt for the perfect T-shirt seemingly never ends.
That said, there are T-shirt styles for every moment in life, like luxe tees that go with suits, slubby tees that go with jeans, and (subtle) graphic tees that go everywhere in between. There are soft T-shirts for sleeping, moisture-wicking T-shirts for running, and solid undershirts for just hanging at home in your favorite sweatpants.
Of course, with all of that variety, that means there are a lot of T-shirts to choose from. After all, every single top clothing brand for men stocks at least a handful of tees. Picking out the best of the best can be damn near impossible and extremely overwhelming, especially if you hate browsing countless websites filled with almost too many options. Just trying to find the best T-shirts for men on Amazon is enough to make anyone rage.
So, let's narrow it down. The top brands below make some of the best T-shirts on the market, giving you options for any price and any occasion. Check out these 35 top T-shirts for men, including options from brands like Buck Mason, Everlane, Calvin Klein, and yes, even Amazon.
The Best T-Shirts for Men To Buy Now
Silver Crew Neck T-Shirt
If you are a one-and-done type of shopper, this tee from Mack Weldon is available in every color you need, from standard white to a cool navy. Made with antimicrobial fabric, this doubles as a reliable workout shirt, too.
Read more: Best Workout Clothes for Men
Men's Crew T-Shirts
Need to stock up on T-shirts? Gildan has you covered with this bestselling multipack, which has received plenty of five-star reviews on Amazon for its softness and easy-to-move-in fit.
Read more: Best Shirts for Men
Strato Tech Tee
Vuori, one of our favorite athleisure brands, uses moisture-wicking tech fabric in its signature crewneck tee, providing unparalleled comfort while you're running a 5K or just running errands. The slim fit elevates this pick from a standard athletic shirt to something you can actually wear out.
Best Overall T-Shirt for Men
Pima Curved Hem Tee
Buck Mason's T-shirts are the kind of shirts that will make even the biggest T-shirt skeptic say, "I didn't know T-shirts could be like this." It is expertly constructed and it actually lasts—a quality not easily attributed to tees.
The Staple Set, 6-Pack
If you are a one-and-done type of shopper, this tee set from True Classics gives you every color you need. From standard white to rich olive to two black tees, the six-pack set is a cheap way to bulk up your wardrobe for only $18 per high-quality tee.
Best Luxe Tee
Lyocell and Cotton-Blend Jersey T-Shirt
If you want to feel what it's like to be a celebrity, just slip on this Tom Ford tee. The Lyocell and cotton-blend tee is super soft, and the cut is impeccable. Like you'd expect anything less from Tom Ford…
Best Fitting T-Shirt
The Fundamental V-Neck T-Shirt
Lululemon takes the cake for making the best-fitting and flattering T-shirts. This basic tee especially has just the right weight to make it feel like a real shirt and not something sloppy.
Brace Tonic Slim Fit Crewneck T-Shirt
With a casual lived-in look, this tee by AllSaints is perfect for a casual day out. The contrasting black stitching and slightly textured material add something special to an otherwise standard white tee.
Slub Pocket Tee
Forty Five's tees are made to feel and fit as if you already owned them forever. Cut and pressed in Los Angeles's Fashion District, this front pocket shirt is as soft and breezy as they come.
Basic Slim-Fit T-Shirt
Made of stretchy cotton, Zara's slim-fit tees are a top-seller for a reason. Available in seven colors, this T-shirt is a staple that won't break the bank but will outlast those cheap tees from big box stores.
Best Moisture-Wicking T-Shirt
Ready Set Tee
Outdoor Voices is a savior when it comes to tees that need to take on sweating, lounging, and running errands. This tee looks good doing all of them—and won't let on that you haven't showered yet.
Best V-Neck T-Shirt
The Organic Cotton V-Neck Tee
You can never have enough white tees. If you want to stock up on a bunch of tees of all colors and fits, Everlane is one of the best T-shirt brands for men. Go there for your everyday V-necks and crewnecks in your go-to colors.
Best T-Shirt Under $10
T-shirt
Uniqlo T-shirts are a staple among fashion-forward folk. They are exquisitely priced (most less than $10!), and the brand is constantly dropping cool colors to refresh your wardrobe. The shirts tend to last only a season, but you won't mind it if you've been sweating in it this winter.
Clothing Curve Hem Tee
If you're always tugging at the hem of your shirts, consider looking at tees that change it up. Cuts Clothing makes a tee with a curved hem, so it'll sit nicely in the front and back without getting wedged up on the sides.
Basic Jersey Tee in Black
The Todd Snyder + Champion collaboration is the men's gift that keeps on giving, especially when you're shopping for the best-fitting T-shirts. These tees are super soft but not sloppy, feeling fitted but never clingy.
Men's Cotton Classics
Calvin Klein is a perennial favorite for all occasions, including and especially as underwear. Wear it around the house or as an undershirt that can, if need be, also see the light of day.
Read more: Best Online Clothing Stores for Men
Cotton-Jersey T-Shirt
Mr P.'s signature cotton-jersey fabric makes for one good-feeling tee. This is the kind you wear for work or out for drinks. It has a little more weight to it, so it'll lay nicely with your jeans.
New Order Power, Corruption & Lies Tee
Sometimes graphic tees are very bad—but sometimes they're fun. A subtle image makes all the difference in towing the line. Urban Outfitters makes a ton of low-key graphic tees, and a homage to New Order is never a bad idea.
Tagless Undershirt
If you're not hanging around in Hanes undershirts 80% of the time while staying at home, what are you doing?? Give the ole white ones a rest with a new set of basic colors that won't wear quite as fast.
Tri-Blend Scallop V-Neck T-Shirt
Shorter guys will find plenty to love about the neck-lengthening benefits of V-neck tees. This one from Good Life Clothing comes in plenty of colors, and is cut in all the right places.
Essential Crew
Plain white tees are a lot more interesting when you expand your range of white. This Kotn tee leans a little more on the cream side but wears with all other colors, giving your look serious casual vibes.
Garment-Dyed Slub T-Shirt
Speaking of classics, J.Crew makes the best white T-shirts ever. This slub pocket tee is classic for warmer months. Wear it with dark jeans, printed trunks, or under your favorite denim jacket.
Classic Cotton T-Shirt
Like graphics, some T-shirt designs come in and out of style faster than you'd want to buy new tees for them. But the best forever-fashionable T-shirt design? A simple navy and white stripe. Sunspel makes an expertly fitted one that is worth every last cent.
Principle base tee
Leave it to Rag & Bone to design a base T-shirt that's stylish enough to be worn on its own. Plus it's slim enough to wear under your favorite winter sweaters.
Prospect Tee
Brooklinen not only sells killer bedding but also stocks award-winning loungewear too. This tee is ideal for lounging without feeling guilty about it. Hey, it's important to not feel sloppy even while doing nothing.
Relaxed Tee
You need a few long sleeve tees for certain occasions, and Madewell's take is a classic. Wear it with shorts for cooler evenings or while hanging in your backyard.
T-Shirt
Cotton Citizen is another high-quality T-shirt brand worth investing in. Wear these tees when you could get away with wearing a shirt with buttons but aren't trying to. This super soft pick is about as fancy as a tee can get.
Second Skin Moroccan Tee
Tommy John makes the silkiest loungewear, aptly naming this line "second skin." The notch in the neckline makes it feel a little different—and sexier—than all your other tees.
Regular T-Shirt
Vince makes some high-quality T-shirts that are perfect alternatives to more dressed up shirts. Wear this with suit with your favorite jeans, or layered under a leather jacket.
T-Shirt
Maybe you think you've felt softness before. Softwear tees are softer. They are made with siro modal and a little bit of spandex for the ultimate stretch. Wear this for next-level lounging.
Silk Cut Crew Shirt
If you're looking for a tee that can double as an undershirt, this Tani USA pick is it. It's super soft but form-fitting. Wear it under a sweater or all on its own.
Pima Long Sleeve T-Shirt
If you've been sleeping on Mack Weldon, it's time to come to. The tees here are ideal for that "I might take a nap or I might go run errands" mood.
Triblend Scallop Long Sleeve T-Shirt
If you're looking to level up your go-to tees, might we suggest doing so with Goodlife? These T-shirts are a little pricier than your standard tee, but not too out there. Get one in your favorite color and sleeve length for testing.
The Men's Classic T-Shirt
Lightweight T-shirts are hard to make well, and Bleusalt absolutely nailed it. This tee is airy and anti-microbial but far from too thin. Buy it and treasure it.
LOUNGEWEAR Adicolor Essentials Trefoil Tee
You already know and love T-shirts, so they are the perfect vehicle to try out new details. This slightly oversized tee is the advanced way to pull off a simple T-shirt.
This content is created and maintained by a third party, and imported onto this page to help users provide their email addresses. You may be able to find more information about this and similar content at piano.io