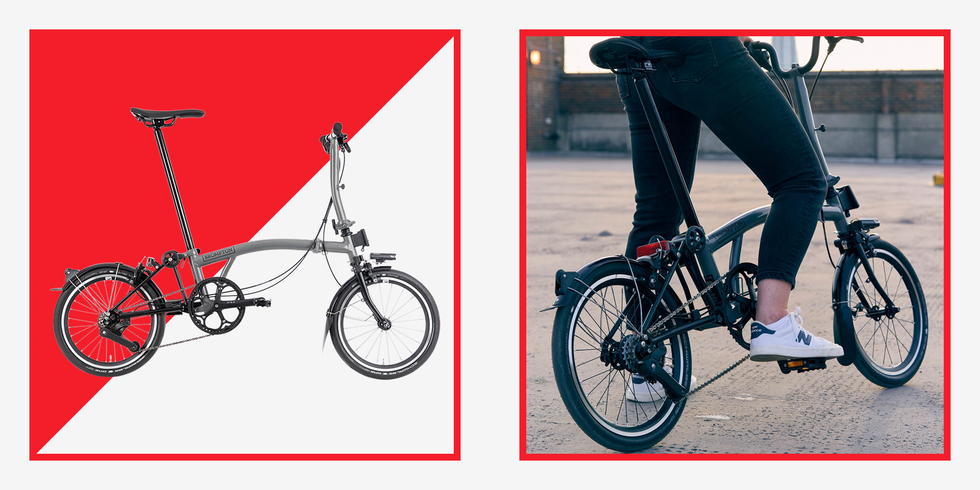 In theory, commuting to and from every location on a bike is a fun idea. It's active, giving you the chance to rack up those cycling miles, and it's good for the environment. Plus, while you're outside, you can take in the fresh air knowing you're saving what you'd otherwise spend on other modes of transportation. If you're asking me, that's enough to get on a set of wheels. In practice, though, it can get a little complicated.
I moved to New York from Los Angeles (where driving is more or less the only way to get around) thinking I'd make a seamless transition to walking and cycling. Walking I had down to a T. After all, it only required comfortable sneakers and my two legs. Using a bike, on the other hand, was another story—especially when it came to maneuvering it up and down flights of stairs and storing it in a less than spacious apartment. Then I came across the Brompton P Line, one of the brand's lightest folding bicycles to date.
Read More: Best Bicycles for Men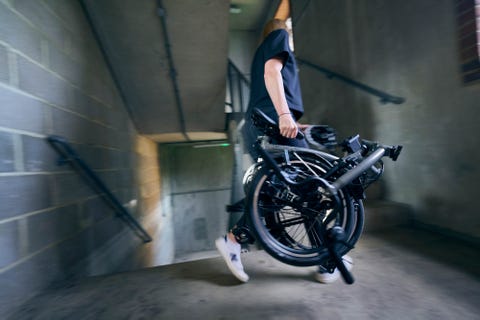 Courtesy of retailer
The Brompton Fold is Unparalleled
With as little as four steps, which will only become more fluid as you do them, the P Line is ready to ride. This isn't my first experience with a collapsible bike, but after transforming the model from a compact bundle into a functioning bike and back with ease, Brompton takes the cake. These mechanics are nothing new to the company's lineup of folding bicycles—it's what makes them a Brompton. That said, I can't ignore the swift ease of this detail. Combine that with the P Line's lightweight body, and it may be one of the smoothest transitions I've seen for a folding bike.
Read More:Best Electric Bikes for Men
What Stands Out About the P Line
I've been testing the 4-speed P Line (which takes the place of the brand's Superlight bike) for about two months now, and there's a lot to love about it—especially for those who live in major cities and find themselves short on space.
First, there's the obvious: It's really light. Weighing in at 21.8 lbs, this bike—which has a titanium rear frame and fork—feels like nothing compared to heavier options I've had to haul up and down my stairwell. In its folded state, the P Line is easy to grab by the saddle and carry anywhere, whether that's into a coffee shop or to the office. When it's open, it feels even lighter because of the weight distribution. As someone with minimal upper body strength, that's a major factor to consider when searching for a new bike.
Then, there's the size. This bike folds down to 25.3 inches tall, 23 inches wide, and 10.6 inches deep—that's just a little larger than the wheels. I've kept it neatly folded under a table at a coffee shop or next to my feet on a train car. When I'm not using it, it's tucked in a corner of my apartment. Suffice to say, this sleek little bike is rather unassuming and stays out of the way.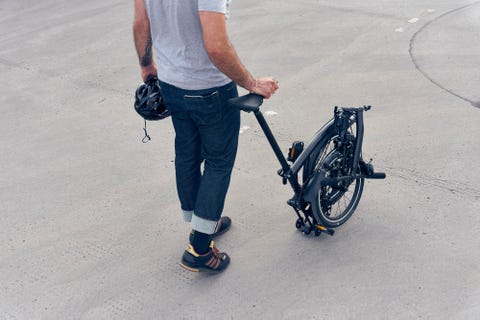 Courtesy
Read More: Best Exercise Bikes
Who is the Brompton P Line For?
Brompton kept the everyday commuter in mind when designing the P Line—and it's evident in the details. The weight and nimbleness of the bike are perfect for threading through narrow openings, and the 4-speed gear system makes it agile and zippy like a road bike. The new model also features a dual-locking seat post, so when it's positioned halfway up, you can use the saddle as a handle for better control while you wheel your folded bike with you. Under the saddle, you'll find a rubber grip meant to serve as padding for when you throw the bike over your shoulder at a moment's notice.
Brompton P Line starts at $2,965, depending on whether or not you make some additions—that's certainly nothing to scoff at. It's an investment for anyone. But if you're planning to use a bike every day, want something you can carry around with ease, and you're short on precious square footage, this may be the one for you. If your experience is anything like mine was, you may find yourself using this even more than your traditional bike.
Read More: Best Bicycle Helmets
This content is created and maintained by a third party, and imported onto this page to help users provide their email addresses. You may be able to find more information about this and similar content at piano.io