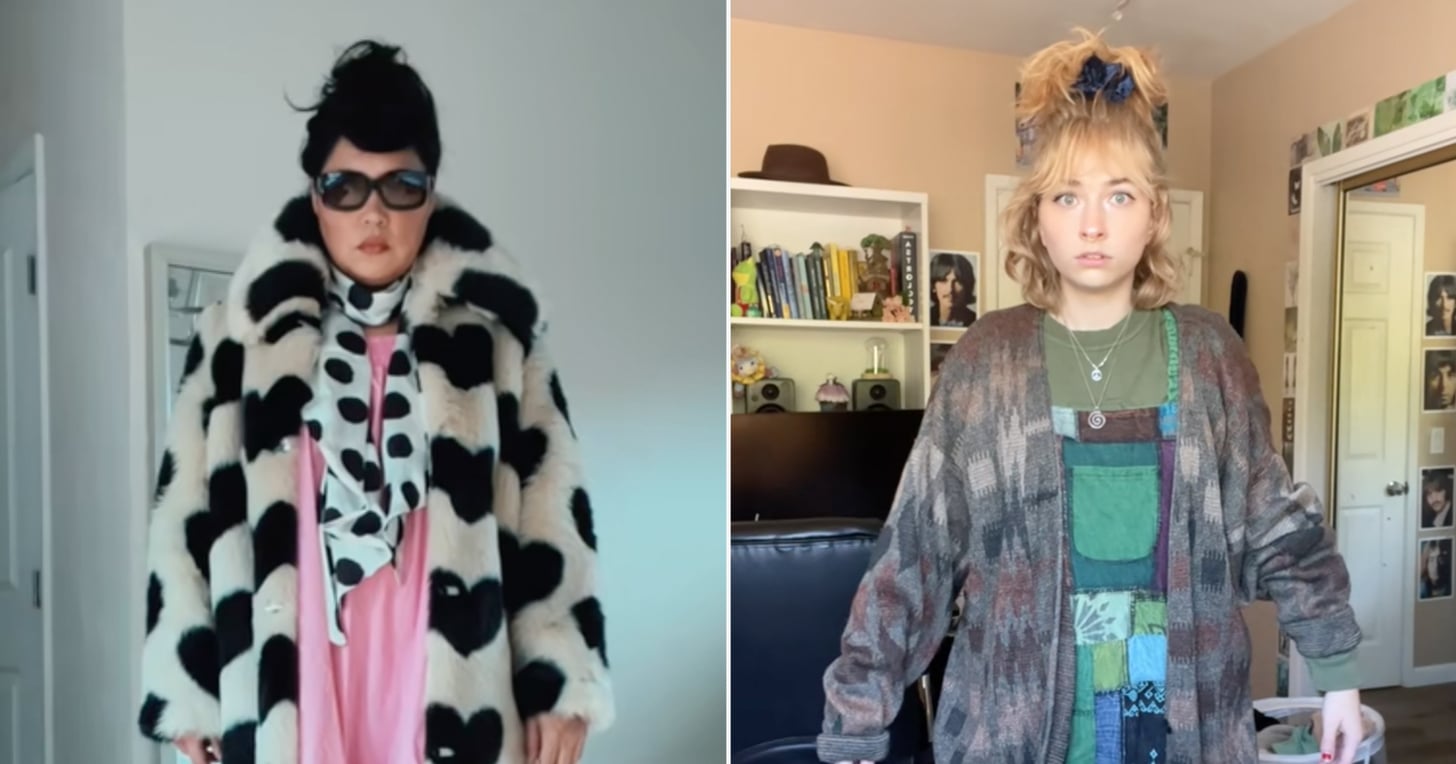 If you need a refresher on the basics of sarcasm, the latest TikTok fashion challenge has you covered. Creators on the app are sharing tutorials for "how to dress to attract a man," complete with wild outfit ideas that aren't quite what you'd expect. The trend was started by 37-year-old Veronica Shavie, who posted a now-viral tutorial back in January. "Rule No. 1: make sure your hair is always long and lustrous and never put up," she begins, setting the satirical tone by flashing her messy bun hairstyle.
"There is so much freedom and joy in completely rejecting patriarchal rules about how women should dress, speak, and behave."
Shavie goes on to offer four more style tips for winning over men, doing the exact opposite of each one as the video continues. For rule No. 3 ("footwear should be dainty and delicate"), she zooms in on her chunky Dr. Martens combat boots, and rule No. 4 ("show off that waist at all times") prompts her to show off an oversize band tee. "I got dressed and thought, this is a badass outfit and it breaks every conventional style rule," Shavie tells POPSUGAR of what inspired her to create that first video. "I hope the message is that there is so much freedom and joy in completely rejecting patriarchal rules about how women should dress, speak, and behave."
Since then, more than 9,000 TikTokers — including celebrities like Summer Walker, Olivia Rodrigo, and Hayley Kiyoko — have used her audio to create similar tutorials that give a big middle finger to the male gaze. The trend has taken on a life of its own, with some users incorporating absurd accessories like roller skates, Halloween masks, cardboard boxes, pool floats, and tutus to really drive home the point: wear whatever the hell you want, men be damned.
In total, the trend has amassed millions of views across TikTok, and Shavie says she's "not surprised" that her message is resonating. "I think women are tired!" she says. "Tired of being told everything must be flattering. Tired of being told that we should alter ourselves in some way to be more palatable and desirable to men. Tired of performative inclusivity."
It certainly struck a chord with actor and TV host Lilly Singh, who dropped her own "how to attract a man" fashion tutorial on Sept. 5 alongside a lengthy caption. "I don't know if you can relate, but this trend hits a deep place in my soul," she wrote on TikTok. "Perhaps because one of my earliest videos was 'How to be the perfect Brown girl,' which made commentary on the lengths women have to go to be accepted and desired. And even though I laugh at videos like this, the truth is, growing up I did spend a lot of time and effort into trying to be desirable." She concluded her post, "Y'all a bunch of baddies. I love women. And I love being a woman."
For Shavie, the trend's mass appeal proves positive change is afoot. "There is a shift happening. We are taking back our power, our bodies and presenting in whatever way feels authentic to us." What's not to love about that? Watch some of our favorite tutorials ahead, and create your own "how to dress to attract a man" TikTok to get in on the fun.
"How to Dress to Attract a Man" Tutorial Videos on TikTok