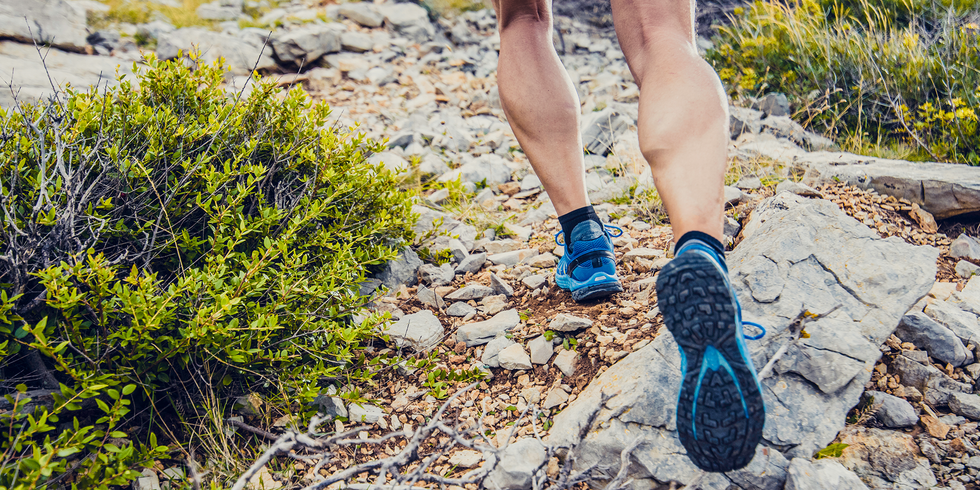 Running isn't just meant for treadmills, long roads, and blocks of city sidewalks. After all, there are plenty of places in the world that still aren't paved–and people have been running long before there were roads. You can recapture that spirit and reconnect with nature when you go on a trail run. Whether you're a hardcore devotee of the outdoor sports world or you're just looking for a laid-back adventure out in the woods, trail running can introduce entirely different elements to your runs and take you on paths you'd otherwise never follow. And to follow those paths, you'll need the right pair of trail running shoes.
Trail running shoes are different than running shoes designed to be worn on the smooth, flat surfaces trod by road runners. The surface of a field, a forest floor, or a rocky peak all present much different challenges for safe passage. So as participation in the activity grew—according to World Athletics, participation in the sport has increased at 15 percent annually in recent years, and there are currently 20 million trail runners around the world—there was a demand for specialized footwear to better handle the technical challenges presented by nature. "With this new passion of running, traditional running shoes were not advantageous to running on the rugged terrain, and the development of trail shoes blossomed," says Mark J. Mendeszoon, DPM, FACFAS, podiatrist at Precision Orthopaedic Specialties in Ohio.
You might not notice the most obvious difference between a standard road shoe and a shoe designed for trails if you look at a pair on someone's feet. Turn the shoes over and look at their bottoms to find out. "The most obvious difference will be the outer sole (rubber material) which has larger treads (lugs), which will be a bit softer so it can adapt to the different surfaces on the trails," says Mendeszoon, who also knows shoes as the owner of the Achilles Running Shop stores in Ohio and Erie, Pennsylvania. "The midsole, which provides most of a shoe's cushioning and support, will be more firm as opposed to a running shoe, as it has to provide a more stable platform."Some trail shoes will go a step further and implement a rock plate to protect the foot from rocks, sticks and ruts."This is a thin piece of plastic material between the outer sole and midsole," says Mendeszoon.
Finally, there are also a couple differences. "The tongues on the trail shoes will be a bit larger than a running shoe, as it can protect the ankle region from the trail elements," Mendeszoon continues. "And trail shoes will have longer shoe laces, as many runners like to keep their shoes on a little more firm, and this allows for multiple lace knots and the excess lacing can be placed in pockets of the shoes which minimizes getting caught on braces or sticks and minimizes falling."Having the right trail shoe is super important for trail runners, who can develop a plethora of issues and injuries."Trail runners are prone to blisters from moisture getting into shoes, and also due to waterproof materials ventilation is diminished," says Mendeszoon. "Damaged toenails are very common, as the undulating surfaces may place more stress on the toes and the pressure on the nails could cause subungual hematomas ( blood underneath nails) and cause them to fall off (onycholysis)."
How to Choose a Good Trail Running Shoe
According to Mendeszoon, there are three factors to consider if you're looking to buy a new pair of trail running shoes.
Tip #1: If a person is a pure trail rail runner, then it is important to be fitted in an aggressive tread soled shoe. If running on trails and roads, then a hybrid shoe would be beneficial as the tread pattern won't be as aggressive and a slightly softer midsole.
Tip #2: Have your feet measured in length and width, and be sure to have the proper running sock when trying on the shoes. When the proper shoe is selected, properly lace your shoes so that the shoes are fitting properly.
Tip #3: Appreciate that trail shoes will be a bit different than a road shoe, and may have and a firmer ride (i.e. the shoe may not be as flexible.) Attempt to try the shoe on alone without the need for an immediate over the counter insole, as trail running biomechanics is different from walking or road running. Having the foot being intimate with the trail surfaces is paramount. If insoles are custom, orthotics are required, and you should trial the shoes with them on.
And if you're unsure about the best fit for you, try to find a local running store.
"As with running shoes, trail runners should actually go to their local running shops and try on the different type of trail shoes. Like running shoes, they all have different fits and functions," says Mendeszoon.
Brooks Caldera 5
"This is a good shoe with high cushion, lower heel offset ( 4mm) and good for a neutral foot type," says Mendeszoon.
Terrex Two Flow Trail Running Shoes
Take to the trail with this all-surface runner designed to handle both pavement and off-road terrain. Adidas' Lightstrike cushioning provides some lightweight energy return, while a Continental rubber outsole helps to keep your footing.
Nike Wildhorse 7
Rugged, multi-directional lugs made of high-abrasion rubber on this shoe's outsole make it a beast for all kinds of tough terrain. It's not all about toughness, however—Nike React foam cushions your feet, and the mesh upper helps to keep them cool.
Altra Men's Mont Blanc
Altra's unique FootShape design is a favorite amongst serious runners, but this premium trail runner adds a flashy design that looks cool even when it's trashed from your outdoor adventures. It's no slouch performance-wise either, with lightweight foam and a Vibram sole. If you have issues with the heel, plan on wearing thick, high socks.
Men's Speedgoat 5
The latest iteration of Hoka One One's popular trail runner is lighter than any previous version, with a new double-layered jacquard mesh upper. "These shoes have a high cushion, slightly softer midsole, lower heel (4mm) and good for neutral foot type," says Mendeszoon.
Saucony Peregrine 12
Saucony's PWRTRAC outsole provides some serious traction, while a new plate keeps the ride smooth. "These shoes have a high cushion, slightly softer midsole, lower heel (4mm) and good for neutral foot type," says Mendeszoon.
Asics GT-2000 9 TRAIL
"This is 0ne of the few trail shoes providing some stability," says Mendeszoon.
New Balance Fresh Foam Hierro v6
This lightweight trail runner brings New Balance's popular Fresh Foam midsole to all types of terrain. Extra reinforcement in the toe will help you to run through anything.
Saucony Xodus 10
"These shoes have maximum cushioning, low heel offset (4mm) good for a neutral arch," says Mendeszoon.
Saloman Speedcross 5
"These shoes have good cushioning, slightly firmer midsole and sturdy outer sole," says Mendeszoon.
North Face VECTIV Enduris
Outdoor sports specialist North Face adds a performance element to the trail running world with a Dual-density 3D TPU plate and rocker midsole shape in these shoes, which look to propel the wearer forward into the next stride.
On Cloudventure Waterproof
If your run takes you through wet terrain, these waterproof lightweight trail runners can help to keep your feet dry. The stretchy 'membrane' keeps the shoes light, so you won't get bogged down when you splash along your path.
Speedland SL:HSV
Think of this premium trail runner as a customizable, off-road capable sports car. A dual BOA fit system allows you to lock down your fit without worrying about laces and a removable carbon plate allows you to customize your run. They're pricey and will only be produced on a limited basis—but you won't run in anything else like them.
Inov-8 Terraultra G 260 Men's
If you're more of a trail grinder than a speed goat, you'll appreciate how tough, sturdy, and durable these kicks can be. Heavy duty materials like graphene-enhanced rubber and even Kevlar make the shoe trail-proof. The adaptive upper, which is designed to expand with your feet as you run longer distances, make this shoe all about the rough-and-tumble nature of ultrarunning.
This content is created and maintained by a third party, and imported onto this page to help users provide their email addresses. You may be able to find more information about this and similar content at piano.io