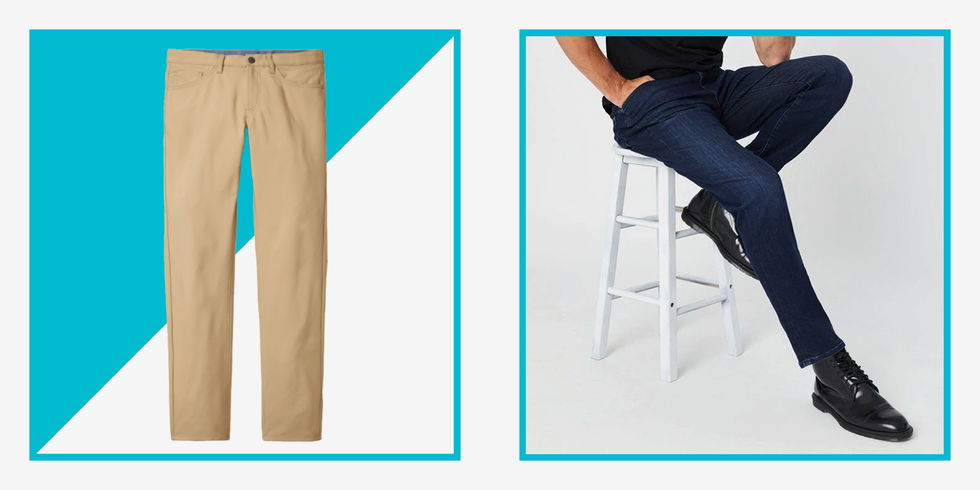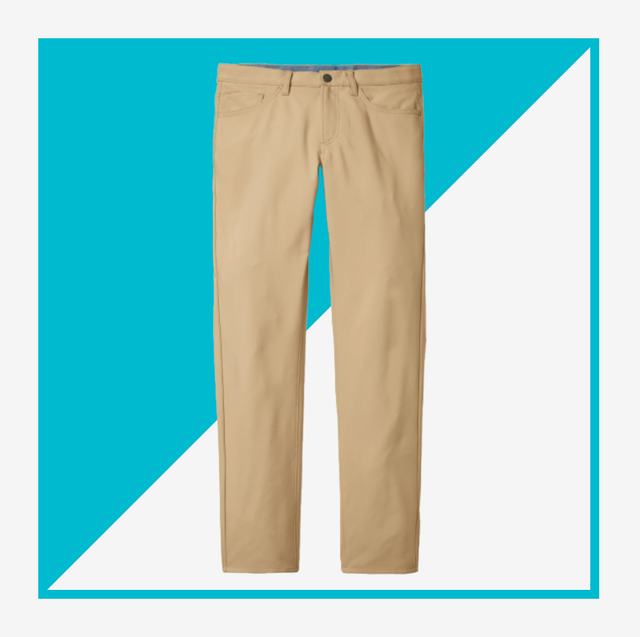 Courtesy of Retailer
There are many factors that go into making the perfect spring outfit, and the ideal pair of trousers is high on the list. Think about it. Pants more or less make up half of your look, so if you're in a style that's outdated or unflattering (like the extremely tight or baggy fits of the early aughts), your style will feel, well, off. But if you were to replace the rejects with finds that actually fit (and fit within this decade), you can turn that outfit game around in an instant.
To help you upgrade to the best pair of chinos, khakis, or trousers for your style and body type, here's a few points to keep in the back of your mind.
Length
Nothing ruins a killer pair of pants than a length that's way too long, so opt for a pair that has little to no "break" at the ankle. Basically, you want to ensure the hem skims the top of your shoes. While you may be able to forego a tailor to achieve this look, it will vary depending on your build and height. But remember, that extra $15 to hem a stylish pair of pants will make all the difference in the world, so just do it.
Waist
The key here is to find pants that truly hit right at the waistline—not too high and not suspended below the belt. For the safest bet, try a style with a mid-rise (the length between the waistband and the crotch). That said, if you're feeling a pair with a longer rise, you could get away with wearing the pants a bit higher up (and vice versa). In terms of actual fit, don't forget about the two-finger check. You shouldn't be able to fit more than two fingers in the waistband.
Style
While you should never be afraid to have fun with your pants in terms of colors and prints if it fits your style, you'll get the most mileage out of a pair in a neutral hue like black, navy, tan, or olive to pair with just about any type of top or shoes.
With that, here are the 12 best pants out there for men to upgrade their spring look.

Read more: Best Pants for Men
Stretch Washed Chinos
Featuring a flattering, slim fit, these trousers have just the right amount of stretch in the fabric to avoid feeling like a stuffed sausage. Available in several colorways, you can stock your whole closet with this perfect pant for spring.
Traveler Pant
These ultra lightweight linen pants have a relaxed fit and elastic ankles—in other words, they're perfectly suited for travel. Bring them on your vacation to throw on for dinner when it gets chilly by the beach.
Read more: Best Travel Pants for Men
ABC Pant Slim 32″ Utilitech
Weekend trips or vacations abroad, travel in style with these cool pants this spring. Lightweight, water-repelling, and with hidden zippered pockets for all your small gear—what's not to love?
Straight-Fit Washed Comfort Chino Pant
These straight-fit trousers have thousands of 5-star reviews, and we can see why: Not only are they available in practically every color under the sun, but unlike more rigid chinos, they have stretch elastane built into them for extra comfort.
Steve Dark Ink Supermove Jeans
For denim with all day comfort, go for one with a bit of elastane for extra stretch, and an athletic fit that cuts wide at the thighs. This pair from Mavi checks both boxes, and has a dark wash for your dressy outtings.
365 Pants
If you are interested in a slim-fit pant that'll skim your legs without clinging, consider this denim-like 5-pocket style in a washed, stretchy twill fabric.
Stafford Trouser
Exceptionally soft (seriously, almost sweatpants-like), these slim trousers are wildly versatile with the dark gray hue for a sophisticated vibe.
The Slim-Fit Performance Chino
When most men receive a fancy invitation to formal events, it's not the function that makes them cringe, it's the idea of being uncomfortable for hours in stiff trousers. Everlane has a solution with pants that combine a sleek, tailored look with the comfort of four-way stretch, along with moisture-wicking and quick-drying technology.
Performance Link 5-Pocket Pants
These lean, mean trousers feature a performance fabric that's stretchy and moisture-wicking like your favorite pair of joggers. After a long day at the office, you'll forget you're wearing them.
484 Slim-Fit Pant
These chinos are as easy to style as your favorite pair of jeans. Sport these on casual Friday with a printed shirt or on the weekends with a hoodie or crewneck sweater—you can't go wrong.
Loose Taper Ripstop Non-Stretch '94 Cargo Pants
Want to try out a new trend for spring? Cargos are cool again, especially when paired with a classic white tee and fresh kicks. They provide a blank canvas to really make the utilitarian pants standout for effortlessly cool style.
Read more: Best Cargo Pants for Men
Men's Relaxed Fit Washed Twill Dungaree Pant
Featuring a tough-as-hell twill fabric, these are the ultimate work pants to get you through a day onsite.
This content is created and maintained by a third party, and imported onto this page to help users provide their email addresses. You may be able to find more information about this and similar content at piano.io