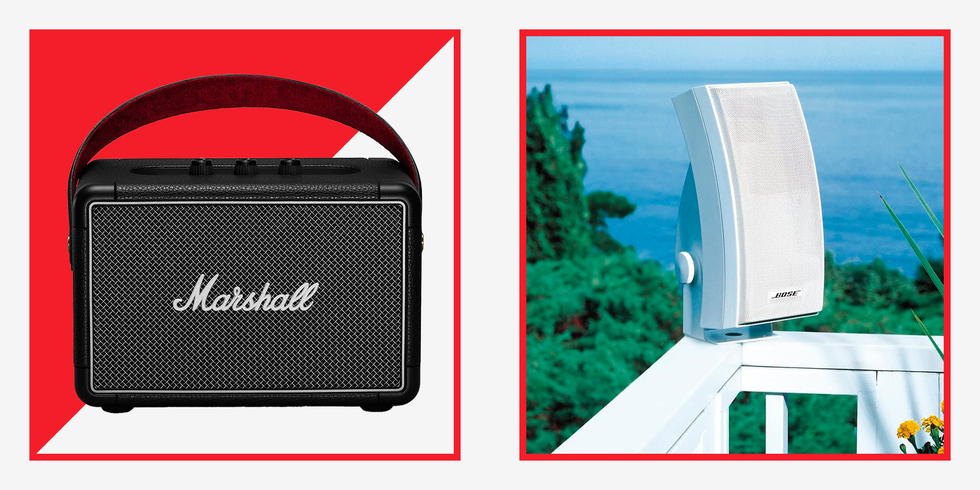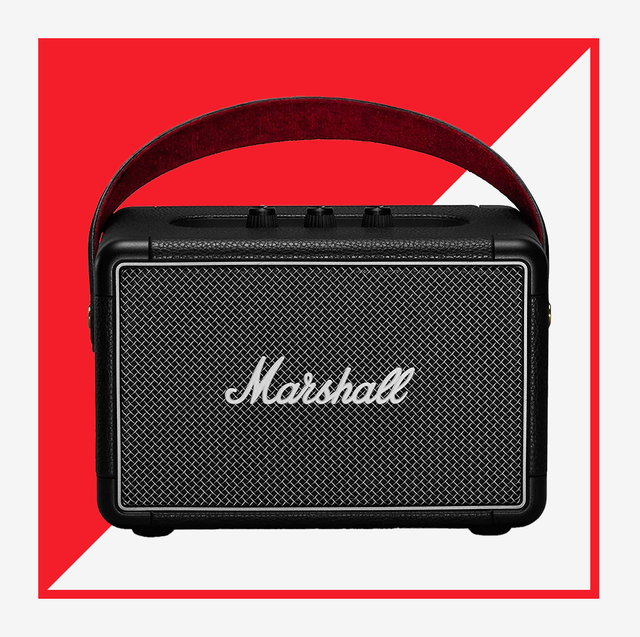 Courtesy of retailers
By now, you've turned your into everything it was destined to be—and then some. What's now a home office, a happy hour bar, and our favorite, a home gym. As you look forward to the warmer (and warmest) months of the year, chances are you've already started gearing up for all the moments you plan to spend outside.
Spring is here and summer is right on the corner, which means now's the time to grab everything you want (or need) to make the most of the seasons ahead—whether that's the best camping gear, top-notch outdoor furniture, grills and smokers, or something else. Those are all undoubtedly great things to have, and worthy of a spot in your warm-weather lineup. But if there's something that'll make using those even more enjoyable, it's a quality set of outdoor speakers.
Read more: Best Outdoor Furniture
There's no better time like the present to invest in one of the best outdoor speakers to level up your space and turn your home into an audiophile's oasis. Outdoor speakers are a huge upgrade in quality, consistency, and design to your go-to portable speaker. Lucky for you, we've done all the heavy lifting for you ( and no, we're not talking about barbells—this time). We researched and tested the best outdoor speakers of 2022 to present you with 10 options that fit your lifestyle, home, and budget.
Whether you're looking for the best waterproof speakers for a range of weather conditions, the loudest outdoor speakers for large properties, or the best portable Bluetooth speakers for a simple patio, we have you covered. We even bring you the latest rock-disguised speaker (yes, that is still a thing), high-end outdoor speaker options, and the crowd favorite as of late: the best speakers for outdoor movie nights. Whatever your hobbies may be, you're bound to find one that fits your space. After all, the most worth-it material investments are items that inspire wonderful memories with friends and family. And great outdoor speakers do just that.
Best Outdoor Speakers
Best Overall Outdoor Speakers:
251 Wall Mount Outdoor Environmental Speakers
Unless you live under a rock, you know that Bose is the leader of high-quality audio. From headphones to speakers alike, there is nothing quite like a Bose, which is why we deem the 251 Environmental Outdoor Speakers the best overall. We take into consideration value, size, design and of course, tech specs. These babies deliver a wide sound field in a compact, slim design that mounts to the wall in either white or black.
Notable features include precise multi-angled chambers that minimize audible distortion as you move around from one area to the next. Most outdoor speakers don't have this, and trust us, it makes a huge difference, especially in larger spaces. What you get is well-rounded, consistent deep bass and crystal-clear listening. They come in a pair and have been tested to withstand snow, rain, salt, and extreme temperature. They may be on the higher end, but they are pretty damn amazing.
Best Outdoor Speakers for All Weather
Atrium5 Outdoor Speakers
Polk brings a minimal design and solid sound system to any outdoor area. You get a pair of either black or white speakers that easily mount to any wall, deck, or railing. They have over 500 near perfect reviews on Amazon from users gushing over how great the sound is and comparable to Bose for a lower price point.
The sturdy brackets allow for slight rotation to optimize sound in different areas. Plus, if you get sick of the placement, you can easily demount with their patented snap and lock bracket closure. The pair delivers a super wide listening angle, making this the best option for oddly shaped areas. These speakers are made for all weather and pass the rugged durability test of withstanding extreme temperatures and heavy rain.
Most Discreet Outdoor Speakers
AWR-650 SM Outdoor Speakers
We love a party trick, especially when it involves tech. Think of the good ole fashioned rock-disguised-speaker as a part of the landscaping. While these speakers are fun to look at, they actually pack a pretty amazing sound. The AWR-650 from Klipsch delivers top of the line heavy bass for any backyard or poolside cookout in a true dual coil design.
Since they are on the heavier side compared to most top-rated speakers (13 pounds each), we recommend leaving them as stationary objects and using as a pair. However, they do require a nearby outlet, as they are not wireless. The granite-like fiber finish is weather-resistant and UV treated, perfect for permanent outdoor installation.
Read More: Best Outdoor Furniture and Decor on Amazon
Smartest Outdoor Speaker System
Move
Unless stated otherwise, most of these outdoor speakers come with wires and require some sort of DIY home installation. But the Sonos Move is quite the opposite. Coming in as the smartest system, it brings both Google Assistant and Amazon Alexa in a battery-powered, Bluetooth-enabled arrangement. Plus, it's extremely rugged with an IP56 rating, meaning it's weather and shock-resistant.
Sonos products always deliver brilliant, immersive sound to last the test of time. No wonder it's the speaker system of choice for many high-end hospitality businesses. What's even better about this is the capability to connect to a larger system for bigger land. You can even connect it to the Sonos amp, which makes this a great choice for outdoor concerts and movies. But if you go Sonos, you better be committed, because the products work exclusively through the Sonos app and operating system. This product alone can bring you 11 hours of wireless listening.
Loudest Outdoor Speaker
Boombox 2 Bluetooth Speaker
Technically, portable speakers shouldn't end up on an "outdoor speakers" roundup, but we couldn't not include the powerful sound and ruggedness of the JBL Boombox 2. Plus, it's much larger than your typical portables and with comparable sound quality to the best outdoor wire speakers, so we felt it was more than worthy of a place on this list.
At 19" wide, this speaker is bigger than most. It has a monstrous bass and 24 hours of playtime. With the IPX7 tech spec, it becomes the most durable by a landslide. You can throw this chunk of tech in the pool, sand or ocean, and it will not only survive, but thrive and continue to pump out elegant powerful sound we all know and love.
The top handle makes it a great outdoor speaker for traveling and the rounded design delivers consistent free flowing audio for a range of space. It mimics your old school boom box, but with high-tech Bluetooth capabilities and an in-house power bank feature to charge your phone.
Most Stylish Outdoor Speaker
Kilburn II Portable Bluetooth Speaker
If you're looking for an outdoor speaker that'll look as good as it sounds, the Marshall Kilburn II Speaker has a cool, retro feel that'll elevate your outdoor settings to an entirely new level.
Marshall's durable and water-resistant speaker features multi-directional sound with its stereo system. The frequency range goes from 52 to 20,000 Hz and will last for over 20 hours on a single charge (in other words, it's good). And if the battery's running low, there's a quick charge feature that'll give you two hours of playtime after 20 minutes. Of course, we can't ignore the benefits of the fact that it's wireless and portable, too.
The Kilburn II speaker also has multi-host functionality, which will make it easy to switch between devices (which means whoever wants to be the DJ for the night can do it seamlessly). So, whether you're planning to hit the road for a weekend camping trip with your friends or just want to add the right vibes to your back patio, you won't go wrong here.
Read More: Best Tech Gifts for Men
Most Portable Outdoor Speaker
Beosound Explore
If there's one speaker that can be truly considered small but mighty, it's Bang & Olufsen's new Beosound Explore. Measuring up to 5 inches with a diameter just over 3 inches, this small, sturdy speaker will fit in the palm of your hand—but once you start playing a track, it'll sound like so much more. The Beosound Explore features 360 sound with a powerful bass, so it's sure to fill any outdoor space without overbearing the scenery. Want to create an easy-to-pair, portable stereo system? All you need is a second.
As a wireless Bluetooth speaker, this speaker will go anywhere with you—especially since it'll last up to 27 hours and comes with a carabiner clip for you to hook it onto, say, a hiking backpack or a beach bag. Plus, it only weighs about 22 ounces. And just in case you weren't convinced this pretty, dust-resistant speaker was built for the outdoors, we'll enlighten you: The Beosound Explore, which was designed with a tough aluminum shell, can handle up to half an hour submerged in water and has drop resistance for up to 1.5 meters. Yeah, this thing was made for the outdoors.
AW-650 Indoor/Outdoor Speaker
If you're planning to invest in a set of outdoor speakers that are built to last, consider these from Klipsch, which live up to the brand's reputation. These mountable speakers are perfect for the audiophile who wants to spend nearly all their time outside.
Marked down at a hefty discount you'll get a pair of speakers that provide high fidelity thanks to its Tractix Horn tweeter. So, if you like to listen to music with higher sounds, this is the set for you. Plus, the hardware is stainless steel, so you won't have to worry about any rusting.
Best Budget Outdoor Speakers
NS-AW294BL Indoor Speakers
Most of the price tags of the speakers on this list are on the higher side. While we believe they are an investment that can stand the test of time, sometimes you have to compromise a few qualities to bring the price down. The best compromise we came up with is this set from Yamaha.
Both the sound quality and design are pretty advanced with a two-way bass reflex, powerful woofer for mid-to-low frequencies, and a balanced dome for crystal clear optimum placement listening. The one thing you'd be giving up is the all-weather guarantee. These can handle a splash or two, but we wouldn't leave them out all year round if you have changing seasons.
Patio Pro Speaker
Spruce up your backyard setup with these sleek, under-$200 outdoor speakers. They're built to withstand all types of weather, making them ideal for mounting outside your home—and they'll even tilt or swivel, so you can direct the sound exactly where you want it. Plus, they're completely sealed for dust, as well as water and bugs.
As for the actual sound, these will give you full, robust sound that'll fill up to around 1,500-square feet. They're also AP650, which means they're good for beats heavy on the bass. These will be a great investment that won't break the bank.
This content is created and maintained by a third party, and imported onto this page to help users provide their email addresses. You may be able to find more information about this and similar content at piano.io