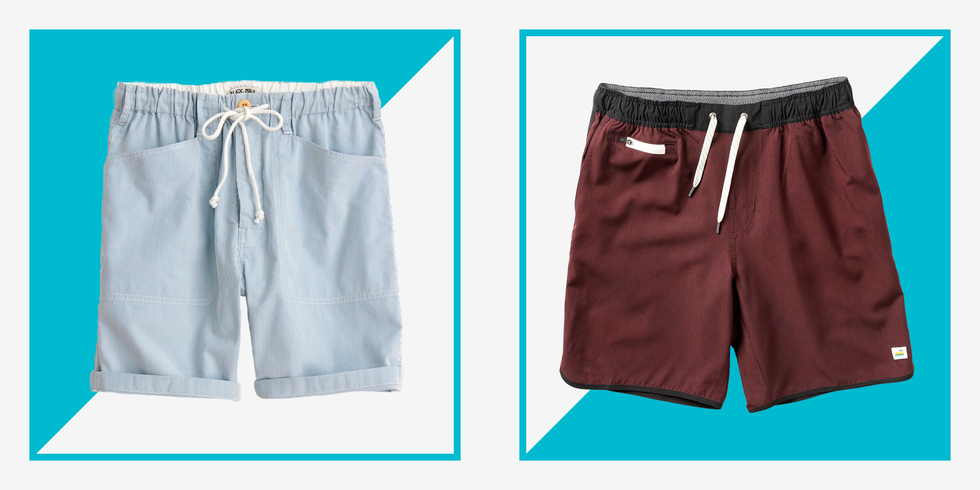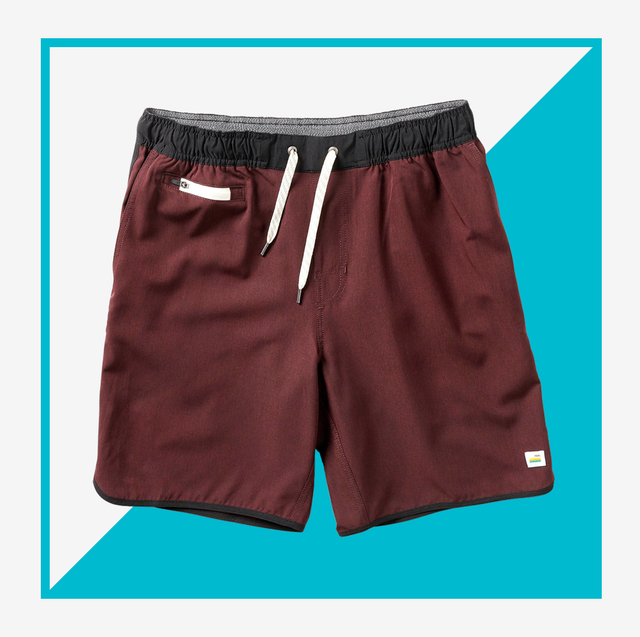 Assorted retailers
It's time to break out your best shorts for the warm weather season, but before you store away your go-to jeans and pull out any old pair of shorts in your closet, it might be time to re-think what type of men's summer shorts you'll need for any activity and occasion.
The right length and fit of your shorts make all the difference for flattering style with little-to-no effort required. No matter where you're heading, from an outdoor cookout to a day at the beach, the wrong pair of shorts will add unwanted bulk to your body (think the wrong kind of gains) and make you look shorter. If you spent the past few months taking your fitness game to the next level, why not sport the right duds to show off your hard work?
The Best Shorts to Buy Now
Types of Shorts for Men
To rely on just a simple pair of shorts for every task on you spring and summer checklist would be a mistake—a sweaty, smelling, head-turning-for-all-the-wrong-reasons type of mistake. For starters, your active lifestyle requires a few pair of go-to moisture-wicking shorts for the gym, running, cycling, hiking, and all the sweat-inducing fun in the sun to be had. If your focus is more on R&R over PRs, you still need some cool, casual stunners that have the versatility to be worn in both daytime and evening scenarios. Now that offices are re-opening and dinner plans are being scheduled, you might want to opt for a pair of sleek khaki shorts with a comfortable waistband and a hint of stretch, so you don't find yourself yearning for those comfy sweats you lived in during the WFH days of the pandemic. And speaking of sweatpants, store those bad boys for the fall, because there's a ton of sweat shorts and men's leisure shorts on the market that will keep you cool and comfy while you beat the heat. Basically, you need to build up a solid arsenal of shorts that'll make spring and summer dressing a breeze.
Men's Shorts Styles and Length

While we like to keep our style classic for the most part (because no one wants to look back on Summer 2022 pictures and cringe), there are a few men's summer shorts trends you should consider flexing this season. Probably the biggest trend is the return of the Bermuda short, which basically means it's more acceptable than ever to don some cool shorts for cocktail hour. Like the popularity of pleated trousers, pleated shorts are everywhere this season—and they happen to pair perfectly with a retro knit polo shirt and timeless loafers (think prep-school cool or so-uncool-it's-cool dad vibes). And for more casual affairs, utility shorts are like the more flattering version of early aughts cargos you never wanted to quit (but hopefully burned). For workouts, now's a great time to show your leg-day gains in some Dwayne-Johnson approved, flattering, five-inch shorties. Not into showing that much skin? The streetwear scene has been rocking some lengthier shorts that look fresh with cool socks and hyped-up sneakers. No matter your style or physique, there's a new on-trend men's shorts silhouette that's worth adding to your spring and summer wardrobe.
For any guy to look his best, check out the 22 best shorts for men to wear this spring and summer that are both flattering and comfortable.
Best Workout Shorts
Banks Shorts
Working up a sweat can bring on some unwanted odors, but not when you're wearing Vuori. These athletic shorts have the four-way stretch you need to keep moving during any intense workout session, and anti-odor technology you'll appreciate when you pack up your gym bag.
Best Five-Inch Shorts
Bowline 5″ Shorts
Guys of a shorter height can opt for a five-inch inseam to give the illusion of longer legs. While these shorts might appear to be just another average pair of khaki shorts, they have four-way stretch to provide maximum mobility and a drawstring waistband that won't accentuate any unwanted love handles—it's just like wearing gym shorts. If you're a bit more daring with your style choices, we suggest the blush-toned clay colorway.
Best-Selling Shorts for Men on Amazon
Men's 505 Regular Fit Short
Say what you will about "jorts", but they're a classic summer style item that guys can't seem to quit. This pair from Levi's has thousands of five-star reviews for having just the right amount of roominess in the thigh area that won't make you look bottom heavy.
Read more: Best Menswear Brands on Amazon
Bo Shorts
Looking for a comfortable-yet-cool short for a day by the sea? This relaxed style stays polished with an eight-inch inseam that hits the perfect length just above the knee. With a breathable linen fabric and a comfortable drawstring waistband, you'll feel as good as you look in these seriously flattering men's summer shorts.
Best Hiking Shorts
Dri-FIT Flex Stride Trail Shorts
Hit the trail in these lightweight, flattering shorts that have quick-drying fabric to keep you comfortable during the hottest days of summer. The streamlined pockets reduce bulk, making this pair extremely functional and stylish.
Best Office Shorts
Dock Cotton-Twill Shorts
From a day at the office to your evening cookout, these polished shorts have a straight-leg silhouette and ideal length that hits on the cool Bermuda shorts trend. Best of all, they have the adjustable waistband that makes transitioning from all-day sweats to tailored trousers a bit more comfortable.
Best Cargo Shorts for Men
Class V Belted Short
Men love cargo shorts, but not all cargo shorts are going to flatter your bod, guys. This pair from The North Face has discreet pockets for all your small gear and a cool webbing belt for the perfect fit around your waist.
Read more: Best Cargo Pants for Men
Best Shorts for Guys With Thick Thighs
Foundation Short
Muscular thighs can wear and tear your go-to shorts to shreds by July. Ten Thousand's abrasion-resistant, seven-inch Foundation Short is built to last through countless summer adventures, which makes them a total steal when calculating cost-per-wear value.
Best Utility Shorts for Men
11″ Tough Max™ Duck Carpenter Shorts
The utility short is trending in menswear because it provide the deep pockets you love with a flattering look. In a duck/cotton fabric, these Dickies shorts add some rich texture to your everyday fit.
Best Travel Shorts for Men
Nomad 9″ Shorts
Looking for a solid pair of men's shorts you can wear anywhere, anytime? Proof's nine-inch summer shorts have a super-soft feel, a minimalist design that makes them extremely versatile, a good amount of stretch that allows you to move with ease, and a water-resistant coating to keep you dry. Plus, they have a hidden pocket that makes them ideal for travel. If you're making plans for a weekend getaway, you'll want to pack them.
Active Short
Warmer weather means more opportunities to up your fitness game in fresh air. These shorts are lightweight, water-repelling, and have built-in stretch for movement with ease. The zip pockets, and laser-cut panels are cool details that come in handy for any guy on the go to look and feel cool, too.
Best Running Shorts for Men
7″ MAKO SHORT
The best running shorts for summer should be a solid color, hit right above the knee, and look polished enough to be worn from your morning jog, to an afternoon dip in the pool, to an early evening cookout. Essentially, these Rhone shorts have you covered for all your summer plans.
Read more: Best Running Shorts for Men
Pleated 6″ No Iron Chino Shorts
One of the best men's shorts to invest in this summer is a pair of pleated chino Bermuda shorts. Dress them up with a button down, dress them down with a white T-shirt—they're a great option for guys to give their legs some breathing room without sacrificing their sharp style.
Read more: Best Running Shorts for Men
Best Seersucker Shorts
5″ Seersucker Weekend Short in Blue Stripe
Ah, seersucker—you can never go wrong with this lightweight summer style staple. Todd Snyder's version has classic straight-leg fit that allows you move comfortably.
Best White Shorts for Men
Act Chino Shorts
Forget any ancient style rules about wearing white clothing, but if there's one thing to keep in mind, it's that a pair of off-white shorts is a lot more forgiving when summer adventures can lead to confrontations with dirt and liquids that will easily mark up your crisp white clothing. Plus, the D-ring belt loop detail adds a nice touch to amp up your summer style flex.
Best Sweat Shorts for Men
Whitewater Sweatshort
Lazy Sundays and casual nights in call for a pair of comfy, lightweight sweat shorts. Unlike thicker fleece options that can cause perspiration down there (you know where), these jacquard stunners are breathable and hit the perfect length above the knee.
Read more: Best Sweat Shorts for Men
Best Men's Leisure Shorts
Personal Edition Lounge Short
For running errands and other casual weekend activities, these crazy-comfortable shorts from Nice Laundry have the mesh detail of basketball shorts, but with a heavenly soft Micromodal lining. Plus, you can customize your shorts with varsity-style monogramming.
Read more: Best Pajamas for Men
Move PPRMINT™ Shorts
If you're looking to curb your carbon footprint, Pangaia is a brand that should be on your radar. These cotton men's shorts are treated with peppermint oil that has antibacterial properties to combat odor from any sweaty situation this summer.
Sport Shorts
These unique men's shorts combine cool style and the comfortable athletic material you love to wear, both in and out of the gym. The orange side stripe and back detail pack a punch of style.
Best Swimming Trunks
Standard Mid-Length Swim Shorts
These Orlebar Brown trunks are cut at a mid-rise length that makes them suitable for guys of all different heights. Though it's technically a swimsuit, the minimalist design makes these flattering shorts equally suitable for hitting the beach or city streets.
Read more: Best Swimsuits for Men
Best Chino Shorts
5″ Stretch Chino Short
Here's a warm weather version of the classic chino. Cut at 5″ to show off your leg gains, these shorts also come with the right amount of stretch for all day comfort.
Read more: Best Chinos for Men
Cycling Shorts 3D Padded Bicycle Riding Pants
Get ready for all your long-distance biking adventures with this Amazon bestseller. Gel padding will keep your bottom comfortable, while a silicone leg particle gripper will prevent your shorts from sagging.
Read more: Best Cycling Shorts for Men
This content is created and maintained by a third party, and imported onto this page to help users provide their email addresses. You may be able to find more information about this and similar content at piano.io