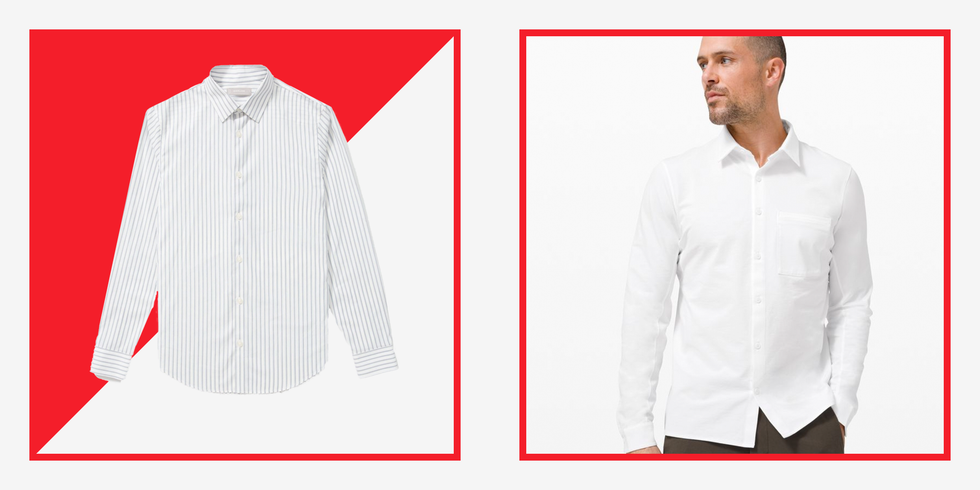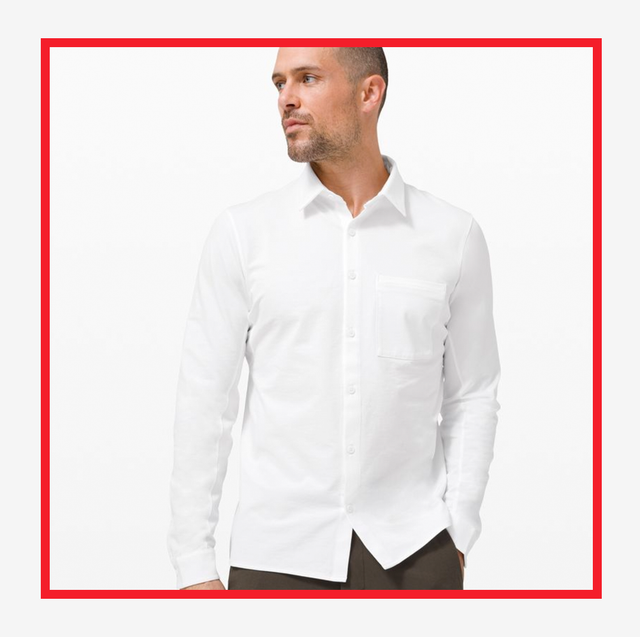 Assorted retailers
Dress shirts are one of the items of clothing in any guy's wardrobe that you just can't do without. You might not have to wear a suit to work anymore, but there are the occasional formal events where you need to be looking nice. Dress shirts of today have flexibility, too. You can wear them with suits and without, with ties and without, and, given the right shirt, with tuxedos down to a cool pair of shorts.
Kesha McLeod, a stylist and visual architect who styles the likes of P.J Tucker, James Harden, and Serena Williams, has been playing with the idea of a dress shirt in her work.
"When you start thinking about what dress shirts really are, you often think about them under a suit or with a dressy element," says McLeod. "In recent years, dress shirts have become part of that business casual dress: two buttons undone, rolled-up sleeves, or pairing them with jeans and sneakers for Sunday brunch. Post-COVID, I have to wonder how even more casual our dress code is going to become."
Read more: Best Shirts for Men
That's the thing with dress shirts: They're not going away, merely evolving. Yes, a formal shirt is necessary when the situation calls for it, but you can get away with having maybe one go-to formal shirt and a few more less stuffy dress shirts instead.
McLeod recommends three basics to start: one workman's blue French cuff, one white oxford, and one tuxedo shirt. "Those are your most essential three," she says. "From there, you can experiment with collars, colors, and patterns."
Of course, there are a million dress shirts and surely fewer than a million places you might need to wear one. So, we narrowed it down for you. Here are some of the best dress shirts for men, ranging in price, formality, and overall feel. Here's how to get started.
The Modern-Fit Oxford White Casual Shirt
The Tie Bar has expanded into dress shirts, and at $55 (and an even further discount if you buy in bulk), you won't regret buying a single one of 'em. This seersucker one is light and airy and great for the heat.
Read more: Best Clothing Brands for Men
Unbuttoned Dress Shirt
This long-sleeve pinpoint oxford dress shirt is offered with or without a chest pocket. Also, you can Amazon Prime it for any last-minute wardrobe mishaps.
Helmsley Shirt
Indochino lets you customize just about everything about your shirt, from the type of collar to the kind of cuffs you want based on your measurement profile. Your perfect shirt, every time.
Commission Long Sleeve Shirt
Men's dress shirts aren't often known for being … comfortable, let's say, but Lululemon makes the softest can-pass-as-a-dress-shirt around. Keep it for more casual occasions.
Oxford Shirt
OK, so oxford shirts aren't *technically* dress shirts, if you're working with the fashion definitions of yesteryear. But, as far as most style-conscious people are concerned, there are no rules anymore. Polo makes one of the best white dress-y shirts around. This is the kind you'd wear with jeans, if you feel so inclined.
Madison Relaxed-Fit Dress Shirt
Brooks Brothers makes a mean dress shirt, as anyone who has ever heard of a dress shirt might already know. This relaxed-yet-classic button-down collar shirt is a modern shirt at its finest.
Alton Lane Mason
Not sure what is too formal and what's not formal enough? McLeod points to gingham as the line between veering on casual. Microgingham is a little less casual—a little more suit-friendly—if you're nervous about formality.
The Desk To Dinner Shirt
There's no harm in having a little fun with your dress shirts. Although plain whites and blues are great, a small pattern can be an easy way to make your suit feel refreshed.
The Japanese Slim Fit Oxford
About that oxford shirt that's not really a dress shirt shirt. Everlane is a go-to place for stylists and fashion people alike who need basics of all kinds, for all occasions. This is the kind of shirt that will come in handy regularly.
Relaxed Broken-in Oorganic Cotton Oxford Shirt
The best part of a new kind of informality is all in the fabrics. J.Crew has come out with some game-changing ones, like this organic cotton one that won't suffocate you under a blazer or sweater.
Solid Linen Cotton Button-up Slim Fit Shirt
In another life, linen might not have been considered formal enough, but not in this one. The breathable fabric is great for summer weddings.
Hawthorne Stretch Fit Shirt
Once you have some solid options for most occasions, it's fun to have fun. Allsaints' stylish take on the classic dress shirt is cool but not too much.
Sea Glass Breezer Shirt
Once you're ready to start having a little fun with your dress shirt options, look to different types of collars for a subtle change that makes a whole outfit feel refreshed.
Seersucker Shirt
Looking for a dress shirt you can, ahem, roll up your sleeves in? This seersucker pick is it. You won't look goofy doing it, we promise.
Linen Shirt
For middle of the road dress shirt pricing, McLeod looks to Mr P.'s in-house label. The selection is tight, and every single item is expertly done. This easy linen shirt is a fun look for a non-tie 'fit.
Slim Striped Linen Shirt
Vertical stripes elongate your torso. This looks very good with a navy suit.
Knit Seasons Shirt
Where there may have one time been a hard line between dress and casual shirt, we're all about a shirt that can work for both.
Slim Fit Commuter Shirt
Don't worry, athletic builds, we did not forget about you. Rhone (yes, like the workout wear!) makes dress shirts, too, and you already know they have enough stretch to keep your back and shoulders comfy as you move.
Purple Label French Cuff Poplin Shirt
For a splurge option, McLeod's opinion is strong: "Ralph Lauren Purple Label. Absolutely. You're going all out with this, and it is a very good shirt. This is what you get once you've built out your wardrobe. This is the it."
Myron Pincord Stripe Sharp Fit Tuxedo Shirt
When it comes to true formal dressing, McLeod says, "My one rule: Definitely buy a tuxedo shirt for a tuxedo. This is the one shirt I don't think you should mess with. For a formal dress code, best stick with formal suiting."
Aero Zero Carbon Neutral Shirt
This shirt is made to be breathable—way more than traditional cotton shirting—and its one of the most eco-friendly shirts around. It's made from 100 percent recycled materials and made using only solar-powered energy.
Dress Shirt
This Paul Frederick dress shirt is a fan favorite. With over 1300 reviews and an average rating of 4.5, users pinpoint its fit, quality and construction as being superb and wearable every day.
This content is created and maintained by a third party, and imported onto this page to help users provide their email addresses. You may be able to find more information about this and similar content at piano.io