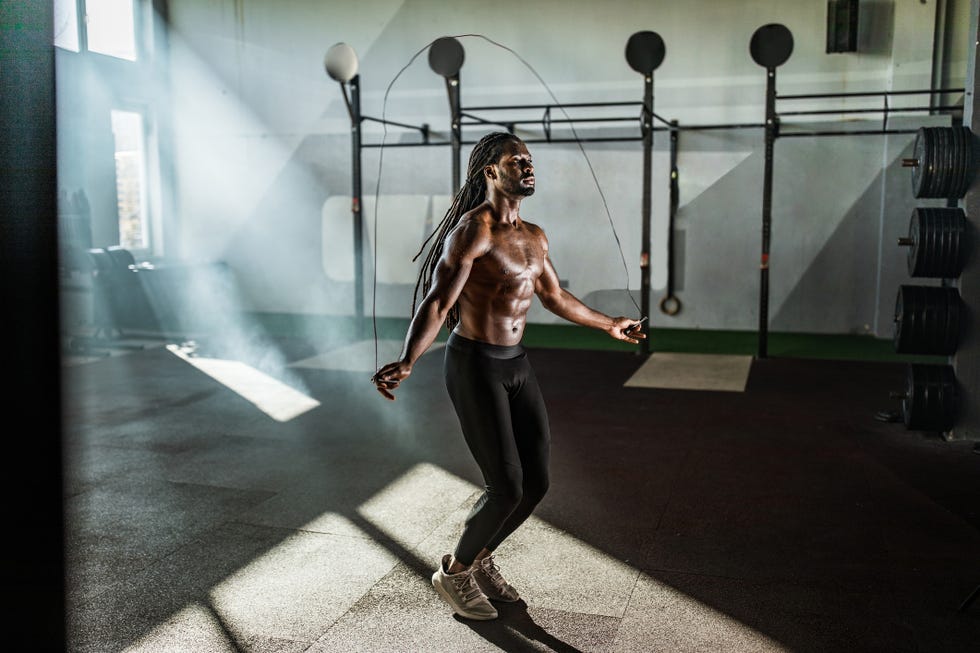 Many of us have stepped up our home gym routine in the past two years, and while fancy Pilates machines and indoor rowing machines are now popular staples on living room floors, we'll never overlook the humble jump rope. The affordable and effective accessory is a great way to get fit.
Jess Hiestand, NASM-certified personal trainer for Rumble Boxing, extols the virtue of the almighty rope: "Jump roping can be great for your workout routine because it provides great cardio, it gets your heart rate up quickly." You'll also hone your muscular endurance with the rope. "Calves and legs can be stronger for longer once you start jumping rope. Biceps, wrists, forearms, also assist in this exercise," she says. Hiestand is a big fan of jump rope on the strength-training front, too: "Jumping rope can help with strength training and is beneficial mixing strength with cardio because the endurance of your lower body muscles like calves will see crazy improvement with jumping rope that you may not see with other forms of cardio exercises like cycling and the elliptical."
As Hiestand highlights, other benefits of jumping rope include improved balance, coordination, and spatial awareness. "You may start jumping rope by looking at where the rope is and then hopping over it, but as you improve, you will need to rely less on hand eye coordination and more on feeling the rope and understanding the rhythm at which you're swinging and jumping."
Tips for Better Jump Rope Workouts
When jumping rope, Hiestand recommends keeping the following guidelines in mind:
Keep an upright posture and a neutral spine with a slight bend in your knees and feel a bit bouncy. You don't want to 'lock out' your knees and ankles.
Keep your elbows bent and close to your sides and swing the rope from your wrist.
Jumps should not be very high, just an inch or two so that the rope has clearance to swing underneath you. Land on the balls of your feet
Here are our top 20 jump rope picks for your workouts, whether you're a boxer, a CrossFit fiend, or you just want to have some fun.
CrossRope Weighted Jump Rope Set
CrossRope brings an extra heft to your jumprope workouts, with a simple clip system that allows you to switch between light (green, a quarter pound) and heavy ropes (white, half a pound). The handles are heavy-duty, too, with extra grip to help you hold on even when you're sweaty.
There's also an app available to give you routines to do to get your sweat on. Want a challenge without busting out your phone? Try a workout switching back and forth between the ropes like a dropset.
RPM Session4
This heavy duty rope is a go-to for serious CrossFitters, so you know it's made to handle anything you can throw at it. The knurled (read: grip-friendly) aluminum handles are under warranty for five years, and the dual bearing system allow for smoother skipping.
XYLsports Jump Rope
This basic jump rope has a comfortable grip, quick rope swing, and holds up against the toughest terrain.
High-quality ball bearings make jumps smooth and protect your wrists and shoulders from strain. Now you can take your workouts just about anywhere and never miss a beat — but just in case you do miss, the cable's spongy texture is forgiving on your shins.
Rogue Froning SR-1F Speed Rope 2.0
Rogue Fitness
This gym-ready rope bears the name of CrossFit legend Rich Froning for a reason: the brand worked directly with the athlete to develop it. The result is a durable speed rope with a polyurethane cable and diamond-gripped handles with aluminum heads bearing Froning's logo.
Lifeline Weighted Speed Rope
This is a great tool for any athlete that wants to improve their speed, agility, power, balance, coordination, and endurance. Choose from .75- or 1.25-pound weight options. Both models include sliding length adjusters for ease of use.
StarFit Lightweight Jump Rope
For another great tangle-free jump rope that doesn't break the bank, we're big fans of this lightweight jump rope. It features an adjustable length to accommodate various heights, is made from durable 5mm PVC cord, and features ergonomically-designed anti-slip handles.
DEGOL Tangle-Free Jump Rope
This rope is a best seller on Amazon, and for good reason. It has a unique ball bearing system that helps you avoid twisting, winding or bending of the rope. And it's built to last, made up of a braided steel wire rope that is coated with PVC, so it can handle wear-and-tear if you bring it outside.
Other features include adjustable length so you can choose to customize it between 6 an 9 feet. And the handles are wrapped in memory foam for optimal grip and comfort.
CyberDyer Weighted Ropeless Jumprope
Yes, this is exactly what it looks like: a jumprope without a rope. Stick with us for this one.
The CyberDyer 'rope' uses weighted handles with short leads attached to mimic the feel of skipping with a real rope without actually needing to swing one around. The concept sounds weird, but the low-impact tool could give people who don't have a ton of room to work with a good alternative on the days they want to get their heart rate bumping. Even if you won't build the same type of coordination you would with an actual rope, you'll never need to worry about tripping yourself up.
DREAM&GLAMOUR Jump Rope
This set is designed to give you a firm grip and a smooth feel while jumping rope.Pick from several color options.
Glowing Skipping Rope
Sometimes, you just wanna be that guy in your backyard who has his neighbors smiling, or are looking for a jump rope that doubles as a fun party trick. Well, here's your answer. This jump rope lights up (batteries not included) and comes in blue, green, and pink. FYI: The jump rope lights up with a simple tap of the handle.
Survival and Cross Jump Rope
Friends don't let friends skip using unbalanced kid's toys—when you're ready for a real workout, you level up to something like this Survival and Cross rope. This lightweight, affordable jump rope is great for boxing and MMA fitness training, or just to switch up your cardio routine.
The cord is easy to adjust for the right fit and small enough to take on the go without getting tangled in your bag. Whether you're tall or short, this rope will get the job done.
WOD Nation Speed Jump Rope
This solid option is made for the quick spins and heavy usage needed for the toughest CrossFitters. Sturdy handles and a four-bearing connection help to keep the rope stable.
The length is adjustable, so you can snip it for perfect performance tailored to your needs. Beat it up all you want—WOD Nation also offers a lifetime guarantee.
Sonic Boom M2 High Speed Jump Rope
If you thought jump rope was child's play, you haven't taken the Sonic Boom M2 for a spin.
The silicone, anti-slip grips stay comfortably in your hand as you skip up a sweat while the two adjustable, 10-foot cables help you find the sweet-spot length to hit your goals. The patent-pending ball bearing system and weight-balanced handles make this a great rope whether you're a beginner or a seasoned skipper.
RopeFit Heavy Jump Rope
If improving strength and burning fat is your goal, a heavy rope like the Ropefit is the way to go. This heavy-duty cable is designed to help you torch up to 1,000 calories an hour and shed pounds faster. Your weight loss goals will feel much closer whipping this eight-pound beast over your head—that's like skipping with a gallon of milk attached to a regular rope.
RopeFit is made with a rugged Poly Dacron cable, the same material used in many battle ropes you see at the gym. You can choose from 1.5'' and 2'' thickness cables in two length options to suit your workout needs.
Tangram Smart Rope
TANGRAM
Jumping and counting at the same time is so yesterday thanks to this high-tech jump rope. Built-in LED lights display your number of jumps creating the illusion that the digits are floating in mid-air. It's just the right amount of distraction to make you forget how much pain you're in. But hey, no pain, no gain, right?Like many smart-fitness devices, the rope can sync with your mobile device via the compatible app, which tracks reps, calories, burned, and even lets you compete in jump-offs with your friends. One-time sync stores up to 100 sets of fitness stats. And the rope comes in four fun colors to choose from—black, gold, silver, and red.
Ziyue Weighted Jump Rope
This weighted jump rope is perfect for speed work. It is engineered with high carbon steel speed ball bearings for efficient rope acceleration, making the rope stable as you up your reps. The rope is made of durable steel wire wrapped in PVC. You can also easily adjust the rope's length, and it comes in 7 colors.
Rike Gear Premium Speed Jump Rope
Made in the USA, this adjustable 9 foot jump rope comes with unique wooden handles for a slip-free grip. And those handles are uniqely attached to the rope with free flowing fittings to prevent knots and a smooth momentum. It also comes in 4 different color combinations of orange and black, and also includes a compact velvet carrying pouch for easy transport. And bonus: this rope also comes with a lifetime guarantee.
Buddy Lee Rope Master Jump Rope
The Super Sonic Jumprope from Buddy Lee comes with an O-ring swivel that makes it virtually impossible to tangle. It's intentionally designed to help you achieve double, triple and quadruple unders with ease.
Epitomie Fitness High Speed Jump Rope
This Epitomie Fitness rope was designed with speed in mind. It has
360-degree ball bearings for faster rotation and smooth spinning as you jump, as well as anti-slip silicone grips.
It also comes with 2 adjustable, 10 foot polymer-coated speed cables so you can get the exact length you need for your height and jumping goals.
Proud Panda Heavy Jump Rope
If you're thinking these look like battle ropes, you're not far off. These Proud Panda jump ropes are designed with a three-strand-thick exercise durable polymer synthetic fiber that makes them super durable and heavy (it weighs between 3 to 3.5 pounds) to help you build up not only endurance, but muscle.
This content is created and maintained by a third party, and imported onto this page to help users provide their email addresses. You may be able to find more information about this and similar content at piano.io