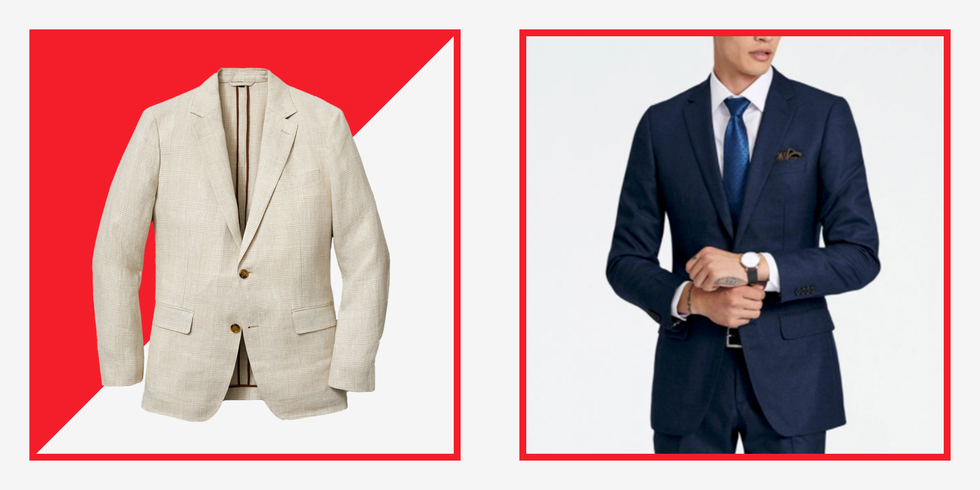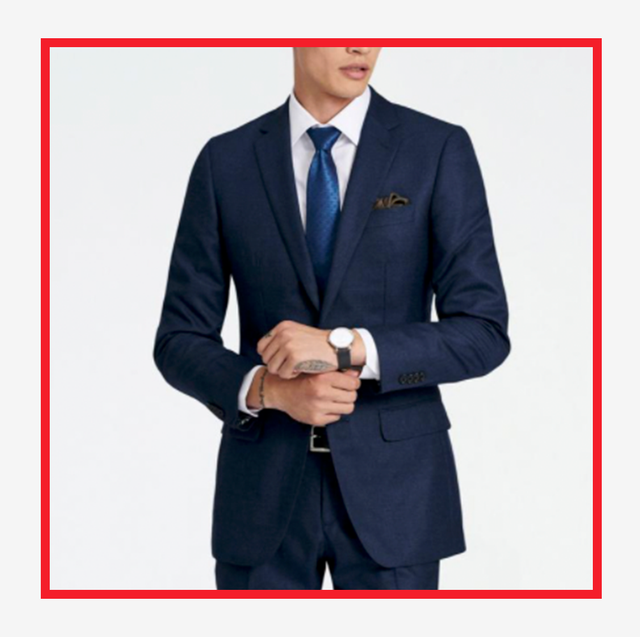 Courtesy of Retailer
If you're transitioning back into the office this spring, it's time to start considering your work attire. Sure, the past few years of remote workspaces have lead to laxer dress codes, but we'd argue that we should still put in some effort when meeting colleagues IRL. Enter the best blazers for men. They're more casual than a suit jacket, but dressier than sports jackets, these solid-colored garments provide structure, color, and lots of style to our nine-to-five wardrobes. And while old school blazers were typically made in navy with metal buttons, today's best men's blazers come in plenty of fabrics, colors and styles to fit just about any guy's taste. Ahead, we found the 20 best blazers for men to buy online. But first, a note about how your blazer should fit.

Read more: Best Clothing Brands for Men
Size
Most critical is the fit of the shoulder. The seam on the jacket should sit directly above the edge of your shoulder. Most guys buy jackets that are too big. Even the best tailor can't fix an ill-fitting shoulder, so get this detail correct and you're off to a good start.
Sleeves
Next, focus on the sleeve length. They should end about a half-inch above your hand, allowing room for your shirt cuff to show. If you are 5'7", try a short jacket length. If you're 5'8" to 6', try a regular jacket first. If you are 6' or taller, you'll probably need a long. Tip: Wear a long sleeved dress shirt when you get fitted in your blazer. This helps the tailor know how to adjust the sleeves.
Body
Blazers are meant to provide structure, so it shouldn't fit like a college hoodie, although off the rack, the body of the jacket might be a little boxy. If that's the case, ask your tailor to have it taken in so it skims your torso. Traditional fits are typically longer in the body, while modern fits are cut shorter. Either way, if the bottom of the jacket falls below your butt, it's too long. Ideally, the end of your sleeve and the bottom of the jacket should more or less line up.
Style
Traditional blazers have metal buttons, but these days they come in plenty of styles. We're big fans of the knit blazer, which marries the comfort of a sweatshirt with the structure of a jacket. We also like chino blazers that can dress up or dress down your office look, and look great for summer weddings.
Read more: Best Jackets for Men
Best Office Blazer
Bottsford Micro Check Navy Blazer
For guys who prefer more formal styles, you can't go wrong with this sleek wool blazer from Indochino. Yes, it's on the conservative side, but this micro check pattern makes for an interesting twist. Plus, each order from Indochino is custom made for a perfect fit.
Amazon Bestseller
Men's Long-Sleeve Button-Front Slim-fit Stretch Blazer
This bestselling jacket has received tons of five star reviews for its affordable price point, wrinkle-resistant fabric, and athletic fit. And did we mention it's under $80?
Milano Fit Two-Button Blazer
Brooks Brothers specializes in classic jackets that still look great today, and this two-button blazer is no exception. It's in a darker navy hue for a dressier look, and has a slim cut for an ultra flattering fit.
Read more: Best Fall Blazers for Men
Best Summer Blazer
Unconstructed Blazer
Meet your new warm weather blazer. Made with ultra breathable linen, Bonobos' new line of unconstructed jackets have soft shoulders and a breezy fit to keep you looking and feeling cool this summer. Available in three colors, we prefer the khaki glen plaid for an al fresco wedding look.
Read more: Best Summer Suits
Best Luxury Blazer
Polo Doeskin Blazer
RL is the gold standard for All-American formalwear. Tak this luxe doeskin wool jacket. Yes, it has brass buttons and a solid navy color like the best old school blazers. It also has modern details like a soft shoulder and a lower button stance to elongate your body. In other words, it's an investment piece that will look great for years.
Best Budget Blazer
Ultra Light Blazer
Trevi Slim Fit Wool Blazer
Ted Baker makes quality off-the-rack jackets that rival Saville Row-style tailoring, and this wool blazer looks great in just about any business casual setting. After work, pair it with dark wash jeans and horsebit loafers to be the best dressed guy at the bar.
Best Casual Blazer
Garment Dyed Blazer
Thanks to the rise of athleisure, today's menswear essentials have taken a more casual vibe. Take this garment-dyed blazer, which has a sweatshirt-like exterior that can still dress up a polo or T-Shirt.
Japanese Cotton Parker Blazer
Remember what we said about casual blazers? This one from Rag & Bone is made with Japanese stretch cotton for extra comfort.
Men's Double Breasted Navy Blazer
Great to gift your dad or grandfather, this classic jacket has all the trappings of your standard blazer–metal buttons and a double breast–yet is cut slim at the waist for a modern fit.
Softest Blazer
Inlet Knit Blazer
Made from recycled polyester and cotton, this sustainable knit blazer is just as comfortable as your favorite sweater.
BR SPORT Motion Tech Blazer
Banana Republic's BR SPORT line is all about infusing menswear classics with an activewear sensibility. This office-friendly blazer also has a stretchy, water-repellent fabric so you'll stay cool and comfortable while commuting this summer.
Gents Unstructured Wool and Cashmere-Blend Suit Jacket
A luxe, travel-friendly jacket that won't wrinkle. Perfect for business trips.
Men's Slim-Fit Stretch Twill Blazer
Here's a blazer you won't mind getting dirty. Goodthreads' jacket is rendered in Twill, which means it's as durable as a chore jacket. Great for contractors who want to look put together without getting too dressed up.
Read more: Best Spring Jackets for Men
Hanry Stretch Blazer
Hugo Boss's more affordable BOSS line features straightforward garments that are made to be worn anywhere. This blazer has a slight stretch for all day comfort.
Double-faced Cotton Sweater-Blazer
Looks like a blazer, feels like a cardigan. Add to cart.
Navy Havana Jacket
Patch pockets, a wool cashmere construction, and a peak lapel makes this a reliable blazer during shoulder seasons.
Traveler's Hopsack Blazer
You won't worry about wrinkling this Hopsack Blazer, which is made for long distance travels.
Grey Unstructured Worsted Wool Blazer
Clean lines with sensible notch lapels, this jacket from Mr. P looks just as great as other Saville Row blazers twice its price point.
Best Leather Blazer
Carlisle Distressed Italian Lambskin Leather Blazer
This content is created and maintained by a third party, and imported onto this page to help users provide their email addresses. You may be able to find more information about this and similar content at piano.io