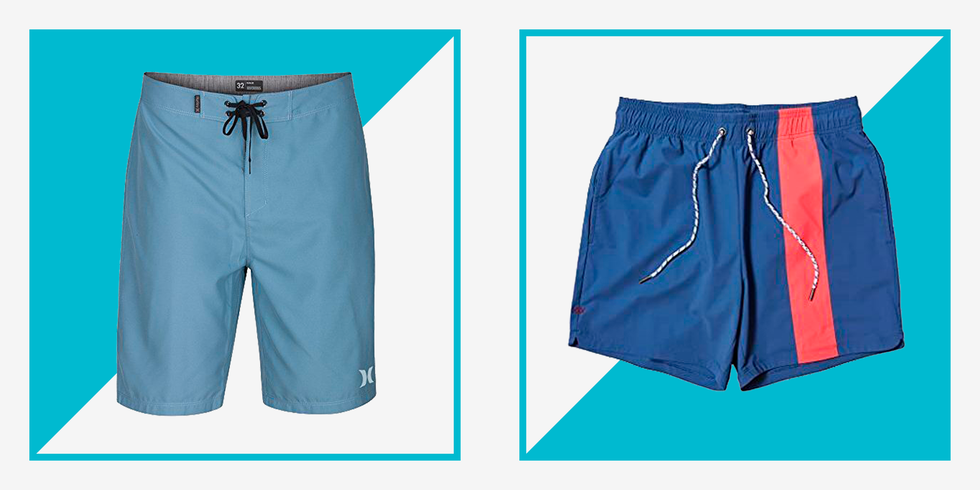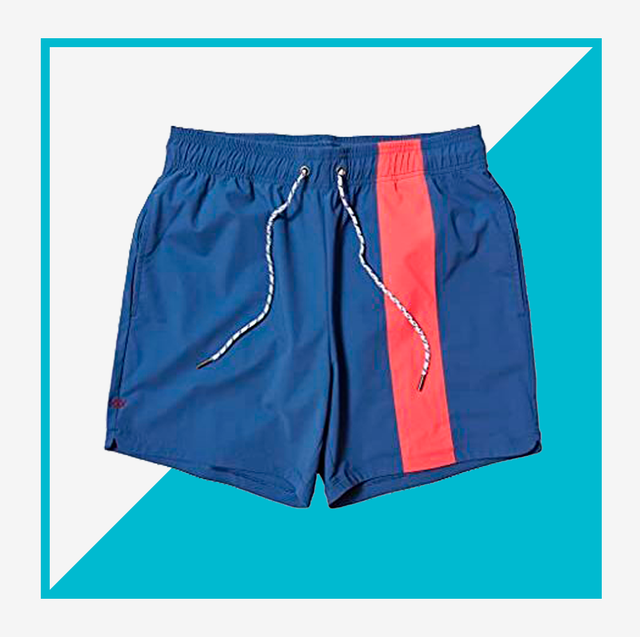 Assorted retailers
With warmer weather (and more importantly, summer travel) just around the corner, now would be a good time to give your swim collection a refresh. The best men's swimsuits double as shorts that'll see you through backyard cookouts and weekend errands with bold style and high-quality fabric—so we went ahead and pulled together some Amazon shopping ideas that fit the bill. We're talking color-blocked prints and neon hues, in various lengths and at every price point, that'll give your wardrobe a fittingly bright update for the summer we've all been looking forward to for months.
A lot of finding the perfect pair of swim trunks is down to personal preference (do you want a longer inseam or a shorter, more retro-inspired style?), but there are a few key factors to keep in mind: Lightweight, quick-drying fabric is a must, especially if you're planning to wear your new suit beyond the beach, while a drawstring closure provides some extra comfort. Oh, and don't forget the pockets.
Ready to pick up a new swimsuit? Here are 15 swim trunks on Amazon we've bookmarked. Just add sunscreen.
Read more: Best Swimsuits for Men
Best Value
7″ Inseam Swim Trunk
With four pockets for housing small essentials like your keys or MetroCard, Goodthreads' 7-inch trunks are great if you're on the hunt for a simple option. They're available in 28 colors and prints, from a vintage-looking washed orange hue to floral Hawaiian patterns, so you'll definitely find something suits your taste.
Best 3″ Swimming Trunks
Men's Swimming Shorts
Featuring a 3″ inseam, this swimsuit is perfect for guys who want to show off their quads. These also have a quick dry fabric, and double as functional workout shorts.
Read more: Best Gym Shorts for Men
Most Versatile
Fletcher Swim Trunks
Rhone's trunks come with a curved hem for better range of motion (ideal for getting a beachside workout in before taking a dip) and are constructed using a breathable Italian fabric that offers four-way stretch, UPF 50+ protection, and durability. In other words, they're everything we're looking for in swimwear.
Men's 7″ Swim Trunk, Lobster Print
Perfect for those East Coast beach trips, this lobster-print swimsuit is fun, colorful, and affordable.
Best Board Shorts
Hurley One & Only Boardshorts
If learning how to surf was on your 2022 bucket list, the best board shorts are a must. This Hurley option has a tie-close front to keep you secure and a longer cut to protect your skin from irritating board wax. Plus, they're made from a recycled polyester blend. Good for the ocean, good for you.

Read more: Best Shorts for Men
Leave it to Under Armour to make the comfiest swimwear ever. This bathing suit uses a recycled polyester blend that has spandex in it for four-way stretch. The inherently water-repellent material dries quickly, making it ideal for those long, lazy beach days.
We love everything about Lacoste's color-blocked design, from the carefully faded wash that gives it a cool retro look to the quick-drying fabric made from recycled polyester. Plus, these shorts are wrinkle-resistant, so you don't have to change for post-pool drinks.
If a medium-length inseam is more your style, go for Onia's 7-inch shorts. They feature an elastic waist and quick-dry nylon fabric, but the real selling point is the splashy print: Just add a linen button down or white tee to complete the look.
Tri-Block Series Swim Trunk
You can't go wrong with Nautica's classic tri-block style, particularly if you're committed to finding trunks that you'll still love years down the line. Not only is the color palette timeless, but the longer above-the-knee cut is universally flattering.
Okay, admittedly these Paul Smith shorts are a splurge, but you can't beat the quality. Features include two side slip pockets, a larger back velcro pocket, and a luxe fast-drying fabric that's both ultra lightweight and super soft. The rainbow-colored drawcord just sweetens the deal.
Standard Swim Trunk Boardshort
Quiksilver makes no-frills beachwear that's made to be worn over and over again, and these solid board shorts are no exception.
Swim Solid Lap Volley Short Swim Trunk
When you want athlete-grade swimwear, you go to Nike. The brand's volley short swim trunks are made for beach sports, with a stretchy waistband, built-in mesh briefs, mesh pocket bags that facilitate water draining, and a water-repellent finish that keeps you dry post-swim.
3-Stripes CLX Swim Shorts
Flanked with adidas' signature stripes, these short shorts are made for all-day water sports, thanks to its water-repellent, sweat-wicking performance fabric and an elastic waist that feels like a second skin.
Men's Standard Vertical Logo Swim Trunks
Show up and show out with these logo swim trunks, featuring a leg-baring 3″ inseam and a form-fitting (but not-too-tight) design.
These sage green swim trunks are under $20, which means you can go ahead and stock up on different colors (there are 30 options available) so you have options this season. They're a customer favorite with over 7,500 5-star Amazon ratings, with reviewers noting that they dry super quickly—yes, even on cloudy days—and the wet fabric doesn't cling to skin.
This content is created and maintained by a third party, and imported onto this page to help users provide their email addresses. You may be able to find more information about this and similar content at piano.io