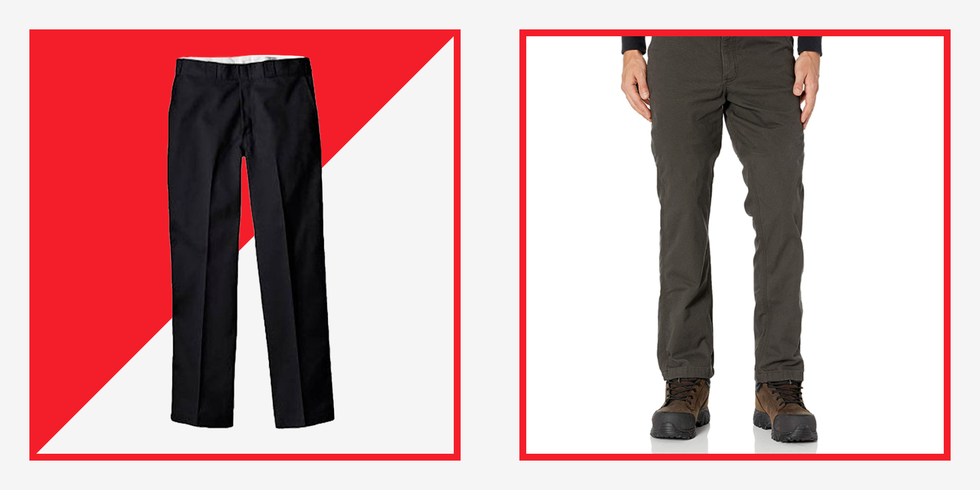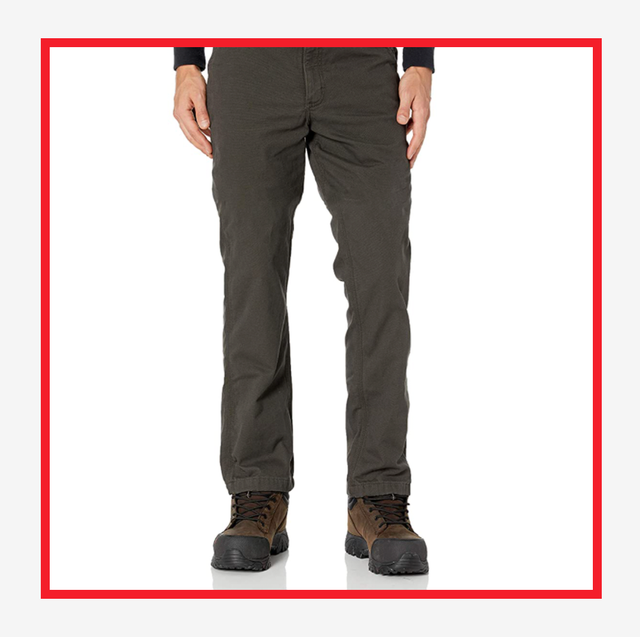 Courtesy of Retailer
Whether you're a carpenter or a work shed weekend warrior, choosing the right work pants can make any home project easier. Regular pants like jeans or chinos don't offer the level of protection needed when working with heavy tools in harsh environments. That's why we've put together this list of the best work pants for men, so you can be prepared for when the time comes for your next purchase.
Durability and capability are two of the most important traits you should look for when shopping for work pants. Look for thick fabrics (like Duck canvas) that can take a beating, and multiple pockets to store all your tool sand EDC.
Like other technical gear aimed for outdoor activities like hunting, fishing and hiking, these work pants come from tried and true workwear and outdoor clothing brands like Carhartt and Dickies.

Read More:Best Winter Pants for Men
Whether you're building bridges or putting together your kid's playground, these tried-and-true pants from Caterpillar are a builder's best friend. Complete with enough pockets for everything you'll need, so you'll be making less trips back to your tool box.
Who said work pants can't also be stylish? These options from Dickies are office-friendly enough for meetings and presentations—while still providing durable protection with their heavyweight twill for when you head back to the job site.
Read more: Best Work Boots for Men
Duck Insulated Bib Overalls
We're in the middle of winter, so it's more important than ever for your pants to keep you warm. That won't be a problem with these bib overalls from Carhartt that have synthetic insulation throughout to keep you toasty.
Tactical Taclite Pro Pants
These pants from 5.11 take durability to the next level with their rip resistant fabric and extra padding in the knees and seat. They also come with seven different convenient and intuitive pockets for easy organization.
Read More: Best Ski Pants for Men
Tough Max Duck Carpenter Pant
With enough pockets to hold everything you need for a day's work, these Dickies pants are can get you through any work day. They're also constructed from a flex-friendly fabric, so you can move around with ease.
If your job site requires constant movement and ups and downs, these pants from Wolverine are perfect for you. Featuring a durable, yet flexible material, you can expect a great range of motion for all sorts of work time duties.
Riggs Workwear Ranger Pant
Not only are these Wrangler pants a great deal but they're also constructed with 100% cotton rip resistant fabric to help prevent holes and punctures.
Flex Ripstop Tactical Pants
Geared to withstand the elements, these pants come highly-rated from Amazon for their durable fabric that naturally repels liquid and dirt, so you don't have to worry when things get messy.
Rugged Flex Flannel-Lined Utility Work Pant
Don't let the cold weather get the best of you with these flannel-lined pants from Carhartt. They also offer plenty of storage with several accessible pockets—including a dedicated cell phone pocket on the leg.
Force Ripstop Cargo Work Pants
Featuring strong and durable rip-resistant fabric, this option from Carhartt is a sturdier version of a cargo pant.
Read More: Best Cargo Pants for Men
This content is created and maintained by a third party, and imported onto this page to help users provide their email addresses. You may be able to find more information about this and similar content at piano.io