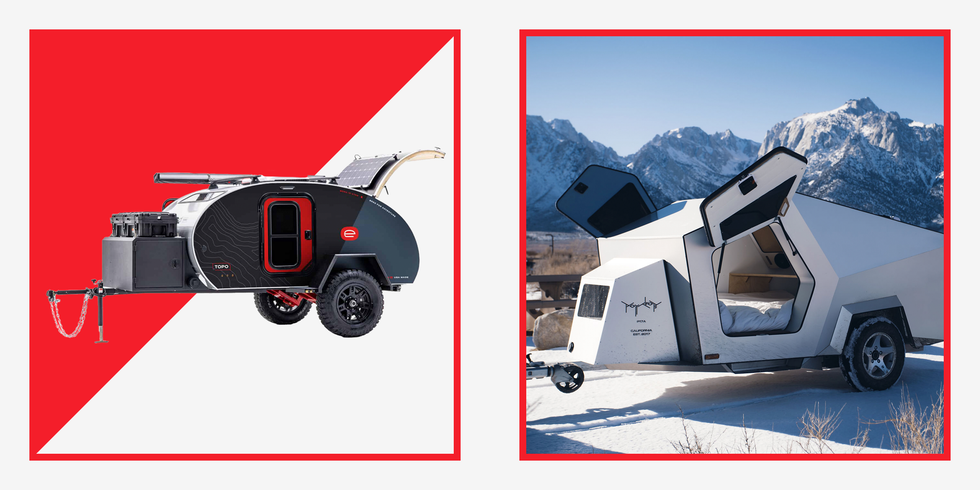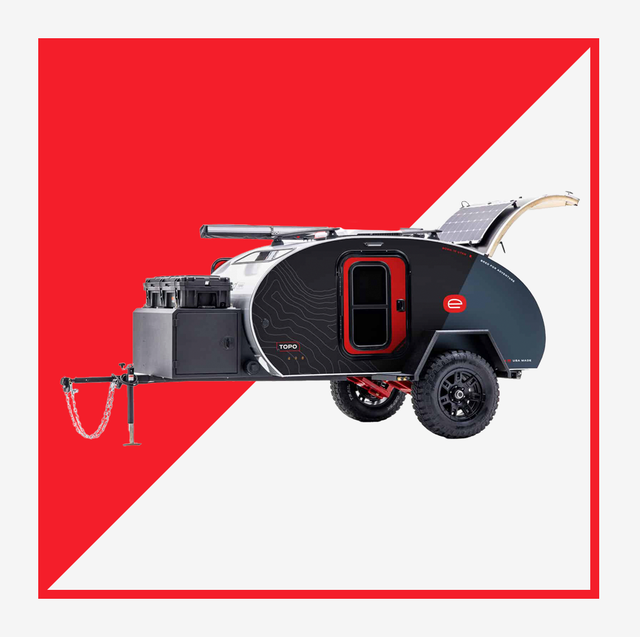 Courtesy of retailers
After spending two years with the presence of a Covid-19—along with the ups and downs of not one but two variants to follow—odds are you're ready to get out (again), and soon. two vaccine shots and booster later, you may have already taken a number of flights, with safety protocols fully intact, or have some booked for the near future. If you're in the mood to explore so more and have yet to enjoy an adventurous road trip (or you've already done one and are itching for another), might I suggest a teardrop camper? It's the perfect way to embark on a comfortable multi-day camping trip that gives you a change of scenery from your regular 'ole car while getting a break from your typical environment.
Read More: Best Outdoor Gear
Minimal teardrop trailers were all the rage in the 1930s to 1960s, providing not much more than a space for sleeping but that still a step up from pitching a tent. In the second half of the last century, these easy-to-tow accommodations were replaced with their behemoth counterparts, the massive RVs that your grandparents used to across the country in retirement, which had all the trappings of a motel: a kitchen, bathroom, and dining area in addition to sleeping quarters.
For the past few years (and even before Covid-19 had everyone planning out road trips), the teardrop camper has experienced a resurgence, as travelers embraced a more minimal way of living, exemplified by the tiny home craze.
On camping trips, all you really need to take the experience up a notch from sleeping on the actual ground is the comfort of a proper bed, which a teardrop camper provides, plus so much more depending on the model you choose. They're light and easy to tow, a cinch to store compared to large trailers, while allowing you to be way more mobile as you drive around all kinds of terrain.
Here are the 10 best teardrop campers and trailers we recommend for your much-needed summer adventure.
Read More: Best Hiking Backpacks
Timberleaf Classic Teardrop Trailer
$23,400 at Timberleaf Trailers
A fully insulated cabin protects you from all the elements. What this teardrop trailer boasts in old school style it matches in modern utility, offering expert insulation to protect against all temperatures, abundant interior storage, and an ideal rear galley for cooking on the road. Most importantly, a large skylight lets you sleep underneath the stars. Now that's just what the doctor ordered after months spent inside.
Xtreme Outdoors Little Guy Travel Trailer
Starting at $29,898 and Up at General RV
This teardrop camper is an ideal compromise between the hotel room-on-wheels that are RVs and teeny tiny tent accommodations. Each of the three "Little Guy Travel Trailer" models offers a bed, fridge, stove, sink and wet bath at minimum, with some going as far as to feature TVs and dinettes—because hey, you might as well have everything you desire on your much-needed summer vacation. If you're feeling extra, customize the exterior with a graphic that says: "Don't Bother Me, I'm on Vacation" or any phrase of your choice.
Earth Traveler T250LX Trailer
$38,500 at Earth Traveler
The Earth Traveler T250LX exemplifies one of the best parts of towing a teardrop camper—it's ridiculously light. Coming in at a mere 216 pounds, the carbon fiber and Corecell model provides you with the very basics in trailer accommodations (a place to sleep) while being extremely easy to maneuver through all kinds of terrain.
Hütte Hut Teardrop Trailer
$63,900 at Hütte Hut
Embodying the true essence of a teardrop camper, the Hütte Hut is a small space to sleep and store your stuff, no tent set-up required. The minimal model is noteworthy for its unique exterior wood paneling, and we appreciate how its retro quality stays true to the original teardrop styler.
NuCamp Tab 400 Teardrop Camper
$31,200 at NüCamp
While most teardrop campers are fairly bare-bones, the Tab 400 is one step away from being an actual trailer, giving you all the comforts you'd associate with one but on a smaller and more manageable scale. In addition to a sleeping area, there's a bathroom with a wet bath (basically a shower that will get the entire bathroom wet, but it's better than nothing), a small sink, stovetop, and dining area. If the idea of minimal camping appeals to you but you're not ready to forego a real bathroom on the premises, this is the model for you.
Polydrop P17 Essential
$14,990 at Polydrop
Hands down the most interesting design on our list, the Polydrop trailer's ultra-futuristic look makes it destined to live on some popular Instagram travel page. The aluminum and wood model is modestly priced for the camper category and boasts some really practical features, like USB and power outlets powered by a solar panel.
Bean Stock
If you're looking for something simple, consider the Bean Stock, which is the teardrop trailer brand's minimalist and most affordable option. You can build off of this to tune it just to your liking, but with the base price, you'll get an attic for storage, two outdoor porch lights, and a rear galley hatch. This is the perfect option for someone who's just starting to travel with a trailer.
Escapod 2019 Topo Series Trailer
$22,750 and Up at Escapod
The Escapod was created to be suitable for off-roading; your RV definitely can't do that. The tough steel and aluminum camper was built with true adventurers in mind. The two-door camper has a rear galley to serve as your makeshift kitchen and plenty of add-ons to make it easier to bring along bikes and kayaks, or more friends courtesy of an add-on tent that attaches to the roof.
Vintage Overland Great Escape Caravan
$23,000 at Vintage Overland
Speaking of unique design, Vintage Overland has its own special appeal, more retro than modern, inspired by Danish minimalism. The Great Escape model sleeps two people and also has a rear galley for storage or kitchen needs. The aluminum exterior and hardwood interior caravan even comes with a memory foam mattress, so you're ready to hit the road immediately.
Rustic Trail Teardrop Campers Kodiak Stealth Trailer
This camper has a cool, rugged look and there's a lot going on for its small size. Unlike a lot of teardrop campers available, the queen-size platform bed converts into a dinette, so you can eat in peace away from mosquitos. It also comes with an outer canopy and screen doors and windows to make the most of nature, plus a portable toilet.
This content is created and maintained by a third party, and imported onto this page to help users provide their email addresses. You may be able to find more information about this and similar content at piano.io