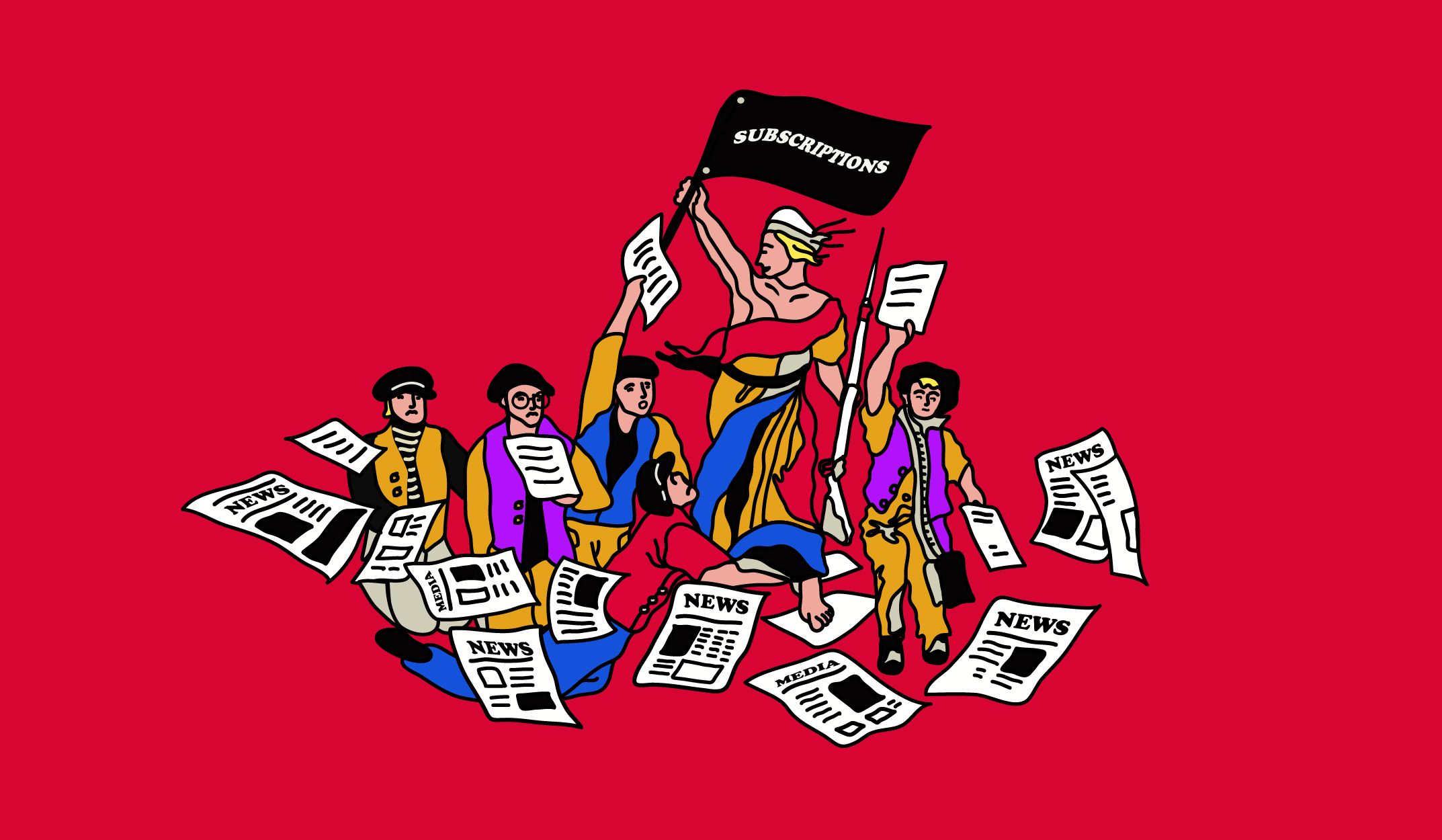 In a subscription business, recurring monthly or annual payments are key to maintaining — and growing — revenue. Therefore reducing the churn of paying readers canceling their subscriptions is the name of the game.
Publishers have been on a crucial hunt for strategies to reduce churn in recent months, particularly as readers' propensity to pay for subscriptions have begun to waver. But what happens when up to half of churn occurs unintentionally because of an expired credit card or someone reaching their credit limit ahead of payment?
That's when a process called "dunning" comes into play.
WTF is dunning?
Dunning is a 17th century term that means "to make persistent demands upon for payment," according to the Merriam-Webster Dictionary.
In a modern media context, it is the process of reminding a paying subscriber whose payment has already lapsed to update their account with new payment information to keep their subscription active. The dunning process kicks off the moment the first payment fails and you try the card again.
Canceling subscriptions due to lapsed payments — or basically any sort of cancelation that occurs without the customer intentionally reaching out to stop their subscription on their own accord — is also known as passive churn or inactive churn, according to Justin Eisenband, a managing director in FTI Consulting's telecom, media & technology industry group.
Why is dunning important?
On average, passive churn accounts for anywhere from 20-60% of a publisher's total churn base in any given period, Eisenband said, but it's also significantly easier for a publisher to recover this cohort of drop-off.
"In terms of the share of churn, it's really one of the most controllable levers you have as a publisher" unlike combatting active churn, where someone is purposefully trying to leave your ecosystem, Eisenband said. With passive churn, odds are that the subscriber either doesn't realize their card is going to expire or remember that this specific payment to the publisher will lapse as a result of getting a new card or reaching their credit card limit.
And it's also an incredibly important area for publishers to focus on "because getting your [passive] churn down from 50 to 20% often results in a 20 to 30% improvement in your [overall] churn rate," he added.
Can a publisher prevent this from happening to begin with?
Yes. According to Eisenband, there is a "pre-dunning" process that can be done by publishers' third-party billing service providers and credit card payment platforms like Stripe and Braintree.
These billing services often have credit card updating capabilities where they use their relationships with banks and financial institutions to preemptively update new expiration information after identifying an expired credit card but before actually charging the old card.
This can solve a good chunk of passive churn right out of the gate, Eisenband said, and it's also the best user experience because "you don't want to bother your subscribers to say a credit card isn't working before you try to charge them. If you could avoid bothering them, avoid bothering about payments."
How many times should a publisher try to charge someone during the dunning process?
Eisenband said that the typical number of attempts is five to six in a month, but timing those attempts to certain days will often have higher success rates.
The first of the month, Fridays and the 15th all tend to be strong days to try, as those are often correlated with when people receive their paychecks, pay their credit card bills or activate a new card.
When should a publisher bother subscribers about lapsed payment and what should publishers say to get them to update their payment information?
If after five or six attempts payment still hasn't been completed, that's when contact with the subscriber should begin.
For Gannett, publisher of USA Today and over 200 regional publications, passive churn accounts for approximately 40% to 50% of Gannett's total churn in any given period on average, according to the publisher's svp of growth, Nikhil Hunshikatti. To reduce that percentage, after payment has not been completed, there is a 58-day "grace" window to try and recover lost subscriber revenue, he added.
The first email goes out four days after the final attempt to charge the payment method has failed. From there, eight subsequent emails are sent, interspersed with two or three robocalls and another two or three calls from a live person, he said.
"It basically starts with just a reminder that your payment method has declined. Then it's a softer reminder following after a week or two. Then, we have a headline [toward the end of the grace period]. We're trying different ways to grab the users' attention along the journey," said Hunshikatti.
On average, Gannett's first email is the most impactful in recovering this lost revenue, followed by the second and the final emails, compared to the rest of the communications, he added. The first email has a success rate of 95% in getting people to update their payment. After that, all other combined outreach adds another 2.5% to the recovery rate.
How effective are phone calls?
The first few calls make the most difference, according to Hunshikatti.
If a connection is made to the correct person, the first robocall can have a 56% success rate in getting the subscriber to update payment information. An outbound call from a live person has a success rate of between 13 to 15% if a connection is made, he said.
If the first communications are the most successful, why does a publisher need to send upwards of nine emails?
The amount of outreach should be tested and honed by each individual publisher, according to Gwen Vargo, vp of communications and operations at the American Press Institute, who previously served as the director of reader revenue and studied publishers' subscription businesses.
But the idea of regular outreach and communications falls back on the idea of a multi-channel marketing strategy, she said.
"We know as marketers that the more different types of touchpoints, and the more it's repetitive, the more likely that message is going to stick and they're going to be able to take action," said Vargo.
What about bribery?
Sure, a publisher can try.
After Gannett has identified that a subscriber's credit card is going to expire, the publisher offers that person an incentive to update their payment information before the payment lapses to begin with, as part of Hunshikatti's team's proactive dunning strategy.
A $10 Amazon gift card has been the most effective incentive for this strategy, he said, but Gannett has also tried Starbucks gift cards and other credits.
"Our objective there was to proactively get them to update their card so they don't lapse," Hunshikatti said. "They never intended to leave us [and] now that we've seen the results of that test with almost a 14% to 17% lift, [it] makes sense for us to figure out how we can introduce some of this incentive testing as part of our reactive measures" for subscribers whose payment has already lapsed.
The incentives are not immediately awarded, however. Hunshikatti said that, after subscribers update their payment, three months later they are awarded the gift card.
Should a publisher try to upsell them?
No. Not according to Eisenband, anyway.
"The challenge is that subscribers are not in the mindset of wanting to pay more. You're there to save them from churning. Emails are transactional in nature and not engagement based in nature," he said.
Other tips and tricks
Always send dunning emails from the publisher's domain versus from the billing vendor to instill credibility and security when asking for a subscriber's new credit card information, Eisenband said. Also, put a lot of branding on the payment update page that they're prompted to go to after clicking the link in the email.
Make the process of updating payment mobile-friendly, Eisenband said, adding that about 75% of dunning emails are opened on a phone versus on a desktop. Also, don't force a subscriber to have to log into their account after clicking the link in an email, he said. There should be as little friction as possible to avoid spill off.