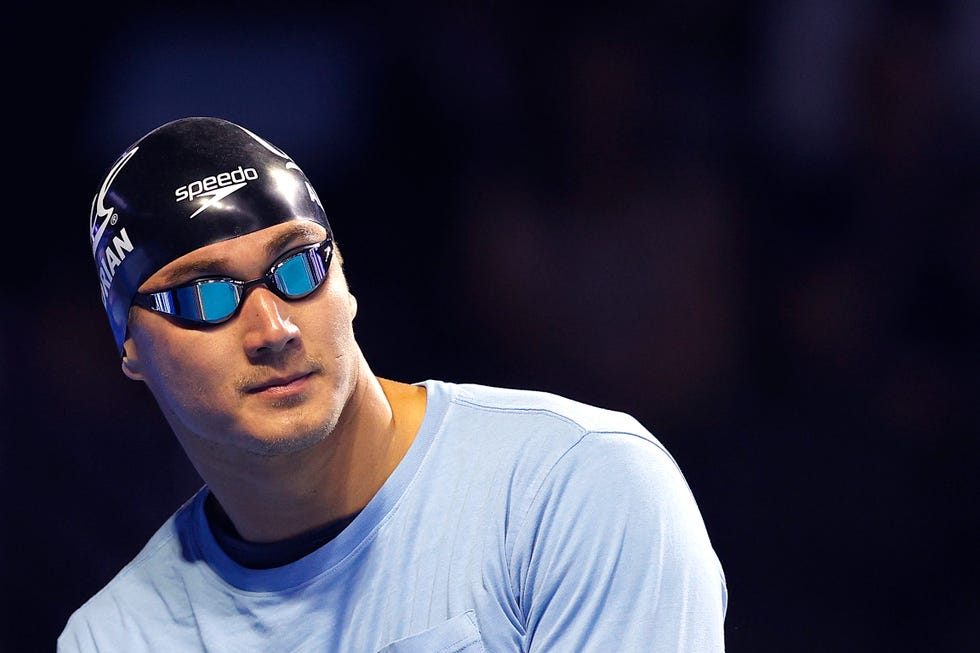 Swimmer Nathan Adrian is no stranger to challenge—there were plenty of them on his way to swimming in three Olympic games and earning eight Olympic medals. But in December 2018, at age 30, he met a new challenge: a diagnosis of testicular cancer. "Life, like swimming the 100 free, can come at you hard and fast as you can't always see who, or what may be chasing you down," he posted on Instagram after the diagnosis. The cancer was caught and treated. Here, Adrian shares what it's like to go through diagnosis and treatment and what every guy should know about testicular cancer—the most common type of malignant cancer in guys age 20 to 40.
I'm used to operating in tiny increments of time. Just one single hundredth of a second has determined the color of my medal and my position on the podium. Speed and power and strength are my focus. Dedication and determination light the way. But when I was diagnosed with cancer, the clock wasn't my own and it wasn't at the end of a lane line. There were no gold medals and no cheering crowds. No amount of hard work could change what I was facing. And nothing happened as fast as I wanted it to.
In 2018, I noticed one of my testicles felt different—it was harder, swollen and felt painful. And it wasn't excruciating pain. It was just, on a scale of one to ten, maybe a five or six. Really, something you could easily ignore. But since the swelling and hardness didn't go away after about a week, I knew something wasn't right. I went to the doctor, and he wanted to send me that day for diagnostic testing.
I couldn't get in for an ultrasound til the next morning. Ultrasound techs are pretty smart, but they're not allowed to actually read the ultrasounds for you. You can just watch them. They're looking at the ultrasound, getting their pictures and you're trying to read their eyes while they're saying, "I can't tell you." I had to wait for the radiologist to read and then call my doctor. That afternoon, as I was walking into swim practice, my doctor called and said, "It's a vascularized mass."
I was diagnosed with cancer.
Waiting, waiting, and moving ahead
The first thing I did? Practice. I have a single-track mind. I want to accomplish what I set out to do. After that, everything felt so long, like such a wait. I had to see a specialist, determine treatments, schedule surgery and wait for lab results. Waiting, and waiting and waiting. And all that time, I still had the 2020 games on my mind.
Cancer really takes you down a couple of notches real quick. I felt like I was at a certain spot, and it was working on swimming. I was stressing myself out about performing in the water. It seems so stupid now, but when you're in it and when you're doing it, it is the most important thing in the world. You worry about how many hours of sleep you got and if that's going to make you slower. You think about your protein intake and your nutrition. We're taught and trained to really care about those marginal things because they really do add up. My gold medal in 2012 was by a hundredth of a second. (Find out more about Adrian's life and swimming here.)
And just like that, none of it mattered. I was so detailed and took care of my body so well, and then it just kind of betrayed me. After surgery, I was back to square one in my training.
I am used to swimming or training five hours a day. And here I am just sitting at home, recovering, twiddling my thumbs, feeling like I'm wasting my time. Nothing is more anxiety inducing than feeling like I'm stagnant.
At that time, a buddy and I decided to invest in owning a pool. It was a life saver to focus on that. It felt like there was growth coming in my life—because it wasn't happening in the pool. It's so important to recognize there are just some things in life you can't control.
In swimming, I can't control what other people in the other lanes are doing. I can only control what I'm doing. When I was 13 years old, there was another kid I used to crush all the time, and I don't see him for maybe a year. Then all of a sudden, he's there and he has a full beard and these massive biceps.
All in one year. And, of course, I'm thinking how unfair that is. He destroys me in the water. But it was good. It was one of the best things that ever happened to me. Those kinds of moments and lessons are really, really important. And that's how I felt about the cancer.
Your mind matters, too
I didn't want to spend time wondering why I got cancer. Who picked me to go through this? I didn't want to sit around and wonder how it happened to me. It is what happened to me. And I had to keep myself in the present. I just took it step-by-step. It's what I needed to do. I was careful to spend time with the people I loved—to just be present with them. That company was so important. Otherwise, I would go to dark places. I recognized that. As a man, you have to remember mental health is really, really important. I had to grow or move forward in some way. Moving forward has to be a specific thing to you. You have to know your values and what fulfills those values in a healthy way.
Your mental health is your physical health, and your physical health is your mental health. Everything is connected—your nervous system and your muscular system. It all works together. Keep yourself moving forward, even if you don't feel like it on some days. I have had those days. Do something to help yourself—whether it be mindfulness meditation or just taking moments out of the day to take stock of what your feelings are today or if your body is tired. How did you get there, and what can you do to get to a place where you want to be? That can be in your work performance. It can be in the weight room, in the pool or whatever matters to you.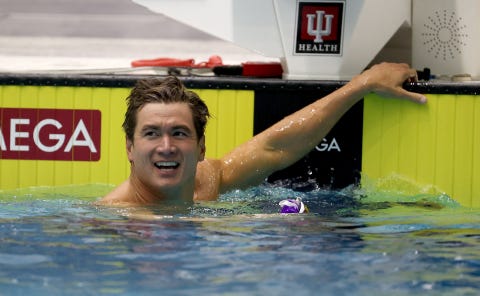 Nathan Adrian competing in 2021, years after diagnosis.
Andy LyonsGetty Images
What all men need to know about testicular cancer now
You have to know your mind, and you have to know your body. As we go through Testicular Cancer Awareness Month in April, get to know yourself. Know when something isn't right. Don't wait to check it out—things become much more complex when you wait.
Testicular cancer is treatable. We've gotten here because of cancer research. Thirty or forty years ago, I would not have had this outcome. My surgery would have been far more complex, and I would have likely had radiation and would have been crossing my fingers. It's not like that today.
I am an ambassador for the V Foundation. Places like the V Foundation for Cancer Research are changing so much in the cancer space. I think the V Foundation is special: One hundred percent of the money they raise goes to support researchers who are doing the work to make cancers treatable.
I am back in the pool, and I have a wonderful wife and one-year old daughter. I never take for granted my mental or physical health – I appreciate it daily and focus on improving in any way I can. Speed has helped me win gold medals. And the waiting I was forced to do taught me patience and discipline in a new way.
I continue to move forward.
This content is created and maintained by a third party, and imported onto this page to help users provide their email addresses. You may be able to find more information about this and similar content at piano.io