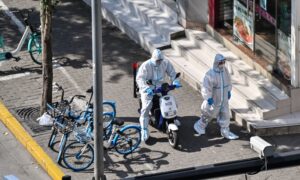 The U.S. State Department on April 9 warned Americans to think twice before traveling to China owing to the Chinese regime's "arbitrary" COVID-19 measures. It also authorized nonessential government employees and their families to leave its Shanghai consulate amid a citywide lockdown.
"American citizens are asked to reconsider travel to the PRC [People's Republic of China] due to arbitrary enforcement of local laws and COVID-19-related restrictions," the U.S. Embassy in China said in a statement.
"Additionally, American citizens should not travel to the PRC's Hong Kong Special Administrative Region, Jilin Province, and Shanghai municipality due to COVID-19-related restrictions, including the risk of parents and children being separated."
On April 10, Shanghai health officials reported 24,943 new CCP virus infection cases in the previous 24 hours, bringing the city's total since March to more than 170,000. However, many more people might have been infected, as experts and Chinese residents have said Chinese officials are underreporting infection and death figures.
Shanghai officials have imposed draconian measures taken from the communist regime's "zero-COVID" playbook. The city has been under lockdown since March 28, and April 9 marked the fourth consecutive day of the city's residents undergoing citywide COVID-19 testing.
Shanghai's policy of forcibly separating children who test positive from their virus-free parents has drawn outcry from the city's residents and Western diplomats. Recently, diplomats from 24 European countries wrote to the Chinese foreign ministry urging Beijing against such a measure.
Other complaints from Shanghai residents have included a shortage of food and lack of access to medical treatment and medicines for non-COVID-19 cases. Recently, Shanghai law enforcement officials allegedly assaulted residents for violating quarantine measures.
U.S. Ambassador to China Nicholas Burns told Beijing he had concerns about China's measures related to the CCP virus.
"Ambassador Burns and other Department and Mission officials have raised our concerns regarding the outbreak and the PRC's control measures directly with PRC officials, and we have informed them about the voluntary departure decision," according to a statement.
Chinese officials have reacted badly to U.S. criticism of COVID-19 policies. On April 9, foreign ministry spokesperson Zhao Lijian said U.S. concerns were a "groundless accusation," according to a statement.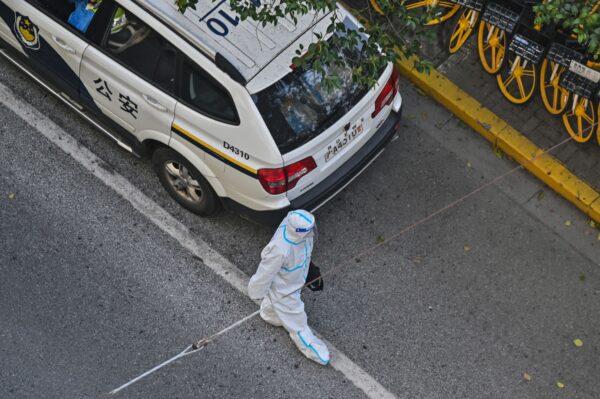 The State Department's travel advisory on China warns American citizens that they might not be free to travel upon completing their mandatory quarantine upon arrival.
"Even after completing quarantine on-arrival, travelers to the PRC and Hong Kong may face additional quarantines and mandatory testing as well as movement and access restrictions, including access to medical services and public transportation," the advisory states.
But what should be more alarming to foreigners wanting to travel to China is that Beijing arbitrarily enforces local laws for some very specific purposes.
"The PRC government arbitrarily enforces local laws, including carrying out arbitrary and wrongful detentions and using exit bans on U.S. citizens and citizens of other countries without due process of law," according to the travel advisory.
It says the Chinese regime uses arbitrary detention to "compel individuals to participate" in local investigations and "gain bargaining leverage over foreign governments."
China is known for practicing "hostage diplomacy." Two well-known victims are Michael Kovrig and Michael Spavor, two Canadians who were released in September 2021 after being detained in China for over 1,000 days.
In June last year, Madrid-based human rights group Safeguard Defenders reported how China was engaging in "mass state-sanctioned kidnapping," where Chinese police made people "disappear" without a court order under a system known as Residential Surveillance at a Designated Location (RSDL). It said there have been tens of thousands of victims, including foreigners, since 2013.
The group's founder and director, Peter Dahlin, in his analysis for The Epoch Times on April 1, said there could be as many as 100,000 victims under RSDL.
"With a more aggressive communist China—more willing to detain foreign citizens to get what it wants—every indicator points toward foreigners becoming a more common target for RSDL," he warned.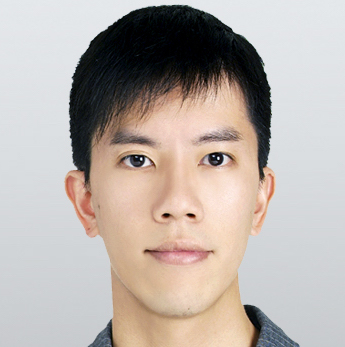 Follow
Frank Fang is a Taiwan-based journalist. He covers news in China and Taiwan. He holds a master's degree in materials science from Tsinghua University in Taiwan.