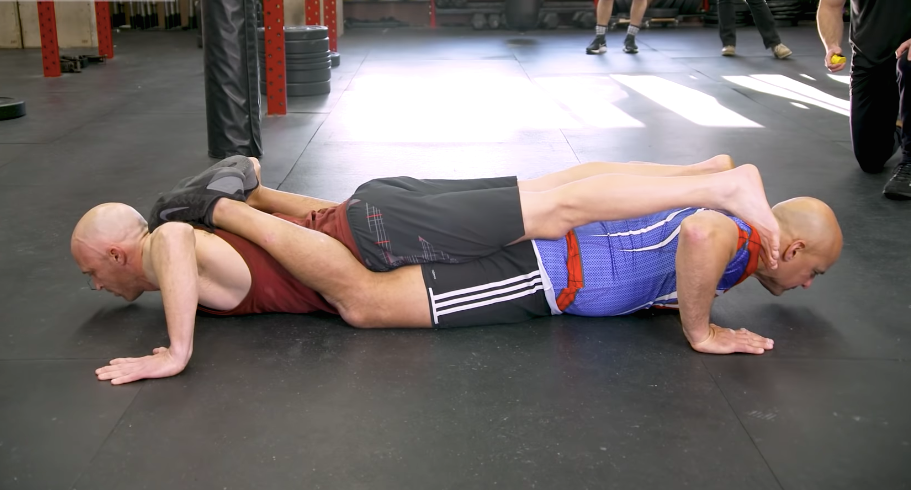 The Guinness Book of World Records just brought together four athletes from around the world who each hold records in pushups and pullups, and set them the challenge of breaking new ground. The four record-breakers are: Ron Cooper, who holds a staggering six Guinness World Records; Luis Vargas, who holds four separate world records for the knuckle pushup; Adam Sandel, who set the world record for doing the most pullups in a single minute in 2018 with 68 reps and held onto it for two years; and Sverre Diesen, who holds four world records including one for doing one-armed pushups with 100 pounds strapped to his back.
First up, Cooper and Vargas team up and attempt to break the world record for most "tandem pushups," which they perform with Cooper's on Vargas' back and his feet hooked over Vargas' shoulders. The pre-existing record for this particular feat is 33 reps, which Cooper and Vargas surpass with 35. Then Sandel and Diesen link up and try to beat that number. And despite only trying the move for the first time ten minutes prior to this attempt, they succeed in doing so, edging out the others with 36 exhausting reps.
"That was beastly," says Cooper. "You guys were like a finely tuned machine."
Next up, Sandel tries to reclaim his title for most pullups in a minute: he now has to complete 74 reps to tie with the current record-holder Hong Zhongtao and 75 or above to set a new record. Sandel admits that he hasn't been able to best Zhongtao's number while training for this attempt, and unfortunately he is unable to hit 74 on the day, completing a still very impressive 72 in his allotted 60 seconds.
Vargas sets out to break the record for most spiderman knuckle pushups done in a minute, and smashes it with 89 reps, while Diesen takes on the most one-armed hand release pushups in a minute and sets a new historic high at 44 reps.
Sandel then goes head to head with Cooper to see if either of them can set a new record for most chest-to-bar pullups in one minute. The record to beat is 30: Cooper completes 31 reps in a minute, while Sandel (a.k.a. "Professor Pullups") churns out 36. So while they both technically break the record, Sandel secures the new title with the higher number.
"We often say to each other enjoy the journey, embrace the journey of the training and not get so focused on the results," says Sandel, "and I think that's a life philosophy that we both live by."
This content is created and maintained by a third party, and imported onto this page to help users provide their email addresses. You may be able to find more information about this and similar content at piano.io