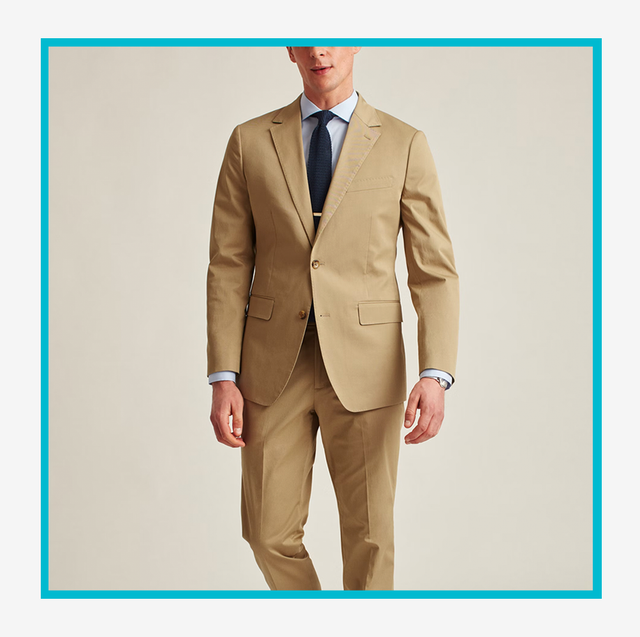 Courtesy of Retailer
After two long years, wedding season is back in full force. And whether you've worn out, outgrown, or simply want a new wedding suit, there's never been a better time to invest in one. Forward-thinking menswear brands are capitalizing on the formalwear craze, and are churning out some seriously add-to-cart-worthy jackets and dress pants that are infused with performance fabrics, astute tailoring, and (of course) lots and lots of style.

Best for Hot Weather Weddings
Lilac Havana Suit
Suitsupply
Read More

Best for Most Weddings
Wool Twill Suit
Polo Ralph Lauren
Read More

Best Cotton Suit
Italian Stretch Cotton Suit
Bonobos
Read More

Best Budget Suit
Burgundy Suit
Suitshop
Read More

Best for Travel
Howell Wool Stretch Navy Suit
Indochino
Read More
But let's be candid: weddings these days look much different than years past. Some nuptials are more casual, laidback, while others have doubled down on extravagance (you only get married once, right?). That means a wider variety of dress codes to navigate. And while suits, by nature, tend to be a scotch more laidback than tuxedos, there's still plenty of styles to choose from that work for multiple occasions. From warm-weather jackets to dress-to-the-nines fits, the best wedding suits have you covered this summer and beyond.
Read more: Best Suits for Men
Best for Hot Weather Weddings
Lilac Havana Suit
Yes, the linen suit is a summer staple given that it's breezy and looks great on just about everyone, but it can also be as itchy as a corded knit sweater. Not so with Suitsupply's Havana suit, which is interwoven with wool and silk to prevent skin irritation while upping its luxury quotient. Pair it with a lightweight dress shirt (sans tie) and some killer loafers, and you've got a full-proof beachside wedding look.
Read more: Best Summer Suits
Best for Most Weddings
Wool Twill Suit
Trends come and go, but a Ralph Lauren suit is forever. Especially this one that's rendered in a classic wool-twill that can be worn year-round (but looks best during shoulder seasons). Hand-sewn with an eternally stylish trim—but not too skinny—fit, you'll look back on old wedding photos decades from now and be proud to have worn this.
Read more: Best Tuxedo Shoes
Best Cotton Suit
Italian Stretch Cotton Suit
Yes, Bonobos staked its claim in the aughts for its performance pants that make your butt look great, but did you know it also makes some insanely flattering jackets? Take this cooler-than-cool chino-colored suit, which comes with a bit of stretch to accentuate jacked chests, and to make it easier to move in. You know, in case you want to bust a move at the wedding reception.
Read more: Best Blazers for Men
Best Budget Suit
Burgundy Suit
If you're the type that doesn't want to splurge on a wedding suit (and in this economy, we don't blame you), we suggest forgoing suit rentals and owning one from SuitShop, a recently relaunched direct-to-consumer outfitter that ships quality formalwear quickly at a fraction of the price of your typical big box suit store. This dark red hue lets you tastefully stand out from the guest list, without forking over your entire paycheck.
Read more: Best Affordable Clothing Brands for Men
Best for Travel
Howell Wool Stretch Navy Suit
Destination weddings are pretty awesome—and, let's face it, who doesn't want to get away during these turbulent times?—but hours of travel can wreak havoc on your carry-on suit. Enter this one from Indochino, which is infused with nanomaterial technology and spandex to fight wrinkles and provide stretch, so you know it can hold up during transatlantic flights.
Best Seersucker Suit
Ludlow Slim-fit Seersucker Suit
Ludlow Slim-fit Seersucker Pant
$128 AT J.CREW
If it's not broken, why fix it? That's been J.Crew's approach to its menswear essentials, especially wedding attire. This summer-ready Ludlow suit hasn't changed much since dropping in 2008. Its seersucker fabric still provides breathability and a continental vibe that make it at home for beachside weddings. Once nuptials season over, you can get plenty of mileage out of this suit. Wear the jacket separately with lightweight jeans or chinos for a dressed-up brunch during the dog days of summer.
Best Luxury Suit
Prince of Wales Checked Wool and Silk-Blend Suit Jacket
Prince of Wales Checked Wool and Silk-Blend Trousers
$1,330 AT MR. PORTER
Nothing says you've arrived quire like a Prince of Whales ensemble, and this one from Tom Ford is the ultimate power suit. Checks line up to each seam to prove its impeccable craftsmanship, while padded shoulders give it sharp Wall Street vibes. If budget is not a factor for you, then you can't go wrong with this one.
Read more: Best Online Clothing Stores for Men
Best Laidback Suit
Venture Blazer
ABC Classic-Fit Pant
$128 AT LULULEMON
Guys who show up to their day jobs in athleisure will find plenty to love abut Lululemon's take on the summer suit. Its pants feature the brand's marquee anti-ball-crushing technology to prevent swamp crotch, while the venture blazer feels like your favorite workout clothes, but still look dressed-up enough for backyard weddings or business casual functions.
Best for Groomsmen
Regular-fit Suit in Micro-patterned Virgin Wool
Like bridesmaids, groomsmen have a tenuous line to walk between looking impeccable without upstaging the groom. Hugo Boss' virgin wool two-piece checks both boxes easily, with a respectable micro-pattern that adds an interesting texture without drawing too much attention.
How Should a Wedding Suit Fit?
We're glad you asked. Just like any other suit, your wedding suit should fit impeccably. Whether you want to go baggy (i.e. trendy) or super slim, a suit's jacket should sit directly above the shoulder, and its sleeves should slightly be above the sleeves to show off your cuff links.
With your suit pant, you could go full Thom Browne and cut it above your ankles, but for most guys, we recommend ending it just above your dress shoe, punctuating with a deep crease.
This content is created and maintained by a third party, and imported onto this page to help users provide their email addresses. You may be able to find more information about this and similar content at piano.io