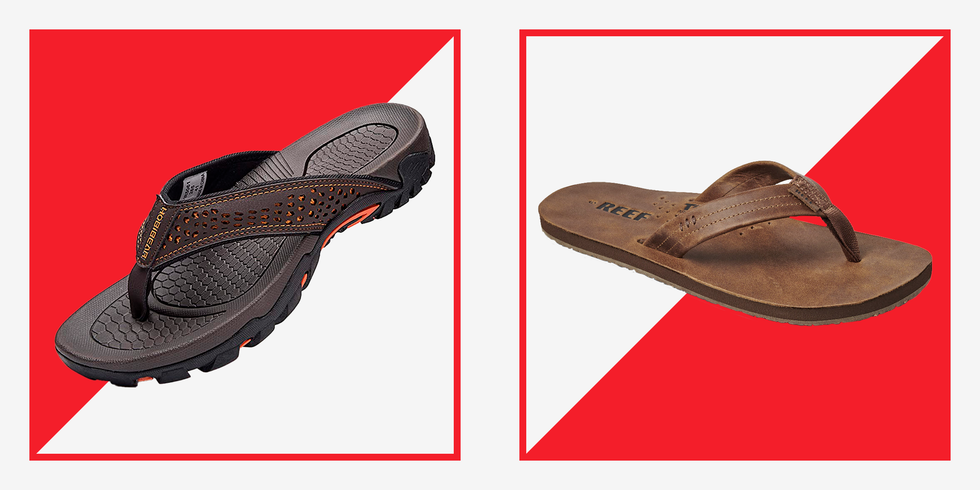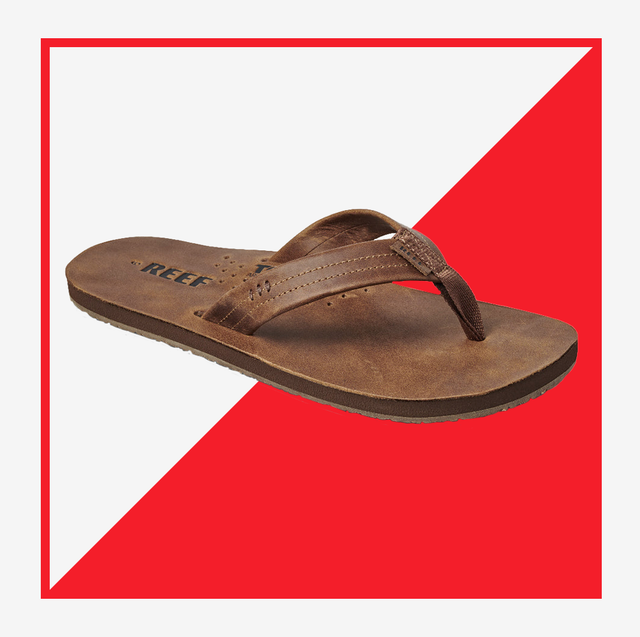 Courtesy of Retailer
A flip flop is by definition a sandal with little arch support. Featuring a thin, floppy sole with a Y-shape strap that attaches to our feet, men's flip flops are mostly used for quick beach trips, in-and-out errands, or at-home lounging. Typically, it's the pair of rubber thong slippers we'd find in a drugstore clearance bin. In other words, men's flip flops aren't made for long distance slogs.
"Flip flops encourage your toes to scrunch up or, medically speaking, your flexor tendons to contract," says New York City-based podiatrist Daniel Geller, D.P.M. "Because the toes are grabbing while the heel is lifting, there is a disproportionate amount of stress on your plantar fascia which can contribute to plantar fasciitis [extreme heel pain]." Walking for miles in thin soled flip flops can lead to even more foot problems like hammertoe deformity.
The key to wearing flip flops for extended periods is finding a pair with arch support.
Read more: Best Shoes for Men
"Without some level of arch support to prevent over pronation … ligaments and tendons are at risk for stress and strain," says Geller, who's also an advisor for Kane Footwear. But if you're looking to swear off flip flops this summer, take note. Nowadays, a few forward-thinking footwear brands have infused men's flip flops with incredibly comfortable arch support so you can wear them all day long this spring and summer without hurting your feet.
"Folks should look for flip flops with some level of medial support," Geller says. "Enough to feel a lift in your arch." Ahead we found 10 podiatrist-recommended flip flops with arch support for all your warm weather adventures.
The Best Men's Flip Flops With Arch Support

Ulele Men's Beach Sandal
Geller co-signs OluKai's line of ergonomic sandals. "It's a favorite of mine that I always recommend to my patients," he says. "They are comfy, supportive and not flimsy. A flimsy or hyper flexible flip flop will cause your foot to bend in places it shouldn't or overstretch the places it does."
Read more: Best Sandals for Men
Men's Beach Sandals
Another supportive sandal from OluKai, this one has received thousands of five-star reviews for its arch-supporting EVA midsole, along with a stylish synthetic leather exterior that looks as good as it feels.
Sport Flip Flops
Made for outdoor adventures, these sporty slip-ons have a super thick cushion (read: ample arch support), plus a grippy sole to prevent slips during uphill hikes.
Read more: Best Slides for Men
Draftsmen
If you're in the market for a supportive flip flop that's not too bulky, this one's for you. Reef's bestselling Draftsmen also has a rich grain leather footbed for your arch, along with a non-slip outsole that you can also use as a bottle opener. Perfect for a boozy day at the beach.
Read more: Best Water Shoes for Men
Men's Fanning Sandals
This Amazon bestseller has amassed over 20 thousand (!!!) five-star reviews for good reason. It's got a supportive EVA footbed that you can walk miles on, along with with a soft strap that has a strong grip but won't chafe your skin.
Read on: Best Slip-on Shoes for Men
Crocband Flip Flops Sandals
Nurses swear by Crocs' all-purpose clogs that can be worn for even the longest shifts. We'd say that its flip flops are just as easy on your feet, thanks to its patented foam cushioning that provides all-day comfort.
Men's Como Sandals
"Tried and true," Geller says of these classic flip flops. "Leather and cork make up the base which creates structure and support. They also have metatarsal pads built in to help distribute forefoot pressure evenly and a crest pad at the toes to help discourage contracture."
Honolulu Zinnia Sandal
This rubber version of Birkenstock's classic flip flops are a bit softer (and more comfortable, in our opinion), while also offering ample arch support.
Carver Suede Athletic Sandal
Quicksilver's known for making ergonomic footwear for surfing, snowsports, and everything in between, and its flip flops are no exception. This one has as compression-molded footbed that's also slip-on resistant, so you can wear this all day, every day.
Tide II Toe Post Sandal
Vionic specializes in ergonomic, podiatrist-approved footwear that also looks pretty stylish (which is why it makes one of our favorite white sneakers). This foam-lined sandal is made to hug the arches of your feet like a second skin, and has been shown to treat heel pain.
This content is created and maintained by a third party, and imported onto this page to help users provide their email addresses. You may be able to find more information about this and similar content at piano.io