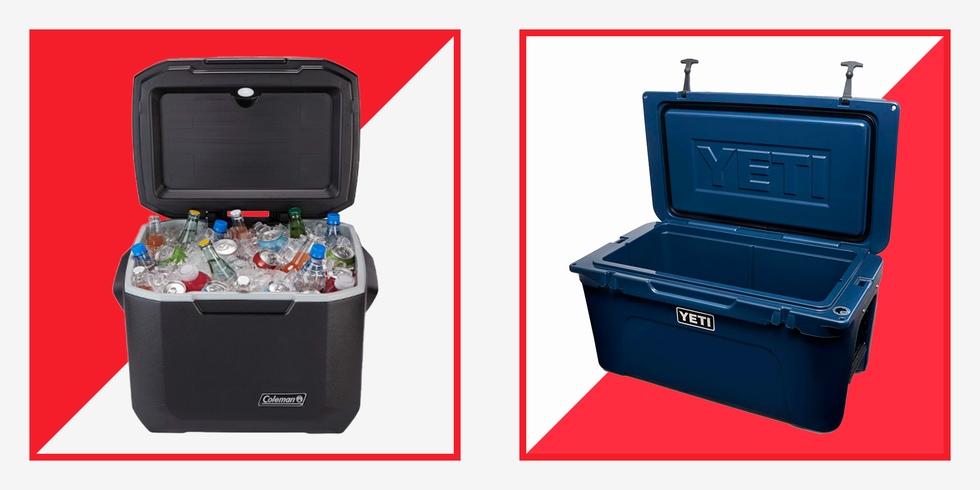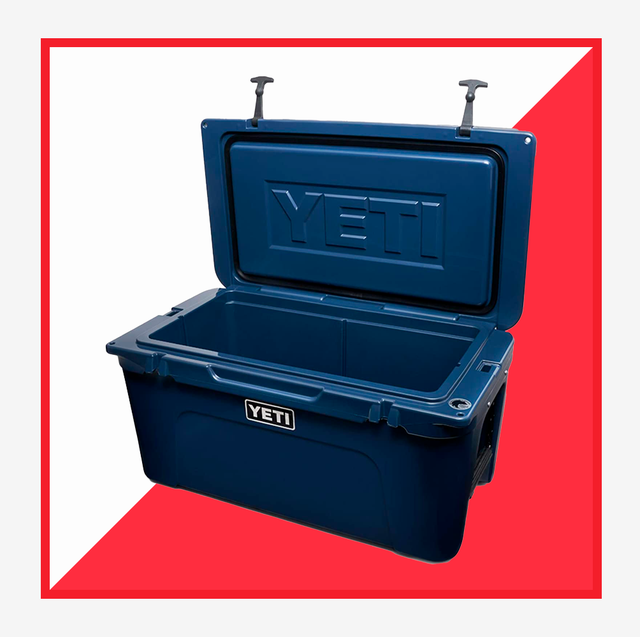 Courtesy of Retailer
When it comes to coolers, it's what's inside the cooler that really counts. But of course, the quality of the cooler itself—you know, the part that holds your favorite summer beers, seltzers, and other seasonal drinks—is just as important. While those corroding, beat-up coolers that you and your friends busted into as kids after Little League games will always have a special place in your warm heart, sometimes (especially when camping out for a few days in the summer sun), you really need a good camping cooler. We're talking something that's high tech, durable, and is sure to keep all your supplies, food, and drinks chilled to the perfect temperature. That's right—you need a 21st-century adult cooler. And if you've been on the hunt, you need not look any farther.
Read more: Best Camping Gear for Men
How to Find the Best Camping Cooler
Now, when we're discussing the best of the best coolers—and the best coolers for your money, for that matter—there are some key things to consider. First and foremost: ice retention. In other words, how well will its insulated walls keep your things cold? Then it's all about portability, which can depend on how you plan to use it. It is a cooler with wheels? A backpack cooler? Maybe you want an easy-to-handle, soft-sided option.
No matter what type of cooler you're looking for or your budget, we found the 8 best camping coolers for every summer scenario, including picks from top brands like Yeti and Coleman. From soft totes and duffle bags to small hand coolers and classic chests (with and without wheels), these are the top options for any outdoor adventure. Bring 'em hiking, fishing, or to a backyard cookout. Regardless of what you do, these will make this summer your coolest one yet (and in more than one way).
The Best Camping Coolers to Buy Now
Read more: Best Beach Coolers
Best Camping Cooler for Ice Retention
YETI Tundra 65 Cooler
• Capacity: 56 quarts
• 3″ permafrost insulation with extra thick design
• Heavy-duty rubber latches for security
Let's start with the classic ice chest. The YETI Tundra 65 includes 3 inches of permafrost insulation and boasts a "virtually indestructible" armored exterior. Its rubber latches also mean you avoid those busted plastic things. It might be one of the pricier coolers, but's it's one that will endure through the ages.
Best Camping Cooler with Wheels
Coleman Wheeled Cooler
• Capacity: 50 liters
• Ice retention: 5 days
• Lid supports up to 250lbs
From classic ice chest to classic portable. And a classic brand. Coleman has been a camping buddy for decades, and this wheeled chest will keep ice, well, iced for up to 5 days in 90°F heat. It also stores about 84 cans. That's portability without having to reload.
Best Small Cooler
Coleman 9 Can Cooler
• Capacity: 4.5 quarts
• Removable liner for easy cleaning
• Adjustable shoulder strap
It's the small, no-frills portable cooler. As the name suggests, this little guy will hold nine cans—which means nine cold beverages for you. Sure, it might look like a total Dad bag, but who cares. It gets the job done, and it is worth every single dollar.
Best Budget Camping Cooler
TOURIT Cooler Backpack
• Capacity: 330ml
• Ice retention: 16 hours
• Built-in leakproof liner
If the hiking is a bit more extreme, you're gonna wanna two-strap your cooler. This TOURIT bag is perfect for all the pack-mule camping trip Dads. It keeps food and drink warm or cool for 16 hours. Plus there's a lifetime warranty. Tell your kids two strapping is cool.
Best Value Cooler
Igloo Marine Ultra 54 White
• Capacity: 54 quarts
• Ultratherm insulated body and lid
• Non-slip, comfort grip, swing-up side handles
If you're looking for a simple, classic and effective camping cooler to have with you at the beach or during a backyard cookout, this is it. This option from Igloo was designed for extreme conditions and features comfortable, swing-up handles that won't slip in wet conditions.
Best Travel Cooler
Polar Bear Coolers 24 Pack Original Nylon Soft Cooler
• Capacity: 24 cans with 10lbs of ice
• Ice retention: 24 hours
• Adjustable shoulder strap
For something a bit bigger but no less stylish, try Polar Pear Coolers. Its carry-on size also allows you to store whatever duty-free drinks you picked up while traveling. It looks like a duffle bag. Who's gonna know?
Best Large Cooler
Coleman Coastal Xtreme Series Marine Portable Cooler
• Capacity: 120 quarts
• Ice retention: 6 days
• Leak-resistant thread drain
You don't need a fancy cooler; you just need a monster cooler for everything you'll need for a long camping trip. This 120 Quart behemoth will keep the drink party bottomless and the entire group hydrated. That's upwards of 250 pounds and 100 cans.
Best Soft Cooler
YETI Hopper M30 Portable Soft Cooler
• Capacity: 7.2 gallons
• Wide, magnetic, leak-proof zip closure
• Adjustable shoulder strap
Looking for easy access to your cooler? This wide-mouth bag is just what you need. YETI brings its top-notch quality and construction to you in the form of a large, easy-to-carry soft-sided cooler with a magnetic closure to make getting things in and out of it as seamless as possible.
Best Luxury Cooler
V Series 55
• Capacity: 12 ounces
• Vacuum insulation
• Stainless steel construction
Looking to splurge on a cooler? Yeit has you covered with this stainless steel beauty, which is basically a portable, top-of-the-line refrigerator. It has vacuum-insulated panels that will keep your drinks ice-cold for days, making it perfect for a glamping trip or tailgating.
This content is created and maintained by a third party, and imported onto this page to help users provide their email addresses. You may be able to find more information about this and similar content at piano.io