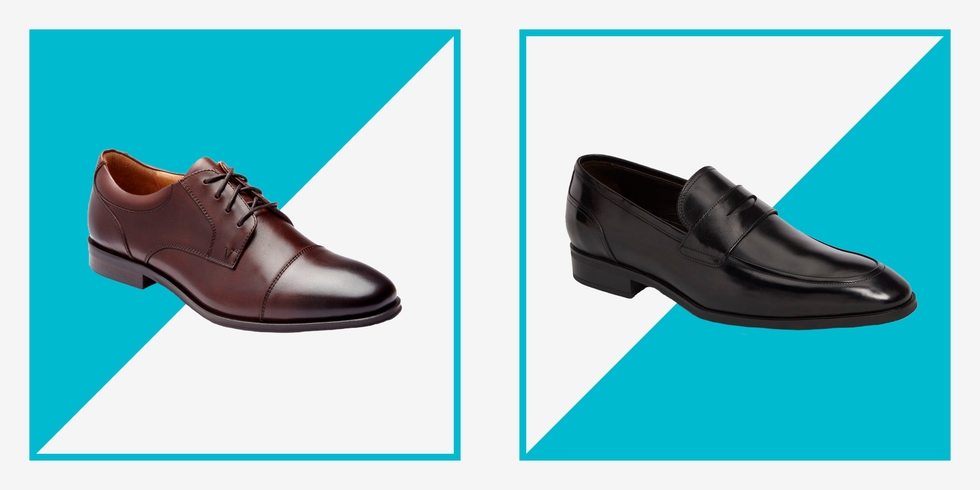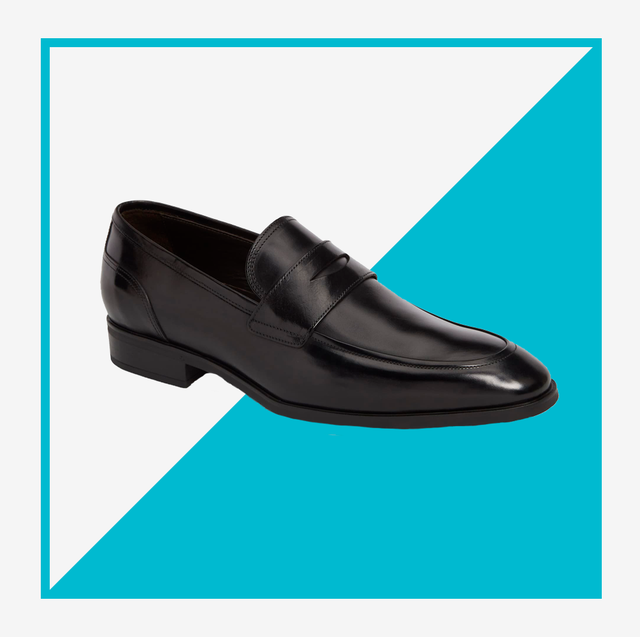 Assorted retailers
There are a few items that every man should have in his closet. A well-fitting suit. A go-to pair of jeans. A solid winter coat. One of the most important essentials: comfortable dress shoes. Dress shoes are one of those items that, sure, you might not wear every day. But when it comes time to wear them, there is no alternative. Sneakers and a suit can be fun, but they're not always job interview or wedding material.
It's also a wise idea to look at dress shoes—or even purchase them—before you need to wear them. Trying to find an emergency pair of dress shoes before a big event means your options might be limited, or you could get stuck with a pair that needs a few wears of breaking in. Shopping for comfortable dress shoes now means you can avoid the stress (and blistered heels) that come with panic shopping.
Dress shoes don't have to be expensive or complicated, either. It's nice to have a pair of black and a pair of brown, and a pair of lace-ups and slip-ons. If you don't like feeling stuffy, you can opt for hidden cushy soles or even a pair of streamlined boots. Here are 15 of the most comfortable dress shoes for men on the market.

The Best Dress Shoes for Men
Best Oxford Shoe
Lewis Grand Wingtip Oxford
An Oxford is the OG dress shoe, with a closed lacing for a streamlined silhouette. If you're looking for a dress shoe that feels like a sneaker, Cole Haan's dress shoes have you covered. This option has a hyper-cushioned rubber sole so your feet feel supported.
Read more: Best Shoes for Men
Best Monk Strap Shoe
Hoyt Monkstraps
When mixing up your dress shoes, sometimes no laces is the way to go. Monk Strap shoes are secured by a single strap or a double strap and buckle, like these Beckett Simonon shoes. They are traditionally less formal than an oxford shoe, but can still be a dressy option for work.
Best Derbie Shoe
Corbetta Cap Toe Oxford
The best assortment of dress shoes for anyone's closet includes a pair that you never have to think twice about. These cap-toe derbies are always appropriate.
Larson Lug Weejuns
Don't sleep on the power of a penny loafer, especially if you are ever getting dressed up in the warmer months. These look great with a suit at weddings.
Shane Lace-Up
Considered to be a staple in every man's shoe wardrobe, lace-up shoes are the cornerstone of dress shoes thanks to their timeless appeal and everyday wearability. Plus, these Vionic dress shoes are made with a super stable sole that helps prevent overpronation.
Best Loafers
Birch Suede Milano Loafer
The seriously soft interior and snug fit make these sophisticated loafers a top choice for wearing a cropped pant look sans socks.
Read more: Best Loafers for Men
Atticus Cap-Toe Shoe
The cap-toe is a sleek, timeless option to have in your dress shoe repertoire. This comfortable pair of Clarks combines the classic shape with its own signature suede, making it a great summertime dress shoe.
McAllister Wing Tip
You can never go wrong with any Allen Edmond shoe, but this wingtip oxford is especially solid. It is a timeless shape that will last you years.
Best Chukka Boots
Greenflex
Chukkas were a staple among World War II soldiers and 20th century polo players. Now they're a menswear essential since they're durable, easy to slip on, and looks great with just about any business casual outfit. These hand-made Chukkas have a soft allow that won't mess with your pant hem, and are also eco-friendly.
Read more: Best Dress Boots for Men
1461 Mono Smooth Leather Oxford Shoes
Derby shoes have an open lacing system in form of two quarters that are sewn at the top of the shoe (rather than being sewn under or into the shoe). And while there are a ton of derby options, Dr. Martens in particular has a thick sole, making them feel a little more stylish than old-school.
Read more: Best Men's Clothing Brands
Best Chelsea Boots
Cavalier Boots
If your shoe collection is set with a black and brown pair, you can look to expanding what dress shoe actually means to you. Getting a sleek pair of boots can work for the right, less formal occasion.
Read more: Best Chelsea Boots for Men
Federico Oxford
Want something even more dressy? The shine in this Ted Magnanni oxford gives the standard shoe a refined, sleek update.
The Wingtip Shoe
These perforated wingtips are a classically formal shoe. They are a little bit old-school but purposeful. These Allen Edmonds belong with a navy suit.
Collection Neilson Bit
When it comes to those dress shoes that feel like sneakers, loafers tend to lean on the comfier side. You can also have more fun with them, as dressy loafers come in a variety of textures (velvet, studded, embroidered etc.) that are still suitable for formal settings.
The Filare
Because dress shoes are such a timeless concept, it only takes a bit of futzing with the details to get something new. M.Gemi's loafer has a little leather twist on the front, making them special but not informal.
This content is created and maintained by a third party, and imported onto this page to help users provide their email addresses. You may be able to find more information about this and similar content at piano.io