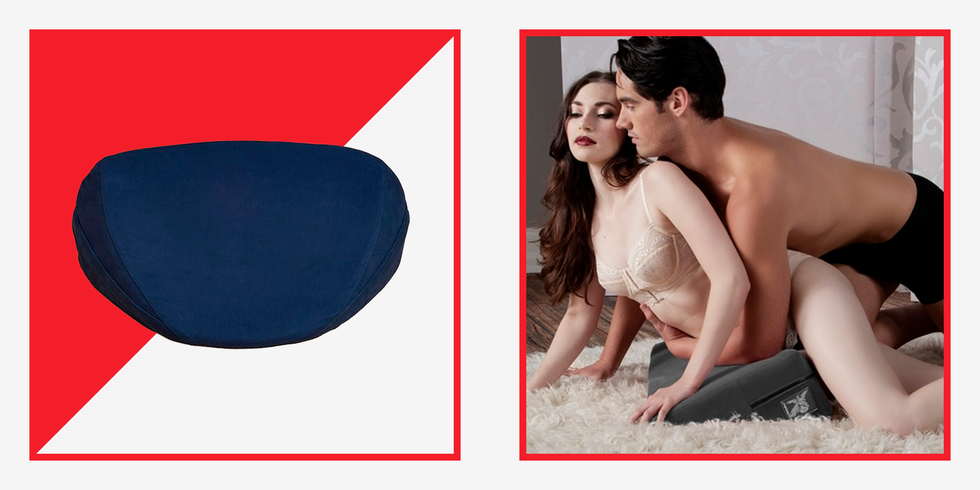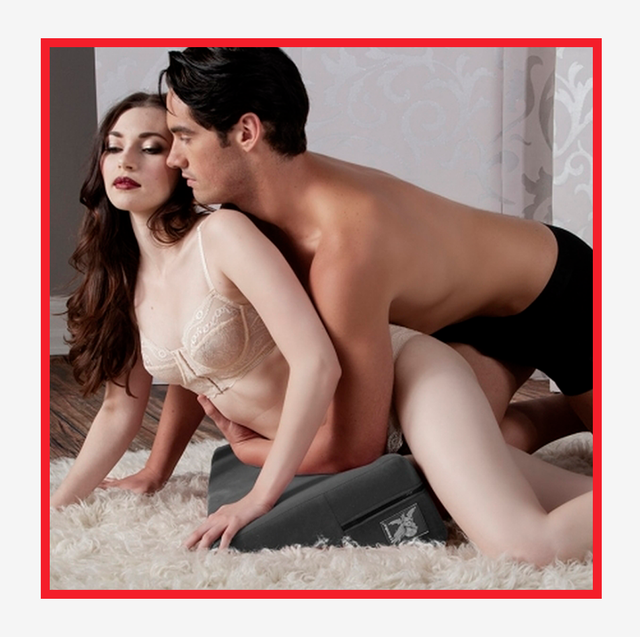 Dame / Liberator
You'd be surprised how a small adjustment to the position of your body can make a huge difference in how sex feels. If you're having sex in the missionary position, for example, using a pillow to raise your partner's pelvis by a few inches can be the difference between shallow and deliciously deep penetration. Since you probably don't want to risk getting your fancy throw pillows covered in bodily fluids, and the pillows we sleep on don't offer a lot of height, it's time to invest in a pillow or cushion specifically designed for sex.
"Sex pillows give you the option of altering the sex position you're in so that it's optimal for both partners," explains Kenneth Play, an international sex educator and sex hacker. "Adjusting things like the angle of penetration by changing the angle of one person's pelvis can make a big difference, especially for the receiver. For example, angling a pelvis upwards, called an anterior pelvic tilt, is great for A-spot and G-spot stimulation."
Using a sex pillow is great for the giver, too. Often, the giver has to place themselves in a strenuous position in order to prop up their partner, but the thing is, you're not going to be able to focus on the naked person in front of you if your knees are aching and your neck is strained.
Additionally, sex pillows free up your hands, since you no longer have to hold up your partner and can make oral sex much more pleasurable, too. "With the hips raised, the genitals are at eye level, making oral sex better as no one gets a tired neck," says Taylor Sparks, an erotic educator and founder of Organic Loven. (Speaking of hands-free action, there are even sex pillows with holes to insert a vibrator or dildo.)
Here are Play and Sparks' favorite sex pillows and cushions, along with some highly-rated fan favorites on Amazon.
Both Play and Sparks independently recommended the Liberator Wedge. Play went as far as to say it should be a staple in every couple's bedroom.
Sparks adds, "It takes doggy style and every other position up one level. With a 27 degree angle, g-spot penetration and satisfaction are easily achieved."
Liberator Wedge with Cuffs
It's the Liberator Wedge with a sexy BDSM twist. This highly-rated pillow comes with a blindfold and clips to attach restraints for the wrists or ankles.
"The women-owned company Dame created the Pillo, another take on the classic wedge shape," Play says. The Pillo is soft yet firm, so it's comfy and supportive.
A #1 bestseller in Amazon's sex furniture category, this inflatable wedge-shaped pillow has hundreds of five-star ratings. (Plus, it's on the cheaper end of the spectrum.) Fans appreciated how easy it was to inflate, as well as the comfort and sturdiness of the pillow. "My S.O. inflated it for me earlier this evening with about 4 or 5 big breaths," one reviewer said. "It gets really firm and holds air. It doesn't stretch out under my weight either. It definitely improves the 'angle' for the act so he hits just the right spot."
For a much cheaper alternative, this half moon pillow is an Amazon fan favorite. With over 1,300 five-star ratings, this pillow does more than adjust your angles. It also has a hole to insert a vibrator or dildo, so you can straddle it like a Motorbunny sex machine. (Reviewers recommend inserting the toy before you blow it up.)
"The Liberator Jaz is great for those new to using sex pillows," Sparks says. "It is smaller than your bed pillow but wide enough for most people's hips. It comes in a variety of colors to match your bedroom decor and you can just leave it on the bed."
Black Label Wedge/Ramp Combo
"The Liberator Black Label Wedge/Ramp Combo are two pillows that fit together to adjust to all body types," Sparks says. "It comes with a blindfold, handcuffs, and ankle cuffs that easily attach to the pillows." In addition to being able to use the pillows together or separately, "It's a fun entry into some light kink and sensory deprivation," Sparks says.
The Liberator Toy Mount Sex Pillow lets you put a sex toy in it—think: a vibrator or a dildo—and then ride or grind against it hands-free. (Even if you're not using a sex toy, you can use this product like a regular sex pillow to prop up various body parts.)
Beans72 Buckwheat Pillows
"These Buckwheat Pillows from Amazon work great," Play says. Made from cotton and filled with buckwheat, these extra firm pillows "conform to the shape of the body and are cooling. They also don't lose shape with time," Plays says.
Oh, cute! It's a heart! Well, yes, but it's also strategically shaped to make for easier access to certain key areas. Reviewers said that if one partner lies on their back and aligns their booty with the curves of the pillow, it's easy for their partner to perform oral without straining their neck, and to add in a toy for bonus internal stimulation.
Zachary Zane
Zachary Zane is a Brooklyn-based writer, speaker, and activist whose work focuses on lifestyle, sexuality, culture, and entertainment.
Jordyn Taylor
Jordyn Taylor is the Deputy Editor of Content at Men's Health.
This content is created and maintained by a third party, and imported onto this page to help users provide their email addresses. You may be able to find more information about this and similar content at piano.io