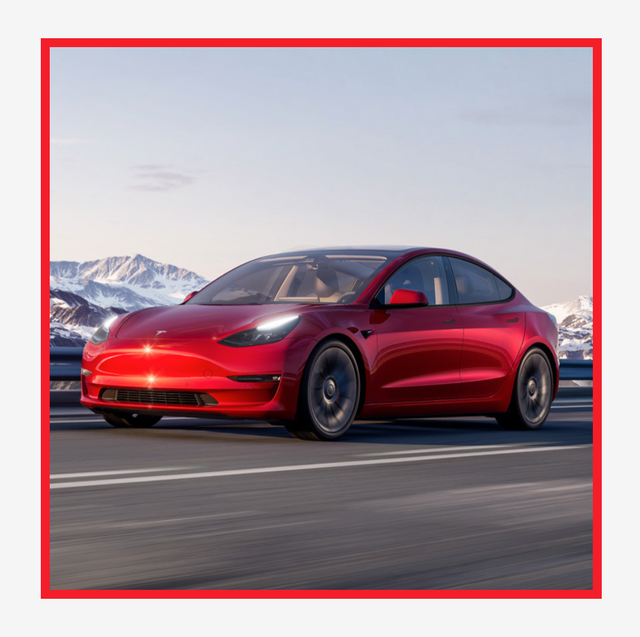 Courtesy of Retailer
Electric cars have come a long way since the days of the first Prius. Eco-friendly car buyers needn't settle for boring, mini van-like rides without any oomph—literally and aesthetically. These days, everyone from Hyundai to Porsche to Hummer is throwing its hat in the ring with an EV of their own. So, whether you want an ultra-green commuter vehicle, a legit battery-powered sports car, or a mountain climbing, military-worthy SUV, there is an electric car for you.
The space has gotten so crowded that it can be hard to narrow down your options. At the very least, it's important to consider the estimated range (i.e., how far you can expect to drive between charges), how you're planning to charge your vehicle (some manufacturers offer initiatives for installing a charging station in your home), and any federal tax credits you might receive that can drastically reduce the net purchase price of your new ride. Still not sure? We're here to help with our picks for the ten best electric cars on the market right now.
It's everyone's go-to electric car these days, and with good reason. Tesla's wildly popular Model 3 set the standard when it was released back in 2017, and it's still arguably the best electric car overall on the market. That's thanks to a long list of features, including fantastic range (more than 270 miles with the standard battery on a single charge) and a mostly attainable, middle-class-friendly price tag. Plus, Tesla's entire line-up receives frequent software updates that add fixes, new functionality, and even more tech features. The RWD model is worth the $46,990 base price, but the pricier AWD Dual Motor version—with better handling, performance, and range—is where we'd put our money. Did we mention a blistering 0-60 mph time of just 3.1 seconds?
Starting Price: $46,990

Estimated Range: 262 miles (RWD version)
Top Speed: 140 mph
Weight: 3,648 pounds
In true BMW fashion, the German automaker's i4 might be the sexiest electric sedan on the road. The muscular lines, steeply raked cockpit, and swallow-you-whole grill all give the appearance that this is no ordinary EV. Starting north of $55,000, it's one of the priciest on this list, but for a next-gen BMW, that doesn't seem half-bad. In standard trim, the i4 boasts a modest 0-60 time of 5.5 seconds, while the upgraded i4 M50 crushes that time in just 3.7 seconds, thanks to a 536-horsepower engine. Both models are now available for pre-order, but they're going fast.
Starting Price: $55,400
Estimated Range: 270 miles
Top Speed: 140 mph (electronically limited)
Weight: 4,680 pounds
The world's second-largest automaker has long been ahead of the tech curve. So, it's no surprise that Volkswagen's ID.4 is a serious contender among the world's best electric cars. The sleek, curvy lines balance "playful" and "aggressive" in a way that's palatable to both twenty-somethings and soccer moms. Like the Tesla Model 3, it boasts an excellent 250-mile range and a long list of tech features, including integrated Apple CarPlay and Android Auto and a comprehensive infotainment system. The entry-level RWD model isn't the fastest off the light, but the $41,230 sticker price (closer to $33,000 with potential federal tax credits) makes it an enticing option for budget-conscious buyers.
Starting Price: $41,230
Estimated Range: 250 miles (non-Pro version)
Top Speed: 100 mph
Weight: 4,568 pounds
Ford's Mustang Mach-E turned a lot of heads when it was introduced in late 2019. The company's first all-electric car—er, SUV—was not what anyone was expecting, especially under the Mustang banner. Still, it deserves a spot on this list as one of the sportier mid-range electric cars. With a starting price north of $56,000, it's not in everyone's budget. But, those who don't mind spending a little more are rewarded with a surprisingly peppy grocery getter. The top-of-the-line Mach-E GT rips from 0-60 in just 3.8 seconds, and the interior features a generous 15.5-inch touchscreen, Android Auto and CarPlay, and luxe finishes that feels more luxurious than any entry-level Mustang.
Starting Price: $43,895
Estimated Range: 247 miles (RWD)
Top Speed: At least 130 mph
Weight: 4,394 pounds
With its awkwardly tall styling and pint-size footprint, Chevy's latest Bolt looks the part of a quirky, previous generation electric vehicle. But, for eco-conscious buyers on a budget, it's hard to complain about the sub-$32,000 price tag. This is an electric car for the everyman. With a 259-mile range and a zippy 0-60 time of 6.4 seconds, it's more capable than it looks. The latest Bolt boasts plenty of latest-generation tech features too, including a Super Cruise autonomous driving system, wireless smartphone connectivity, and available 360-degree camera tech.
Starting Price: $31,500
Estimated Range: 259 miles
Top Speed: 93 mph
Weight: 3,563 pounds
Hyundai isn't a name most people think of when considering the best electric cars. Thanks to that, the Korean automaker has been flying under the radar with its fantastically underrated IONIQ 5. The $43,650 EV boasts all the must-have features almost every electric car shopper is after, including a 300-mile range, sleek looks, and plenty of great tech features. Wireless charging, mood lighting, and built-in heads-up display are all standard. The only downside? Availability is extremely limited.
Starting Price: $43,650
Estimated Range: 303 miles (RWD)
Top Speed: 115 mph
Weight: 4,200 pounds
If you haven't yet heard of Polestar, you will. The company is a completely independent spin-off from parent Volvo and has been quietly building a name for itself as one of the world's best electric automakers. The pared-down aesthetic is a deft blend of European minimalism and understated sport. Although it's not quite on par with the bleeding edge tech found in, say, a Tesla, it boasts plenty of great features. Self-cleaning headlamps, a phenomenal Harmon Kardon sound system, and touchscreen infotainment are all standard. Plus, the company borrows many of Volvo's best safety features like Volvo Pilot driver assist with pedestrian detection, automatic lane centering, and emergency braking.
Starting Price: $55,900
Estimated Range: 270 miles
Top Speed: 127 mph
Weight: 4,400 pounds
Dollar for dollar, there is no better value in an electric vehicle than the Nissan Leaf with a starting price of around $27,000 (less than $20,000 with potential federal tax credits). It's not the fastest, the swankiest, or the best electric car overall. But, for savvy buyers looking to make the leap to their first electric vehicle, it ticks most, if not all, of the essential boxes: 226-mile range, 40kWh battery size, and 114 MPGe rating. For the price, we're convinced there's no better commuter car on the market.
Starting Price: $27,400
Estimated Range: 226 miles
Top Speed: 90 mph
Weight: 3,516 pounds
GMC's iconic military-inspired vehicle makes a bold return to the U.S. with its first all-electric model. The Hummer EV Edition 1 has the same, unmistakable silhouette as its predecessor, albeit with a sleeker, EV-friendly aesthetic. The beefy powertrain is extremely capable with three electric motors pushing this all-wheel-drive beast from 0-60 in just three seconds. That's especially impressive when you consider the curb weight of more than 9,000 pounds. It's still every bit as off-road-focused as previous generations, and GM is outfitting many of the first Hummers with rock sliders, skid plates, and even washable underbody cameras.
Starting Price: $112,595
Estimated Range: 329 miles
Top Speed: 99 mph
Weight: 9,063 pounds
If money is truly no object, and only the best and fastest electric car will do, Porsche's Taycan Turbo S should provide the dopamine rush you're after. With a $185,000 price tag and just a 200-mile range (for the Turbo S model), it's the most expensive and least practical model on this list. But, that's the cost of admission for one of the coolest electric vehicles on the market. The flagship trim features many of Porsche's legendary, race-inspired driving tech, including high-speed rear-wheel steering, carbon-ceramic brake rotors, and active anti-roll bars. Plus, it hits 60 miles per hour from a standstill in just 2.6 seconds.
Starting Price: $185,000
Estimated Range: 201 miles
Top Speed: 162 mph
Weight: 5,101 pounds
This content is created and maintained by a third party, and imported onto this page to help users provide their email addresses. You may be able to find more information about this and similar content at piano.io