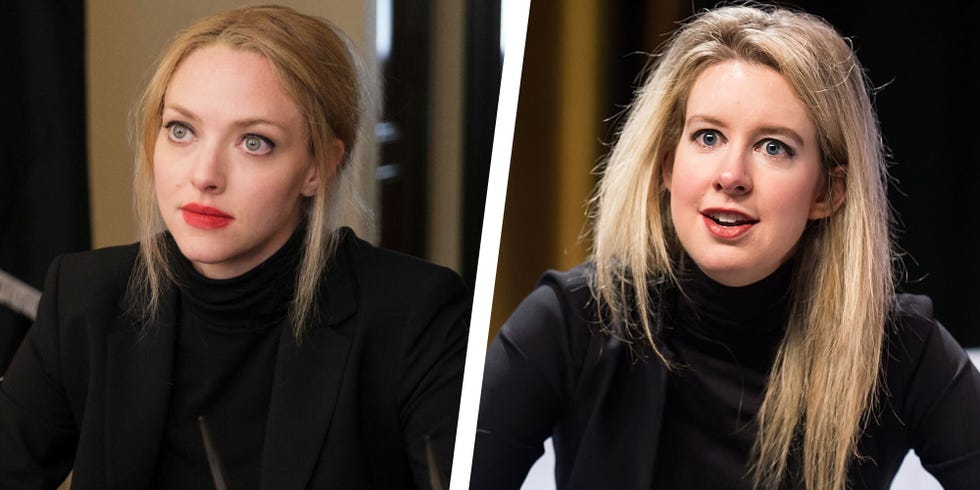 We're in the year of the White Collar Crime True Story TV show. WithInventing Anna, The Tinder Swindler, Super Pumped, and Pam & Tommy already out, and Bad Vegan and WeCrashed on the way, there are a lot of stories that range from ignorance, to mismangement, to outright malice, to complete fraud. And while it's all infuriating, the one that's handled the best might just be Hulu's The Dropout, the story of the rise and fall of Theranos and its founder, Elizabeth Holmes.
Amanda Seyfried, who earned her first Oscar nomination last year in David Fincher's Mank, takes center stage as Holmes, and shines from the very first minute of the show. Seyfried is 36, but she convincingly plays Holmes at any age, ranging from as young as pre-College (just before attending Stanford, where she would eventually become the titular dropout) to staged footage from her own real-life deposition (which was heard in the podcast on which The Dropout is based) that took place in 2017.
From Mean Girls to Mamma Mia to Jennifer's Body, Seyfried has always been a versatile actor, but managing to craft the duplicitous, habitual liar of Elizabeth Holmes into a character that we don't necessarily empathize with, but do get an understanding of, might be her greatest acting achievement yet.
Seyfried isn't the only member of The Dropout's cast to shine, though—the show's only other series regular is Naveen Andrews, who most will recognize as Sayid from Lost. Andrews plays Holmes partner in both business and romance, Sunny Balwani, and he plays him marvelously. Balwani's reputation is as someone prone to outbursts, and who tended to bully others around the office. The Dropout and Andrews don't miss this part of the character, but we also see the more tender character at the core—the one that a young Elizabeth Holmes could have been drawn to.
Seyfried and Andrews are the rocks at The Dropout's center, but a number of guest stars—including William H. Macy, Laurie Metcalf, Stephen Fry, and Alan Ruck—pop in and out of the show, adding color, characters, suckers, and skepticism, to a true story that will certainly intrigue you, and may wind up frightening you a bit too.
Here's how some of those The Dropout characters compare to their real-life counterparts.
Amanda Seyfried – Elizabeth Holmes
Seyfried—who you may recognize from Mean Girls or Mamma Mia— is a fantastic performer, and brings her very best to The Dropout. Another performer could've played Holmes as two-dimensional, but Seyfried brings her to life with depth, nuance, and complexity. It's a portrayal that gives the character layers, but doesn't sugar coat any misdeeds either.
Naveen Andrews – Sunny Balwani
Naveen Andrews (best known as Sayid from Lost) also does a good job playing Sunny Balwani in The Dropout. Holmes' partner—both in business and romantically—became known as a bully around the office, and someone known to outbursts. But Andrews uses that Sayid from Lost charm to make sure the character is still human underneath it all.
Laurie Metcalf – Phyllis Gardner
Metcalf is well known for her role on Roseanne and The Connors, but a few years ago got her first Oscar nomination for playing a classic mother in Lady Bird (She also has a near and dear role to slasher fans in Scream 2.). As Phyllis Gardner, one of Holmes' earliest and most prominent skeptics, Metcalf brings a perfect exasperated energy.
Utkarsh Ambudkar – Rakesh Madhava
Ambudkar is all over the place lately, starring in CBS' comedy Ghosts and also appearing in Free Guy, among other projects. In The Dropout, he plays Holmes' TA-turned-colleague Rakesh Madhava, who joins Theranos early on, and also quits early on. It's a fictional character, but one representing the path of many early Theranos employees.
William H. Macy – Richard Fuisz
Come on, you know William H. Macy. While he's probably best known these days for his role on Showtime's Shameless, Macy has been in more good movies than you can count. Just a sample: Fargo, Boogie Nights, Magnolia, The Cooler, The Lincoln Lawyer… the list goes on. Here he plays Richard Fuisz, Holmes' childhood neighbor who creates a patent to create a business conflict with her.
Mary Lynn Rajskub – Lorraine Fuisz
Rajskub is a comic actor at heart (she started on Mr. Show with Bob Odenkirk and David Cross and has shown up in shows like Always Sunny In Philadelphia) but has also flexed her acting skills before. She's maybe best known for her role as Jack Bauer's trusty friend Chloe O'Brian in 24. She plays Lorraine Fuisz in The Dropout, wife of William H. Macy's Richard Fuisz and a friend of Elizabeth Holmes' mother, Noel.
Kate Burton – Rochelle Gibbons
Actress Kate Burton is a Shonda Rhimes favorite, having appeared in both Grey's Anatomy and Scandal; she's also been involved in the year of Scammer TV already as a part of the Inventing Anna cast. Here, she plays Rochelle Gibbons—wife of Theranos scientist Ian Gibbons. The two characters are at the center of the most tragic part of the Elizabeth Holmes/Theranos story.
Bill Irwin – Channing Robertson
Irwin was best known as Mr. Noodle from Sesame Street, until he made memorable appearances on Law & Order: SVU and, more recently, FX's Legion, a trippy-ass superhero show. Irwin plays Channing Robertson in The Dropout, a Stanford professor who became one of Holmes' earliest champions and enablers, even serving on the Theranos board.
Nicky Endres – Ana Arriola
Before The Dropout, Endres has appeared on shows like Don't Trust the B in Apartment 23 and the One Day At A Time reboot. Here, she plays Ana Arriola, an employee who helped design the iPhone when working at Apple, and whom Holmes was excited to poach to work for Theranos.
Hart Bochner – Larry Ellison
Bochner is a character actor who's done a little bit of everything on TV and in film. In The Dropout, he plays Larry Ellison, who meets Elizabeth via his connection to investor Don Lucas. Ellison is a co-founder of Oracle and one of the wealthiest people in the world.
Alan Ruck – Jay Rosan
These days, you probably know Alan Ruck best for his role as eldest sibling Connor Roy on HBO's Succession, but he first made his name as best friend Cameron in John Hughes' classic Ferris Bueller's Day Off. Ruck is at his very best in Episode 4 as Jay Rosan—"Dr. Jay," as he prefers—a Walgreens executive who seems to be swayed a little too easily (and really loves Katy Perry).
Sam Waterston — George Shultz
Sam Waterston is an absolute legend that you almost certainly know from something. He's been nominated for an Oscar for Best Actor for The Killing Fields. He played Nick Carraway in the 1974 Great Gatsby with Robert Redford, and TV fans have likely seen him before on either The Newsroom, Grace and Frankie, or, you know, more than 350 episodes of Law and Order. Here, Waterston plays George Shultz, a nonagenarian former Secretary of Defense who was drawn to Elizabeth Holmes, eventually investing in Theranos and joining the company's board.
This content is created and maintained by a third party, and imported onto this page to help users provide their email addresses. You may be able to find more information about this and similar content at piano.io