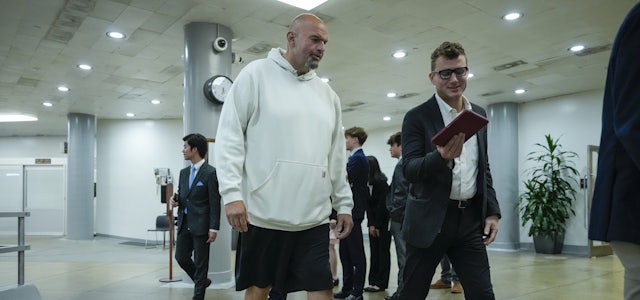 This weekend, Senator Chuck Schumer announced that the Senate will no longer enforce a formal dress code—and Republicans have been losing their mind ever since.
In particular, Republicans are mad that Senator John Fetterman's casual fashion sense is officially acceptable. The Pennsylvania senator has become known for forgoing the suit and tie worn by his colleagues and wearing shorts and sweatshirts instead.

On Sunday, Representative Marjorie Taylor Greene took to X, formerly known as Twitter, to lambaste the change in the Senate's dress code as a "disgraceful" attempt to "appease Fetterman."

"Dress code is one of society's standards that set etiquette and respect for our institutions," Greene wrote. "Stop lowering the bar!"
In response, Fetterman reminded everyone that it was actually Greene who'd lowered the bar.

"Thankfully, the nation's lower chamber lives by a higher code of conduct: displaying ding-a-ling-pics in a public hearing," he wrote in a post on X, referring to MTG's decision to hold up poster-size prints of Hunter Biden's nude photos during a House Oversight Committee hearing this summer.
But Greene isn't the only Republican making a stink.

On Monday morning, former Trump political adviser Stephen Miller took a break from his new career of filing lawsuits against Pop-Tarts and M&Ms to also criticize the new dress code.
Fox News has similarly been quick to pick up the supposed controversy. In an interview on Fox Business on Sunday, Oklahoma Senator Markwayne Mullin was asked about the change in Senate dress code and called Fetterman's outfits "completely disrespectful."
"There's a side of me that's super excited about it because I hate wearing a tie, and I'd rather be in blue jeans and a pair of boots and a white T-shirt," Mullin admitted in surprising detail. "But the fact is, that you do dress for the job. And we need to be respectful of the position we hold," he added.

When asked if the change in dress code was Schumer's attempt to appease Fetterman, Mullin replied, "Of course it is. Hundred percent."
Last week, Representative Matt Gaetz also freaked out about Fetterman's clothes. In an interview with Steve Bannon, Gaetz remarked, "That is the best-dressed we have ever seen John Fetterman."
"His shirt had both buttons, and the entire pant was not elastic. There were elastic features, but it was not exclusively elastic," Gaetz said.

Fetterman had this to say to Gaetz: "Instead of crying about how I dress, how about you get your shit together and do your job, bud?"
As the government hurtles toward another shutdown, it's good to know that Republicans have more interest in fashion commentary than governing.

Donald Trump has once again doomed his legal defense, this time by placing himself at the center of the plot to overturn the 2020 election and saying in a new interview that it was entirely his decision.
Trump was indicted in Washington for trying to overthrow the presidential election. He faces charges for conspiracy to defraud the United States, conspiracy to corruptly obstruct an official proceeding, obstruction of and attempt to obstruct an official proceeding, and conspiracy against the right to vote. The indictment, one of four, hinges in part on the argument that Trump knew he had lost the election but still actively worked to overturn the results.
In a Sunday interview with NBC, Trump revealed that multiple legal advisers had told him the election was legitimate. When anchor Kristen Welker asked why he chose not to listen to them, Trump replied, "Because I didn't respect them."
"I respected many others that said the election was rigged," he continued. "You know who I listen to? Myself. I saw what happened."
Welker then asked if Trump was ultimately "calling the shots."

"As to whether or not I believed it was rigged? Oh, sure," Trump replied. "It was my decision."
Trump's biggest defense so far has been that he genuinely believed he had won the election and was following his lawyers' advice. Yet he and his legal team continue to undermine his own defense strategy. When he was arraigned for the January 6 indictment in August, Trump's lawyer Alina Habba also undercut their main argument.
"I think that everybody was made aware that he lost the election, but that doesn't mean that that was the only advice he was given," Habba told reporters outside the courthouse. "There are a numerous amount of advisers and politicians and lawyers, not just one or two, that are giving you advice and telling you what they believe is true."
"The president has the right, as every one of us do, to listen to several opinions and make their decision."
The thing is, Trump is legally allowed to say the election was rigged as much as he wants. But he is not allowed to act on that belief, as he now admits to doing. As The New Republic's Matt Ford pointed out, there is no constitutional right to organize a coup.
Donald Trump marked Rosh Hashanah, the Jewish new year, by threatening American Jews.
Trump shared a graphic on Truth Social Sunday night detailing everything that he did supposedly in support of Jewish people. This included moving the U.S. Embassy in Israel to Jerusalem from Tel Aviv and recognizing Israeli sovereignty over the Golan Heights and settlements in the West Bank. All of these moves were highly controversial and widely decried when Trump announced them.
"Just a quick reminder for liberal Jews who voted to destroy America & Israel because you believed false narratives!" the image was captioned. "Let's hope you learned from your mistake & make better choices moving forward! Happy New Year!"
Seven in 10 American Jews identify with or lean toward the Democratic Party, according to polling from the Pew Research Center.

For someone who says he is incredibly pro-Israel, Trump has a habit of threatening Jewish people in his own country. In October, he accused American Jews of failing to praise his Israel policies enough.

"No President has done more for Israel than I have. Somewhat surprisingly, however, our wonderful Evangelicals are far more appreciative of this than the people of the Jewish faith, especially those living in the U.S.," he wrote on Truth Social. "U.S. Jews have to get their act together and appreciate what they have in Israel—Before it is too late!"
Then, just two months later, he criticized Jewish leaders for their lack of "loyalty" toward him, despite the fact that he had just had dinner with neo-Nazis Nick Fuentes and Kanye West.
"Jewish Leaders forgot that I was the best, by far, President for Israel," Trump wrote on Truth Social. "They should be ashamed of themselves. This lack of loyalty to their greatest friends and allies is why large numbers in Congress, and so many others, have stopped giving support to Israel."

In the nearly a year since that now-infamous dinner, Trump has yet to condemn Fuentes or West for their open embrace of Nazi beliefs, admiration of Hitler, and Holocaust denialism.
Special Counsel Jack Smith and his team are seeking a gag order against the former president to limit what he says in the run-up to his trial on charges that he participated in a plot to overturn the 2020 election.
To that end, Smith has asked a federal judge in Washington, D.C., to impose a "narrowly tailored" order limiting Trump—who is famous for saying literally anything that sluices through his brain at any particular moment—from making public statements that could "present a serious and substantial danger of prejudicing" the trial.
A copy of the government filing was released on Friday—and it is unsparing in its criticism of Trump.
Smith's office is accusing Trump of engaging in a "disinformation" campaign and of intimidating witnesses, prosecutors, and the court itself.
"As set forth in the indictment, after election day in 2020, the defendant launched a disinformation campaign in which he publicly and widely broadcast knowingly false claims that there had been outcome-determinative fraud in the presidential election, and that he had actually won," federal prosecutors wrote in their filing. "In service of his criminal conspiracies, through false public statements, the defendant sought to erode public faith in the administration of the election and intimidate individuals who refuted his lies. The defendant is now attempting to do the same thing in this criminal case—to undermine confidence in the criminal justice system and prejudice the jury pool through disparaging and inflammatory attacks on the citizens of this District, the Court, prosecutors, and prospective witnesses."
Trump has been indicted in four separate cases—and he has repeatedly attacked witnesses, co-defendants, and prosecutors involved in all of them. In March, for example, he posted a photo of himself wielding a baseball bat next to Manhattan District Attorney Alvin Bragg's head. (Bragg was the first prosecutor to indict the former president for alleged hush-money payments made to porn actress Stormy Daniels.)
If the gag order is granted, this would be another major setback for Trump—though his tendency to overshare in public settings has added more to his pile of legal woes than it has solved, so it could be that Smith is doing the former president a major favor.
Drew Barrymore confirmed Friday that she will continue to film her talk show, a move that undermines the ongoing writers guild strike.
The actress found herself at the center of a P.R. storm last week after she announced she would resume filming without her writers. Writers for The Drew Barrymore Show have since picketed outside the studio, and Barrymore herself is facing intense backlash for being a scab.
"I believe there's nothing I can do or say in this moment to make it OK," Barrymore said in a video posted on Instagram, noting she wanted to "take full responsibility for my actions."
"I know there is just nothing I can do that will make this OK for those it is not OK with. I fully accept that. I fully understand that," she said.
Then, tearing up, Barrymore said, "I deeply apologize to writers. I deeply apologize to unions."
There are actually several things Barrymore could do to make the situation OK. She could, for example, announce she will not resume filming. She could also invite union leaders onto her show, instead of her usual celebrity guests, to explain what workers are striking for and why the protest is important.
Barrymore also compared filming during the strike to when she launched her show during the Covid-19 lockdowns. "I just wanted to make a show that was there for people in sensitive times," she said. "And I weighed the scales and I thought, if we could go on during a global pandemic, and everything that the world has experienced through 2020, why would this sideline us?"
Launching during a pandemic and working through a strike are wildly different circumstances. In the pandemic, people needed moments of levity and Barrymore's crew could avoid spreading the virus by wearing face masks and social distancing.
But filming during the strike defeats the whole purpose of the labor action. "When any production that is covered under WGA comes back during a strike it undermines our whole group effort to come to a fair contract with the AMPTP," Chelsea White, a co-head writer on Barrymore's show, told Rolling Stone.
Barrymore is not just facing backlash from her writing staff. A Writers Guild council member and negotiator told Rolling Stone that several major stars, including Matthew McConaughey, Samantha Bee, and Leslie Jones, had canceled guest appearances on Barrymore's show in solidarity with the strike.
Actor Bradley Whitford called Barrymore out directly.
More on the Writers' Strike
Representative Ken Buck says he has yet to hear a single "accurate fact" from his fellow Republicans about the impeachment inquiry into Joe Biden.
House Speaker Kevin McCarthy launched an impeachment inquiry into the president Tuesday, after months of Republicans insisting Biden is guilty of corruption. The GOP has yet to produce any actual evidence of their claims.
CNN's Manu Raju asked Buck Friday if he had changed his mind on the impeachment inquiry following a House Republican conference meeting, and the Colorado representative replied that he hadn't gone.
"I haven't heard an accurate fact in conference in a long time," he said. "I'm not going to waste my time."
This marks a distinct break from Buck's reaction immediately after McCarthy opened the inquiry. "I think it's a good move," Buck said at the time. "We have to focus on spending, we have to make sure the government doesn't shut down.… I think taking this off the table and not having a distraction is a good move."
Despite Buck's flipping, he remains one of the loudest anti-impeachment voices in the Republican Party. He has accused McCarthy of using "impeachment theater" to try to distract Republicans from the fact that the government will likely need to increase its budget in order to avoid a shutdown. Many hard-line conservatives like Buck want to scale federal spending back dramatically.
Buck has also called out his impeachment-eager colleagues, such as Marjorie Taylor Greene. He slammed her impeachment mania on Monday as "absurd."
"The time for impeachment is the time when there's evidence linking President Biden—if there's evidence—linking President Biden to a high crime or misdemeanor," Buck said. "That doesn't exist right now."
Buck's resistance has reached the point that his own party is turning on him. There is even an in-party effort to find a candidate who can launch a primary challenge against him.
More on Biden Impeachment
General Motors CEO Mary Barra is working overtime to defend her outlandish $30 million salary, as United Auto Workers begins a historic strike against the Big Three auto companies.

Barra appeared on CNN Friday morning and was asked why General Motors workers should not get the same type of pay increases she has in the last few years.
"You make almost $30 million; why should your workers not get the same type of pay increases that you're getting leading the company?" asked CNN's Vanessa Yurevich.
"My compensation, 92 percent of it, is based on performance of the company," Barra said. "When the company does well, everyone does well."
What Barra really means is this: Her compensation as CEO is tied to General Motors' profit margins. This means that Barra's exorbitant salary is also a function of how low she can keep autoworkers' wages. Barra's salary has increased 34 percent over the last four years, while in four years workers' pay has only increased by 6 percent.

Under the current contract, the $18 per hour starting pay for autoworkers is about 36 percent below where it would be if the 2007 starting wage had kept up with inflation. The UAW is asking for a 36 percent pay increase over the next four years, as well as improved benefits and a 32-hour workweek.

As UAW noted, during the eight-and-a-half minute CNN interview Barra made more money than any autoworker makes in a full day.

Presidential candidate Vivek Ramaswamy says he can handle the heat. As it turns out, not only is that not true but he sometimes even loses his cool.
While on the campaign trail, Ramaswamy likes to portray himself as someone who has everything under control and can roll with the punches. But former employees at his companies say he was an exceptionally demanding boss, particularly when it came to office temperature, Business Insider reported Friday.
The former employees, speaking anonymously, said that Ramaswamy insisted office thermostats be set to 64 degrees or lower. It would be so cold in the offices that people had to wear fleece jackets inside and use space heaters at their desks.
Ramaswamy hired former Army Rangers as his bodyguards. At one point, his campaign hired three at once. In addition to ensuring the safety of Ramaswamy and his family, one of the Rangers' main jobs was to arrive at his hotel rooms before he did and make sure they were cold enough for his liking.
Former employees acknowledged that Ramaswamy is a hard worker but said he could be quite inflexible as a boss. When a colleague suggested people be allowed to leave early on summer Fridays, Ramaswamy snapped.
"He lost his cool completely and went off on a rant about summer Fridays and how dare anyone ask about that," one of the former employees said.
Another of Ramaswamy's demands was for a serving of cottage cheese to be ready and waiting on his desk every morning. If he ordered takeout for lunch, he insisted that his assistant put the food on a plate and serve it to him.
"He thinks people are put on this earth to serve him," a person who worked closely with Ramaswamy told Insider.
Ramaswamy's campaign spokesperson confirmed that "Vivek likes it chilly" in the office but denied the other accusations. But the reported behavior actually tracks with what Ramaswamy has shown of himself so far.
The biotech entrepreneur is brash and overly self-assured, remaining convinced he is right even when his ideas are terrible. Ramaswamy has openly embraced making Eminem angry, pushing conspiracy theories, caving to autocratic leaders, and using his campaign to evade lawsuits.
Representative Lauren Boebert denied vaping during a theater performance in Denver over the weekend, but new video footage shows her lighting up.
Boebert and a date were kicked out of the Buell Theatre during the Sunday evening performance of Beetlejuice after their behavior sparked three complaints from other attendees. An incident report says the pair were vaping, singing along, recording the show, and generally "causing a disturbance." They refused to leave when asked and had to be escorted out by security staff.
Boebert's campaign manager confirmed that the representative had been asked to leave the show, but he denied that she had been vaping, claiming the smoke was fog from the musical's special effects. New security footage from inside the theater, posted on Twitter late Thursday by 9News Denver reporter Kyle Clark, clearly shows Boebert vaping in her seat.
At one point in the video, the woman seated behind Boebert leans forward and speaks to her. Boebert looks away quickly, appearing to brush her off. The Denver Post identified the woman, who said she is pregnant and had asked Boebert multiple times to stop vaping. Boebert refused.
The woman, who spoke anonymously, said she asked to be reseated during intermission, but ushers were unable to find her and her husband a different spot. When they returned to their seats, the woman said Boebert called her a "sad and miserable person."
"The guy she was with offered to buy me and my husband cocktails. I'm pregnant!" the woman told The Denver Post.
One of the ushers had to threaten to call city police before Boebert and her date agreed to leave, according to the theater's incident report. While they were being escorted out, the couple told employees "stuff like 'do you know who I am,' 'I am on the board' [and] 'I will be contacting the mayor,'" the report said. Security footage also shows Boebert giving the finger to security as she is being escorted out.
Rapper Ice Cube is kicking off his weekend by absolutely destroying Elon Musk in a Twitter meme battle.
Musk, who spends most of his time trolling on his Twitter account, shared a meme Thursday poking fun at Ice Cube's age. The photo was relatively tame compared to the transphobic and antisemitic content Musk usually posts.
Ice Cube hit back that evening.
To call Musk's reign at Twitter a dumpster fire is an understatement. The company is now worth a fraction of what he paid for it, and is staffed by a skeleton team. Musk renamed the platform "X," trashing its unique and instantly recognizable brand.

Musk has allowed Nazis and the Taliban back on Twitter, and hate speech has flourished under his watch. But rather than do something about it, he is attacking the groups trying to hold him accountable.
Unfortunately More on Elon