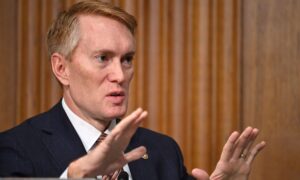 Sen. James Lankford (R-Okla.) on Thursday blocked a bill proposed by Democrats seeking unanimous consent to prevent pro-life states from restricting women from interstate travel to obtain an abortion.
Democrats proposed the "Freedom to Travel for Health Care Act of 2022" (pdf) legislation in response to, in some cases, the introduction of bills in some state legislatures, and in other cases, some draft bills proposed to lawmakers by special interest groups.
Lankford's office said in a release that the Democrats' bill promoted traveling across state lines to obtain an abortion. Standing up to object to the proposed bill, Lankford poured water on some of the Democrats' claims.
"To be very clear: no state has banned interstate travel for adult women seeking to obtain an abortion. No state has done that," Lankford said on the floor of the U.S. Senate.
Lankford called the bill "misinformation" and said it was another effort "to inflame" and raise "the what-ifs."
In bringing the bill to the Senate, Democrats cited reports in the Washington Post about Republican state legislators pursuing bills that would limit women from traveling interstate to access abortions.
Dismissing those concerns, Lankford noted that there are thousands of bills filed in the Senate, "and how many of them are actually going to move?" he asked.
"Now, am I confident there are some people that are out there talking? Yes," he said, going on to note that those measures would protect females being trafficked.
"So, while there's conversation about how to put a piece of legislation out that may very well protect individuals that are being trafficked to go to other states to get an abortion or all kinds of other issues that are there," he said, "I come back to the most basic thing—there is a child in this conversation, and maybe this body should pay attention to children as well, and to wonder what their future could be to travel in the days ahead as well.
"I look forward to the day when we are talking more about that little girl and less about misinformation. I object," he said.
Democrats' Position
Sen. Catherine Cortez Masto (D-Nev.) said that the bills and draft bills proposed by state legislators in certain states were "blatantly unconstitutional."
"Today, Republicans blocked vital legislation to protect women seeking critical health care," Cortez said in a statement. "By objecting to my legislation, they're allowing state legislators to reach across state lines to control not just what happens in their states, but what happens in every state across this country and to punish women for exercising their fundamental rights. It's absolutely outrageous. I won't stop fighting for women's freedom."
Democrats pointed to reports in the Washington Post that state lawmakers and conservative legal groups are "drafting legislation to ban travel for abortion."
Although no law exists to ban travel for abortion, the Democratic senators sought to preemptively amend the law.
Sen. Patty Murray (D-Wash.) echoed Masto's sentiments, accusing Republican lawmakers of "ripping away the right to travel" for women.
"Let's be really clear what that means: they want to hold women captive in their own states. They want to punish women—and anyone who might help them—for exercising their constitutional right to travel within our country to get the services they need in another state," Murray said.
Masto and Murray introduced the proposed bill alongside Sens. Sheldon Whitehouse (D-R.I.), Kirsten Gillibrand (D-N.Y.), and a string of Democratic colleagues.
Follow
Caden Pearson is a reporter based in Australia. He has a background in screenwriting and documentary. Contact him on [email protected]