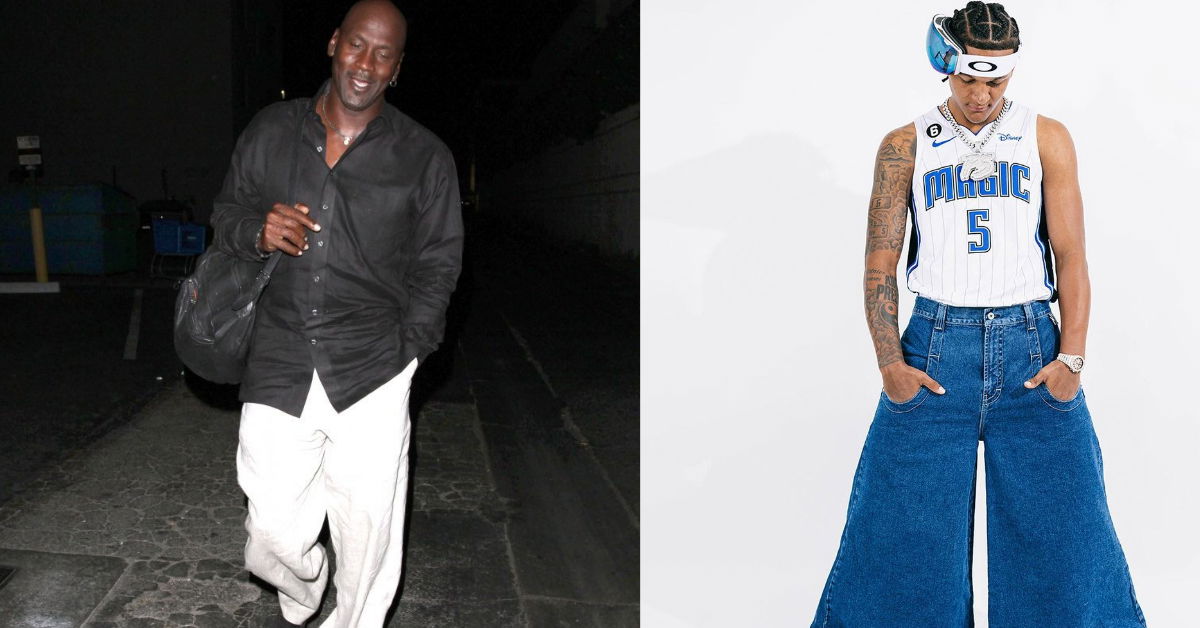 It isn't just the game of basketball that evolves with time. Fashion has always been a staple of the entertainment side of the league. From Allen Iverson's iconic braids to someone like James Harden's outspoken fashion today, there have been many trendsetters in the NBA. Back in the 1990s and early 2000s, there was the trend of baggy clothes which was evidently present in the jeans. Who doesn't remember Michael Jordan wearing suits too big for his size? Well, recently, an NBA star tried to bring back the attire of such legends.
Unfortunately, as this young baller became the face of the iconic SLAM Magazine, the NBA fans berated him for taking the vintage look a little too far.
An NBA star fronts Slam Magazine bringing back a Michael Jordan look
ADVERTISEMENT
Article continues below this ad
Rookie of The Year winner Paolo Banchero became the recent star to headline the SLAM magazine. The former Duke forward impressed in his very first season with the Orlando Magic. Banchero lived up to the noise, matching records and breathing life back into Orlando.
The magazine holds a dear connection to the hip-hop culture, and this year the theme was Y2K. The iconic baggy outfits came back as Banchero went back in time. He wore the modern-day Magic jersey – with his number 5 unsurprisingly. The upper wear was tucked into the baggy jeans, reminiscent of the 2000s style. It seemed to be a fusion between the old school and the modern-day fashion.
Basketball icons such as Michael Jordan, Tim Duncan, and many more sported the classic baggy look. At one time, jokes were prevalent about just how absurdly loose could their jeans get. Yet, their style wasn't just accepted but replicated by many.
But in the case of Banchero, it doesn't seem he is turning heads with his outfit choice for the SLAM cover.
Banchero gets mauled by fans for his outfit
NBA Twitter has a reputation to be ruthless. And as they saw Banchero's old school fit, it was an immediate barrage of insults. They slammed the Rookie of The Year for ever choosing to wear the outfit.
I'm filing a complaint

— Rashad Williams (@Shad____) May 24, 2023
Who lied to him and told him those pants were a good idea 😂

— Baker (@Daicosbros) May 25, 2023
Fans also spotted the obvious resemblance of Banchero's outfits to the likes of Michael Jordan and Tracy McGrady.
Damn he raided Jordan closet

— MoterBoat Jones (@MoterboatJones_) May 24, 2023
ADVERTISEMENT
Article continues below this ad
ADVERTISEMENT
Article continues below this ad
Watch this story: "Michael Jordan has Stephen Curry and Tom Brady beat in his favorite sport"
Do you think the 20-year-old's fit is as bad as NBA Twitter claims or do you think he did justice to 2000s' fashion? Let us know your take in the comments below!