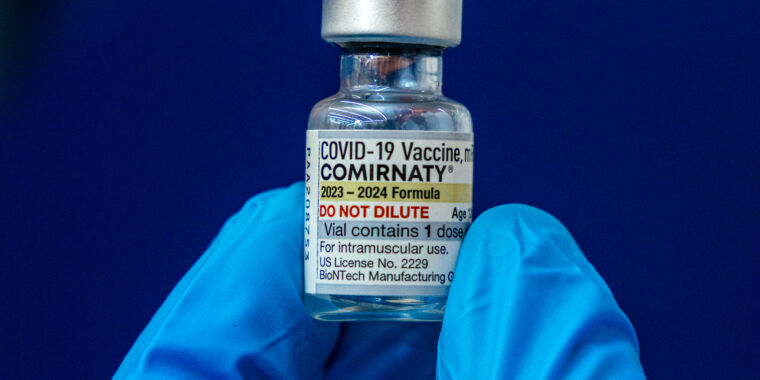 Good news —

There's a sharp partisan divide, but interest blows away uptake of the last booster.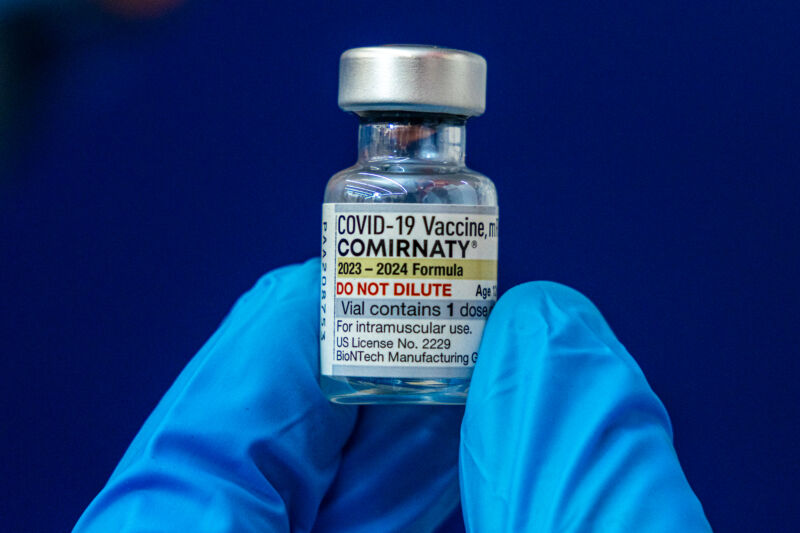 Despite last year's abysmal fall booster campaign, more than half of US adults say they plan to get the latest COVID-19 vaccine, which was greenlit by federal authorities last week.
According to polling by Politico and Morning Consult, 57 percent of registered voters said they would "probably" or "definitely" get the vaccine, which is a monovalent shot that targets the recent omicron subvariant, XBB.1.5. Specifically, 20 percent of voters said they would probably get the shot, while 37 percent said they definitely would.
Collectively, that's nearly triple the actual uptake of last year's updated vaccine, a bivalent shot that targeted both the ancestral strain and the omicron subvariants BA.4/5. In total, 20.5 percent of people aged 18 or older received that shot, according to the most recent data from the Centers for Disease Control and Prevention. Overall, 17 percent of the US population got the bivalent booster.
The latest polling results largely square with a KFF COVID-19 vaccine monitor poll reported in April that found that 53 percent of Americans would likely get an annual COVID-19 shot if it was offered similar to an annual flu shot. Nearly a third, 32 percent, said they would be "very likely" to do so.
While the boosted interest in the latest vaccine is likely heartening to officials, the polling still shows a dangerous partisan divide that has plagued public health responses throughout the pandemic. In the Politico/Morning Consult poll, 79 percent of Democrats said they planned on getting the updated shot, but only 39 percent of Republicans said the same.
That leaves 61 percent of Republicans who indicated they would not seek out the new vaccine. Forty-four percent of Republicans reported they "definitely" will not get the booster, while 17 percent said they "probably" will not. Independents, meanwhile, were split, with 48 percent saying they would "probably" or "definitely" get vaccinated.
Politico noted that the fall vaccine rollout, which is now underway, comes amid a contentious GOP presidential primary, in which some candidates have already expressed their opposition to COVID-19 health measures.
Most notably, Florida Gov. Ron DeSantis and his controversial, hand-picked surgeon general, Joseph Ladapo, have continued to spread vaccine misinformation, falsehoods, and skepticism. Last week, Ladapo warned healthy people under the age of 65 against getting this year's update booster, contradicting the CDC. Ladapo had previously made unfounded safety claims about mRNA COVID-19 vaccines based on a dubious study. A subsequent investigation into the study determined key data and statistics on vaccine safety had been deleted from the analysis.
As before, CDC officials are rebuffing Ladapo's latest remarks. "Any efforts to undercut vaccine uptake are unfounded and frankly dangerous," CDC Director Mandy Cohen told Politico.