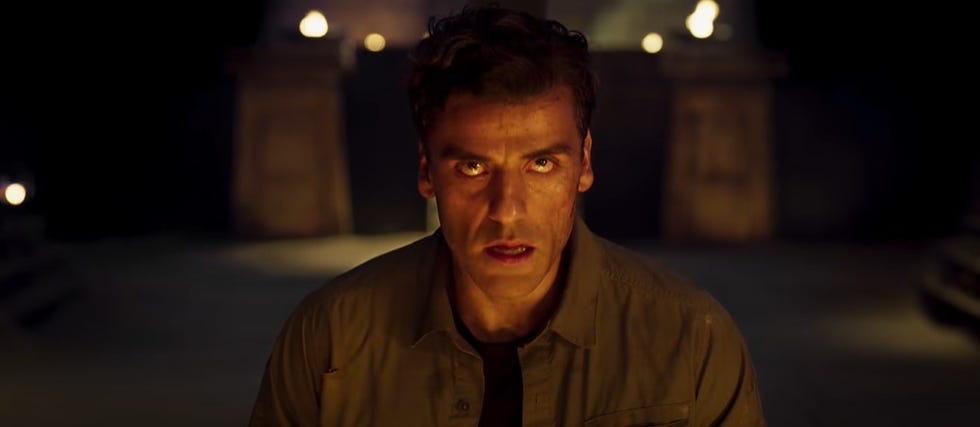 It's going to be a long 'knight' for Marc Spector, as the first steps into the darker side of the Marvel Cinematic Universe see Oscar Isaac suit up for Moon Knight.
Joining the ever-growing catalogue of Disney+ shows, the gritty series features the Star Wars alumnus pulling double duty as a mild-mannered museum employee called Steven Grant and his alter ego Marc Spector – a brutal mercenary.
It turns out Spector has disassociative identity disorder, which means more of his identities are likely to come out of the woodwork before the credits roll. However, it doesn't look like Marc will be on his own for long, with a sneaky Easter egg hinting at an important player from the Moon Knight comics rearing his head.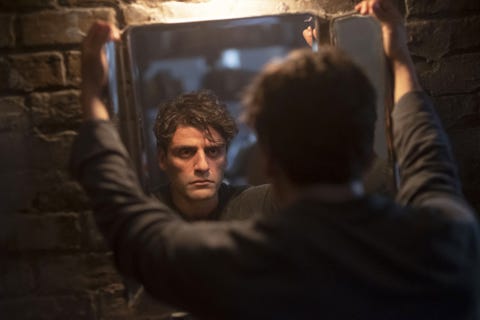 Disney+
More than this though, his arrival could be a much-needed step toward the MCU's promises of more LGBTQ+ inclusion.
This content is imported from Twitter. You may be able to find the same content in another format, or you may be able to find more information, at their web site.
We've become accustomed to keeping our eyes peeled for even the smallest Easter egg in the MCU, and while the likes of Iron Man 2's Namor tease still haven't come to pass, others, like a potential No Way Home reference for Miles Morales could have much more imminent ramifications.
The Moon Knight premiere teased Spector's partner in crime, with a sneaky Easter egg hinting at it being Jean-Paul Duchamp. When Grant opened up Spector's hidden Motorola Razr for a retro throwback, one of the saved numbers is Duchamp. It doesn't take a genius to figure out this is the same Jean-Paul Duchamp from the comics.
Introduced in 1975's Werewolf by Night #32, Duchamp is an ex-French Foreign Legion soldier who befriended Spector while working in North Africa.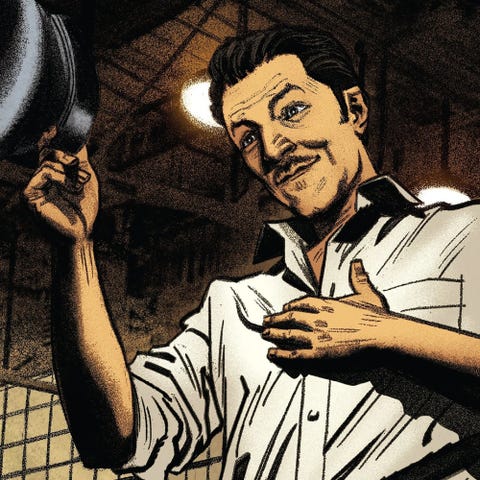 Marvel Comics
The pair soon hit it off, with Moon Knight affectionately referring to Duchamp as Frenchie. Moon Knight is often dubbed Marvel's answer to Batman, so think of Frenchie as his very own Alfred.
Instead of bringing cups of tea and maintaining a mansion, he's Moon Knight's personal chauffeur and pilot. The dynamic duo are best friends and, in a 2006 comic arc, an emotional Frenchie came out as gay. Much more than this, he actually admitted he'd been attracted to Spector for years.
The casting sheet for Moon Knight previously mentioned someone "stereotypically good looking, overly enthusiastic, less intelligent than average but still loveable."
Given that they also had to be fluent in French, it's highly likely Frenchie is on the way. For now though, he's simply an Easter egg in a burner phone. Head writer Jeremy Slater previously said, "We didn't have room for his classic supporting cast," when asked whether Moon Knight love interest Marlene or Frenchie will appear.
It would make sense to establish Moon Knight in his own world before throwing in the kitchen sink of accomplices and villains, but remember it already looks like Marlene has been repurposed as May Calamawy's Layla El-Faouly.
If this is the case, we might not get Frenchie and his LBGTQ+ representation in Moon Knight.
This content is imported from Twitter. You may be able to find the same content in another format, or you may be able to find more information, at their web site.
Addressing the rainbow-colored elephant in the room, it remains to be seen whether Disney will make any mention of Duchamp or his sexuality.
As it stands, only Eternals has featured an openly gay hero in the MCU, meaning the franchise has repeatedly been accused of being slow on the uptake. We have the likes of Loki and Sylvie's sexuality alongside confirmation Tessa Thompson's Valkyrie will be "explicitly queer" in Thor: Love and Thunder, but in general, LGBTQ+ themes are relatively new to the MCU.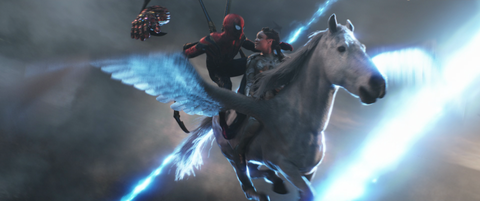 Marvel Studios
Frenchie's sexuality could further open the door to other major heroes like X-Men's Iceman or a future version of Billy Maximoff being gay.
If Frenchie appears, Moon Knight doesn't necessarily need to out-and-out shout from the rooftops that he's gay. Taking a leaf out of No Time to Die's reveal of Q's sexuality, Duchamp's orientation only needs to be a subtle reference.
Disney has an even murkier history with the LGBTQ+ community, and after Star Wars: The Rise of Skywalker was dragged across the coals for a disappointing same-sex kiss, the upcoming release of Lightyear has also been dogged by the same controversy amidst the 'Don't Say Gay' bill.
Of course, when (not if) Frenchie arrives in Moon Knight, it will be interesting to see whether the MCU will be waving the rainbow flag proudly, or this is just another shadow on the MCU's questionable LGBTQ+ report card.
This content is created and maintained by a third party, and imported onto this page to help users provide their email addresses. You may be able to find more information about this and similar content at piano.io