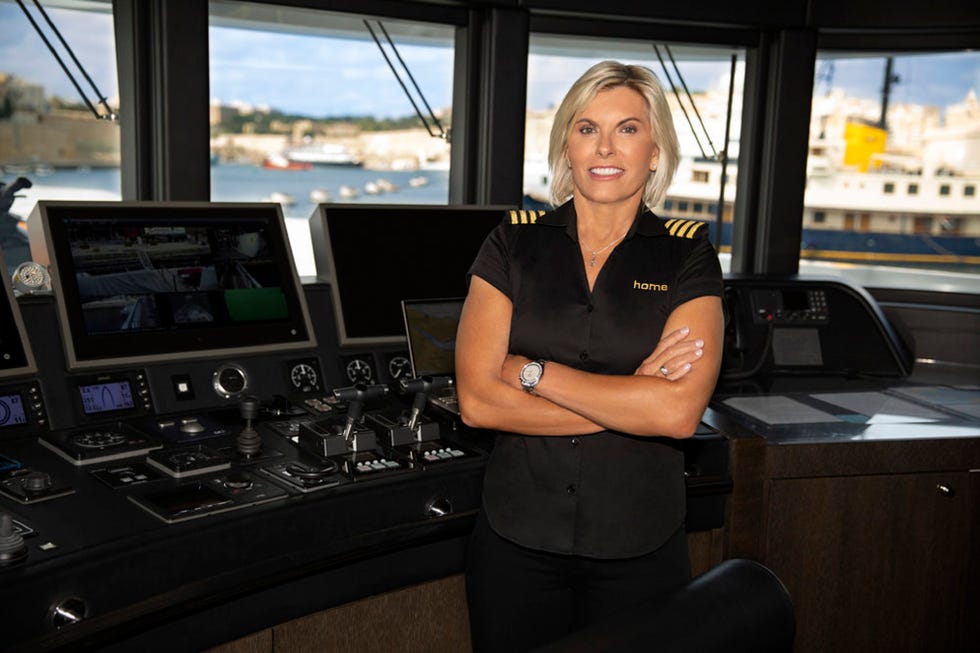 Below Deck Mediterranean is making its return for a seventh season and Bravo is giving us a first-row seat to the drama that goes down in none other than beautiful Malta.
While Captain Sandy Yawn will be returning, she'll be in charge of a brand new superyacht and a mostly new crew. Captain Sandy welcomes back fan fave, Mzi "Zee" Dempers, who is returning as a deckhand.
This season's superyacht, Home, becomes home to the newest crew members, chief stew Natasha Webb, chef Dave White, bosun Raygan Tyler, stew Natalya Scudder and Kyle Viljoen, and deckhands Storm Smith and Jason Gaskell.
The trailer revealed loads of stormy moments, including a yachting emergency, shipwrecked romances, and a few crew clash-outs that point to this season being a bumpy but entertaining ride. So, as we welcome new names to the world of Below Deck, we wonder what the cast and crew have been up to since wrapping up in the Mediterranean.
Captain Sandy returned for her sixth season taking charge of the Home and its new crew. Following filming for the show, Sandy has taken on a number of gigs beyond the world of super yachting, including giving motivational speeches and attending the Cannes Pride parade alongside Andy Cohen. The Bravo star and her partner, Leah Shafer, remain located in Denver, Colorado, where Yawn moved to back in 2019. The duo recently announced that they will be starting a podcast together, titled The Captain Sandy & Leah Show. "What are you struggling with? How can we help you navigate the NEXT RIGHT THING?" Captain Sandy wrote on Instagram, seemingly making the show one that's centered around self-help and life advice.
2
Natasha Webb – Chief Stew
Natasha Webb, or as she goes by, "Tash" reigns from West Yorkshire, England and has over a decade worth of yachting experience. The newest chief stew has been up to quite a lot since the show stopped filming. Webb found herself struck by the COVID-19 virus, falling ill back in December during a trip over to Dubai. Since recovering, Tash has certainly taken a liking to being on television after having filmed for a comedy series titled, Stay Safe. Natasha also works as the CEO of Indie Pearl, a yachting recruitment company, which has grown to two employees, Webb shared on Instagram, proving herself to be quite the busybody.
While Below Deck Med has not always been so lucky when it comes to its choices in chefs, it appears as if Chef Dave White knows what he's doing. The UK-born culinary artist has countless years of cooking experience under his belt—including opening up his very own seasonal French-based restaurant. During his time post-filming, Dave underwent spinal surgery following a back injury. Since then, White has remained committed to being a chef but has also embarked on a physical and mental journey as he preps for his ascend up Mount Everest in 2023.
Raygan Tyler joins the Below Deck Med team as this season's Bosun. While Malia White will no longer appear on our screens, it's safe to say Raygan will be bringing a much different vibe than her predecessor. Tyler reigns from Essex, England and is officially the second female bosun to work alongside Captain Sandy. Rumors have already begun swirling that Raygan does not finish out the season, and ultimately gets replaced. In the r/belowdeck Reddit thread, Raygan allegedly leaves Home before she's meant to, leading last season's Courtney Veale to return. It appears Raygan prefers to live out her life in private, as her social media remains restricted to the public.
Natalya Scudder is bound to bring her Aussie charm aboard this season's Home as she takes on the role of first stew. Scudder wasted no time returning back to Australia following the show's filming, however, she didn't stay for too long. Natalya caught quite the travel bug, flying to exotic locations including Bali, Ibiza, and Cannes, to name a few. It's evident Scudder is enjoying the spotlight as she's now taken on the role of both reality TV personality and influencer. The Below Deck Med cast member has been spotted boarding private jets, posing in front of lavish Lamborghini's, and sipping champagne in Cannes. By the looks of it, Natalya is currently single, as she prefers to "catch flights, not feelings."
Kyle Viljoen joins this season of Below Deck Med as a stew and he is certainly suited for the job. While Kyle was born and raised in South Africa, he's since relocated to New York City. Earlier this year, Kyle posted the cutest pic of him and his partner, Zachary after making the decision to move in together. Since then, Kyle has been living his best life in the Big Apple, all while getting his travel on to an array of dreamy destinations across the Americas including Vermont, Colorado, and Costa Rica.
Storm Smith is often described as a "modern-day pirate," as he brings aboard his South African flare and adventurous vibe. After wrapping up filming, Storm went from yachtie to globe trotter as he participated in deep dives in Florida, hikes in Sri Lanka, and snorkeling in the West Indies all before heading back home for a quick visit. Today, Smith resides in Italy, taking in all that the stunning country has to offer including trips to the Amalfi Coast and Lake Como. While Italy may not be his forever home, it's safe to say that Storm, who is a self-declared olive addict, isn't going to be settling down anytime soon.
8
Jason Gaskell – Deckhand
Jason Gaskell boards the Home in his very first superyacht experience. The Florida Keys-native spent a decade working in finance before making his way over to a world of living and working at sea. Since the show wrapped, Jason has also caught the travel bug traveling to an array of breathtaking spots including Seychelles, and the French Alps, per ScreenRant. While Gaskell keeps his socials private, he's all about making his business public. Jason owns and runs his very own clothing company, called Sextant Sailing, which caters to sailing, traveling, and custom nautical clothing.
9
Mzi "Zee" Dempers – Deckhand
Fan favorite deckhand, Mzi "Zee" Dempers is making his return for a second season, and happily so. The South African yachtie is the only returning cast member alongside Captain Sandy, making it clear he's a Below Deck force to be reckoned with. Zee has since returned home to Cape Town, but not before venturing to a few stellar spots including Paris, and Nice. While he's grown quite the following, the Bravo star took some time away from social media, but rest assured, he made his comeback. "Hey guys, I know it's been a while! I've been super unresponsive to messages and things, but have just been back at home experiencing summer with friends, family, and getting into a new work routine. Hence been off of social media, but I'm back at it," Zee wrote. During this time, Dempers managed to reunite with his former castmates, Courtney and Lloyd in his hometown of Western Cape, a reunion we didn't know we needed so badly.
This content is created and maintained by a third party, and imported onto this page to help users provide their email addresses. You may be able to find more information about this and similar content at piano.io