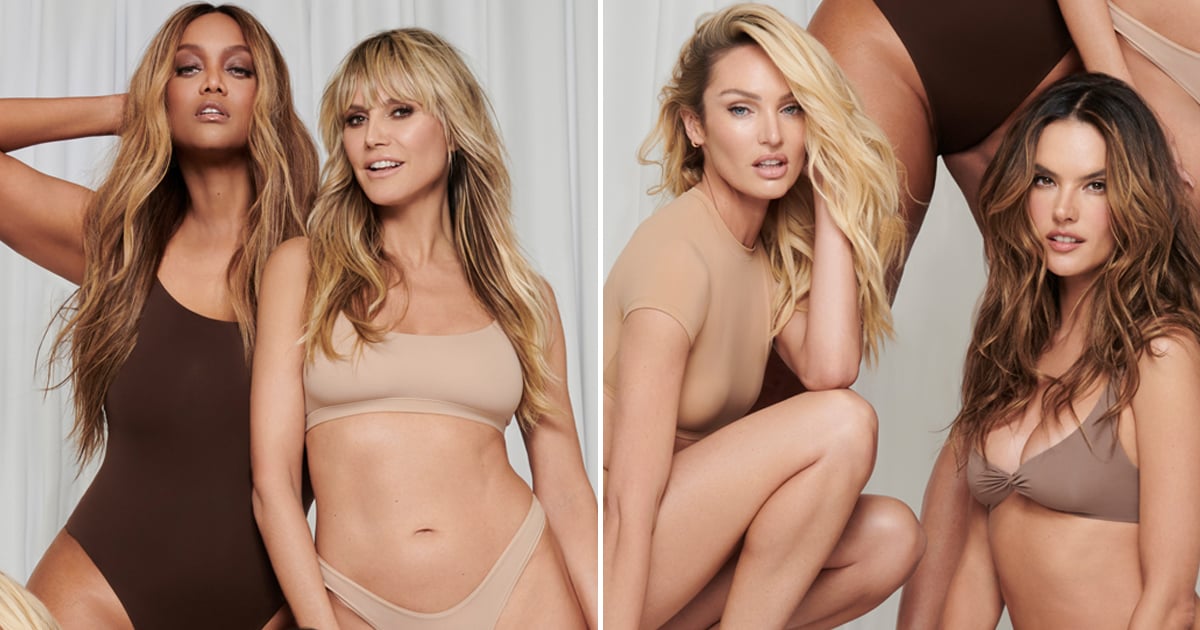 Kim Kardashion pulled off a major fashion-world reunion for her latest Skims campaign. On April 4, the fashion mogul announced her new Icons Campaign, a stunning photoshoot that brought together some of the biggest names to ever walk the runway. Wearing the Skims Fits Everybody underwear collection, Tyra Banks, Heidi Klum, Alessandra Ambrosio, and Candice Swanepoel reunited for the first time in years to showcase their "strength, energy, and everlasting allure."
Powerful leaders in the fashion industry and beyond, all four women have been direct sources of inspiration for countless models since the start of their careers. Even Kardashian couldn't help but gush over the immense amount of talent in one room, taking an unscheduled trip to their shooting location to sneak in a casual selfie with the star-studded crew.
"OK so I wasn't supposed to be in this @SKIMS campaign but I stopped by and jumped in because it was too iconic," Kardashian captioned photos of the campaign on Instagram. "Introducing Tyra, Heidi, Alessandra and Candice wearing our signature Skims Fits Everybody collection."
For Klum, Ambrosio, Swanepoel, and Banks, the reunion was equally unforgettable. "It has been a while since we were all together so it was so special to be reunited. Thank you @kimkardashian for making it happen. 🖤," Klum wrote on Instagram. Swanepoel added, "The posse you never knew you needed . . . 💕."
Banks, in particular, was especially excited to be part of the shoot, her first time modeling underwear since she retired from runway modeling in 2005. "When @KimKardashian called me with the idea to reunite these incredible women and me for @SKIMS, I was intrigued. And here we are!" Banks captioned photos of the campaign on Instagram. "I hadn't modeled lingerie and undergarments since I retired from the runway, but it was like riding a bike. The poses came back even fiercer than before! I'm rocking their Fits Everybody collection which is just as comfy as it looks. And yep, Kim . . . I'm now obsessed."
Beyond their lasting impact on the fashion sphere, all four supermodels have made a name for themselves as musicians, TV show hosts, and more. In addition to being a judge on shows like "America's Got Talent," Klum recently released hosted "Making the Cut" alongside "Project Runway" alum Tim Gunn; Banks racked up several production credits and started a new ice cream business called SmizeCream; Swanepoel continued her work as an ambassador for Mothers2mothers, a nonprofit that provides support for pregnant women and new mothers living with HIV; and Ambrosio became the host of her first TV show, "The Cut," in Brazil.
See the talented models, entrepreneurs, and businesswomen demonstrate their modeling prowess in the Skims Fits Everybody collection here.