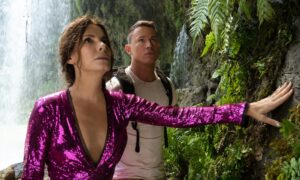 PG-13 | 1hr 32min | Screwball Rom-com | December 25, 2022
In the spirit of "King Solomon's Mines" (and the "lost world" literary genre) but especially "Romancing the Stone," "The Lost City" is basically an old-fashioned treasure hunt and screwball rom-com wherein the male and female leads have classic, "hurry up and get it over with" bicker-chemistry.
At first I hated the thought of another big, slick Hollywood production, but this one actually works. Sandra Bullock, Channing Tatum, and Brad Pitt shine in this light rom-com fueled primarily by the exceptional comedic chops of its A-list cast.

Romance Novelist
Loretta Sage (Sandra Bullock) is a very smart romance novelist who's lost her inspiration since her archaeologist husband died. Her once-steamy potboilers are now lackluster, and she's contemplating killing off "Dash" (whose real name is Alan) (Channing Tatum), the blond-wigged, Fabio-lookalike cover model of all her books.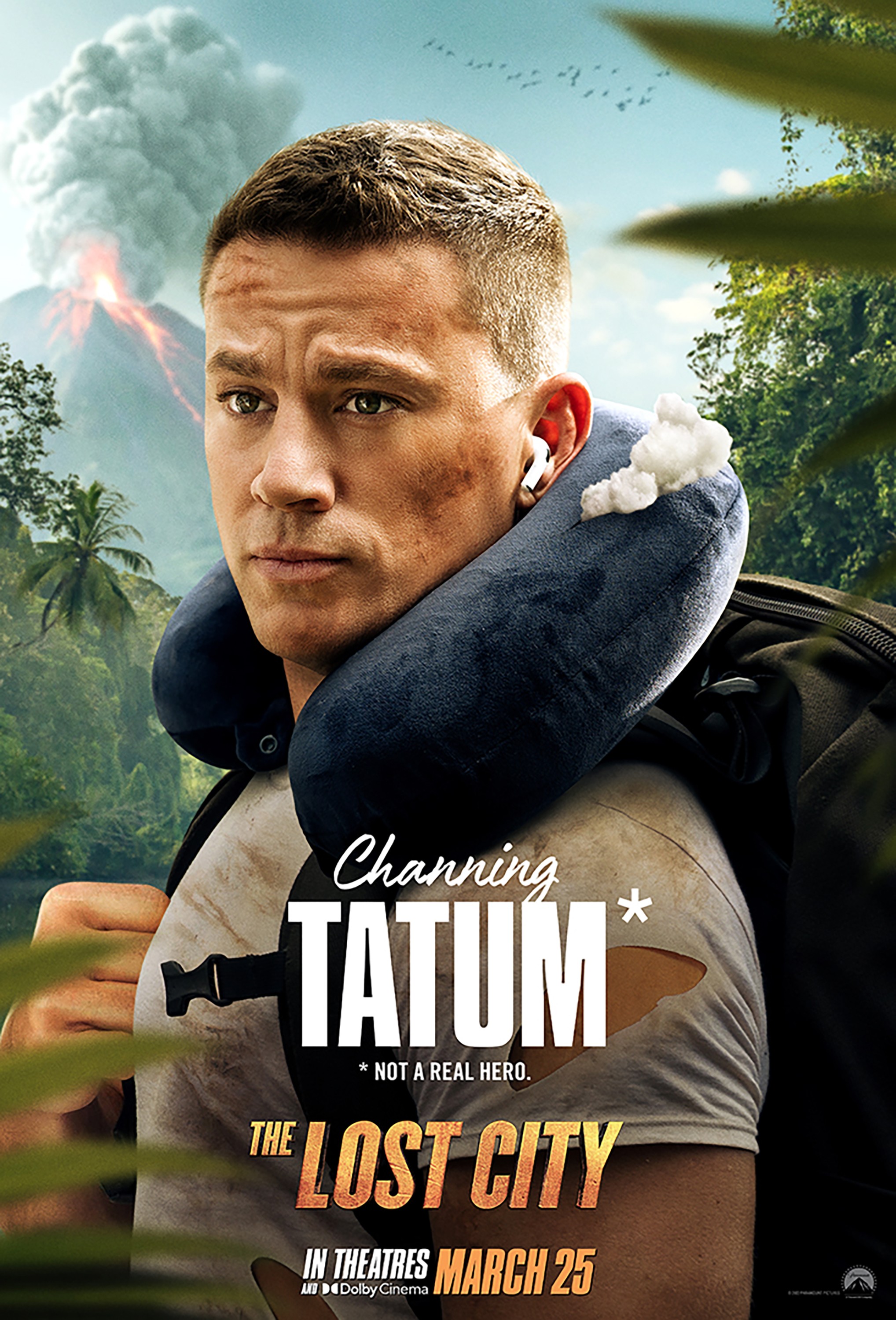 She thinks of her work as "schlock," can't stand Alan, and hates doing book tours, but the ladies (and the emcee) at her book-signing events lurve him. And Alan's got a thing for her, which is good because soon she's kidnapped by billionaire treasure hunter Abigail Fairfax (Daniel Radcliffe), with Alan in hot pursuit.
Fairfax is convinced that Loretta knows where the "Crown of Fire" is, the ancient ruby headdress she described in her last book. And so he kidnaps her and jet-sets with her to a remote tropical island so she can help him find it. Fairfax wants to be noteworthy. (Fairfax suffers from a deep need to please his daddy.)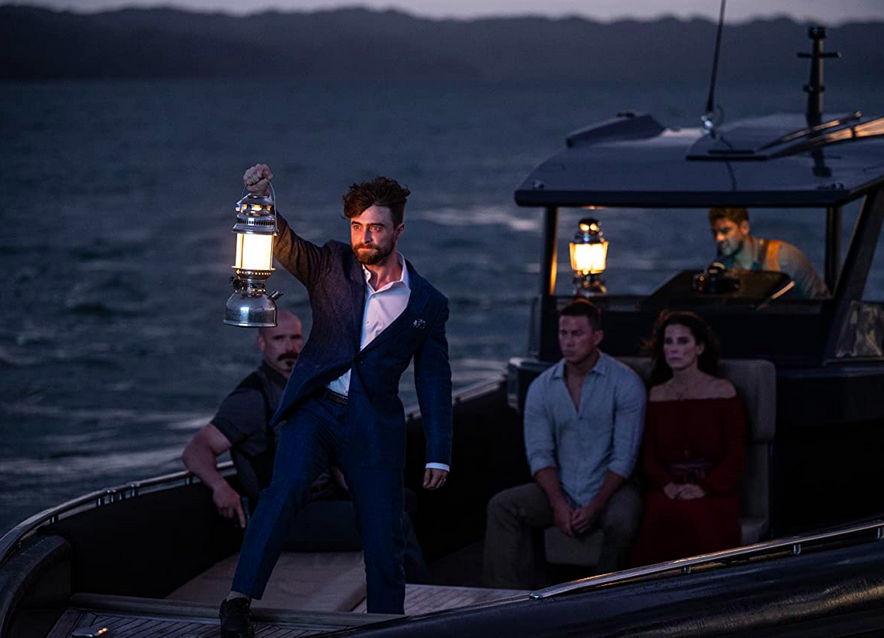 Alan, one of Channing Tatum's stock-in-trade dim-bulb hunks, is, however, smart enough to get an old acquaintance onboard with this rescue. That would be a former Navy SEAL who's now a New Age-y trainer named Jack Trainer (Brad Pitt). Trainer prefers to work solo but Alan won't take no for an answer, and so they follow the signal from Loretta's watch to the middle of the Atlantic Ocean where Fairfax has found the "Lost City of D."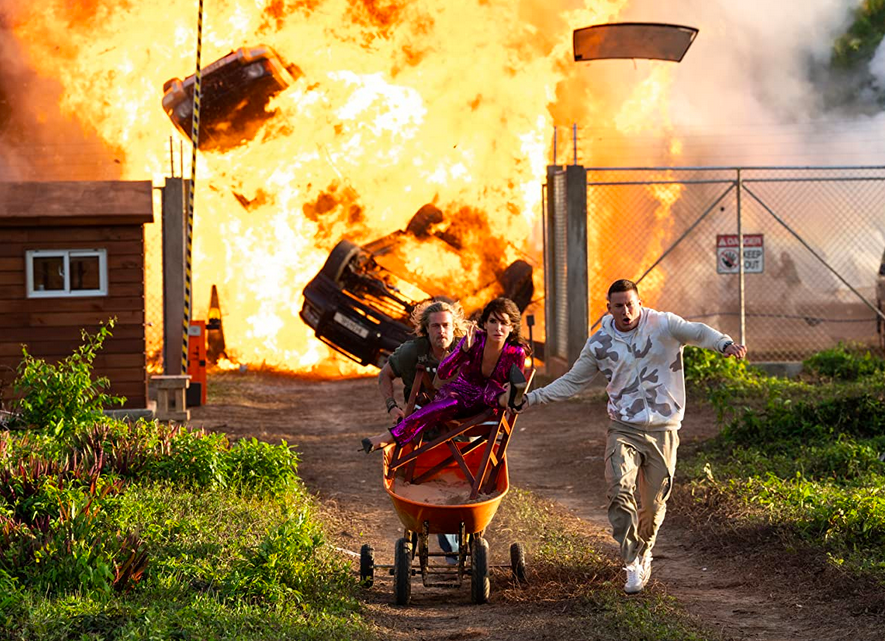 Eventually, free from captivity but still stuck on the island, it dawns on Loretta that maybe she could, in fact, figure out where the Crown of Fire is, and this portion of the film—where she and Alan are pursued by Fairfax's henchmen through the jungle, with her in high heels and a sequined, hot pink onesie—yields the most slapstick laughs.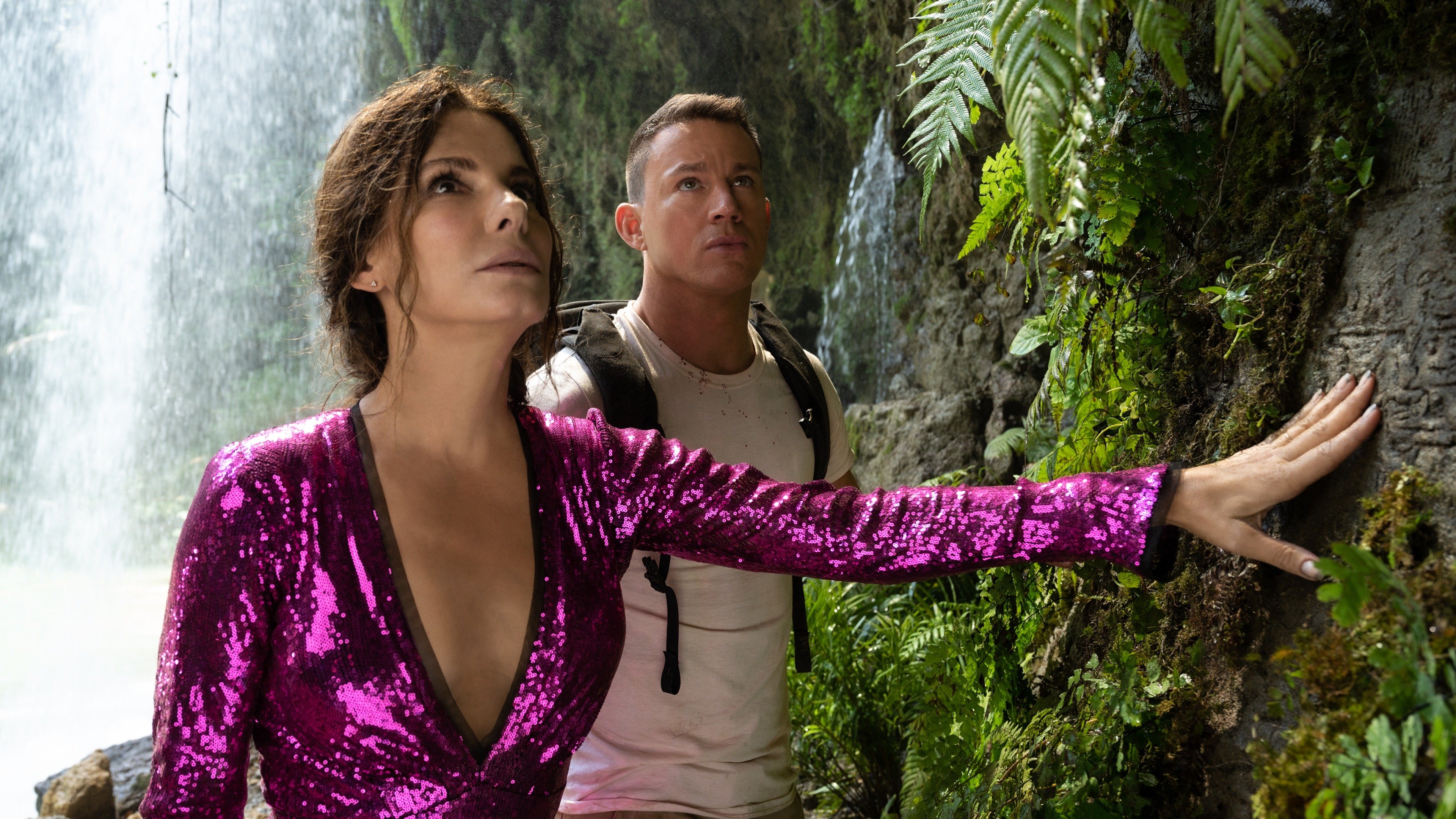 Performances
Da'Vine Joy Randolph is excellent as Sage's all-business publicist who does not suffer fools gladly (and also goes looking for her lost client). But the movie, of course, belongs to Sandra Bullock. Bullock and Tatum have an immediate, physical comedy chemistry that packs almost nonstop laughs, some of which come very close to bellyache inducing.
Tatum's entire career cashes in on three things: beefcake, astounding dance skills, and well-above-average comedy chops especially as a leading man who has the sense of humor and lack of ego required to play the fool. À la "Magic Mike," Tatum has no problem whatsoever being a low-wattage brain in a male pinup body, playing the prone-to-hysteria sidekick to Brad Pitt's manly ex-SEAL (the same role Leonardo DiCaprio played off Pitt's similar manly stuntman in Tarantino's "Once Upon a Time in Hollywood"). Tatum's Alan likes his skincare products, and he thoughtfully packs snacks to bring to Loretta.
Daniel Radcliffe, so far removed from Harry Potter by now, is surprisingly believable as a baddie, although his role is fairly small and underwritten. However, "The Lost City" is the first film that made me sit up, take notice, and stop thinking of him as the all-grown-up Potter. He'll be playing Weird Al Yankovic in an upcoming biopic and I'm looking forward to that now.
"The Lost City" does for a younger generation what Spielberg and Lucas achieved with "Raiders of the Lost Ark." Just as that film dusted off the "lost world" literary genre for the 1980s generation, "The Lost City" dusts off "Raiders of the Lost Ark" for the 2020s generation.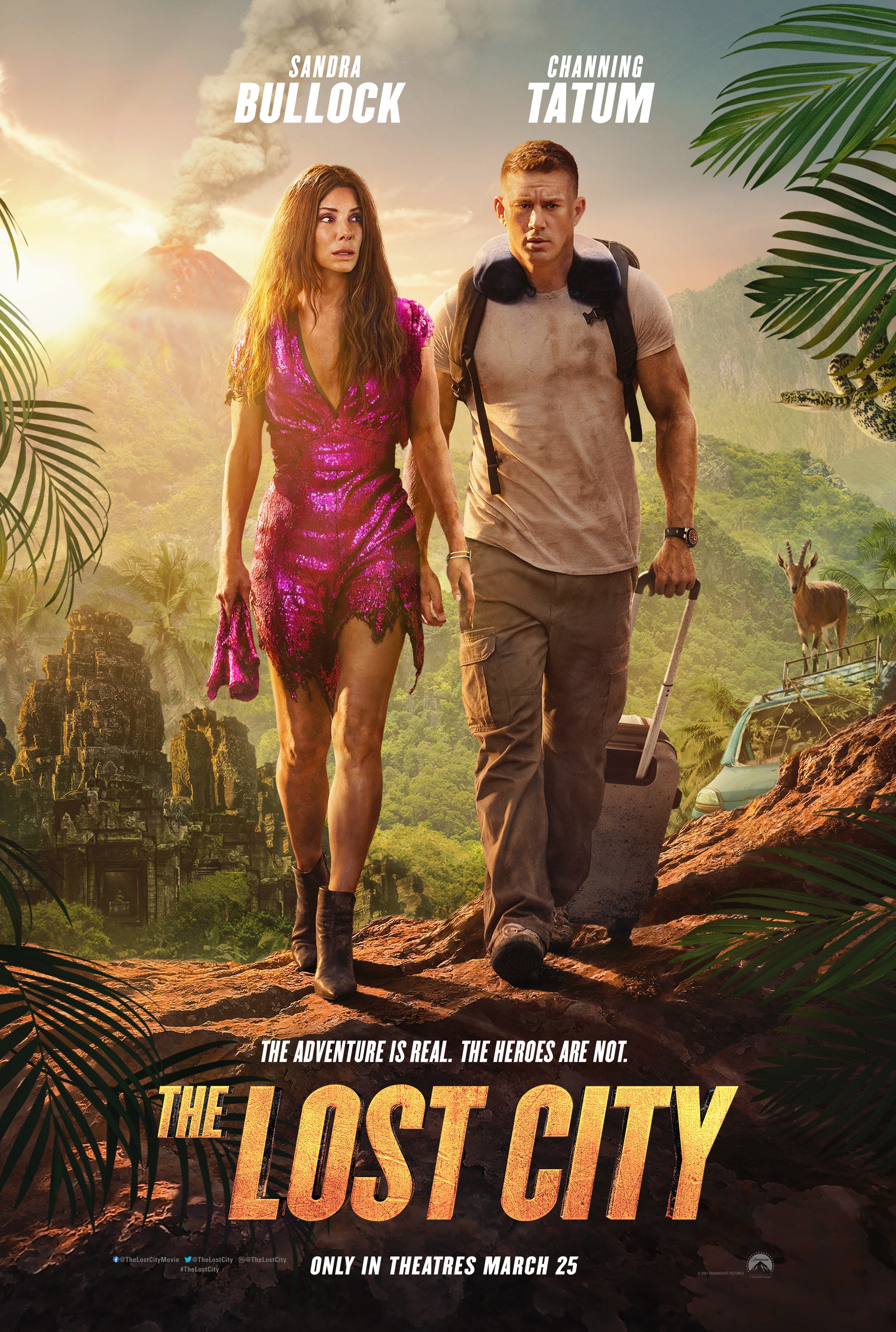 'The Lost City'
Directors: Aaron Nee, Adam Nee
Starring: Sandra Bullock, Channing Tatum, Brad Pitt, Daniel Radcliffe, Da'Vine Joy Randolph
Running Time: 1 hour 52 minutes
MPAA Rating: PG-13
Release Date: March 25, 2022
Rating: 3.5 out of 5 stars