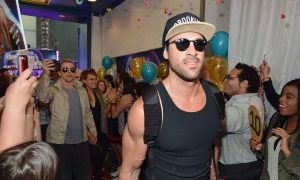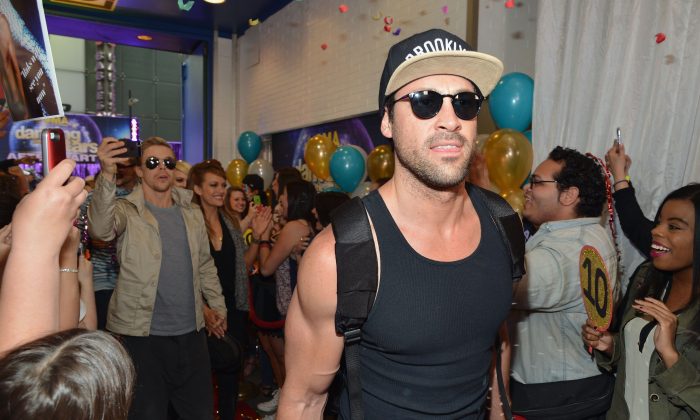 'Dancing With The Stars' Season 18 participants Derek Hough, Amy Purdy and Maksim Chmerkovskiy arrive to ABC's 'Good Morning America' at Times Square on May 21, 2014 in New York City. (Slaven Vlasic/Getty Images)
Maksim Chmerkovskiy with "Dancing with the Stars" said he was arrested while trying to flee Ukraine, his native country, but he is now traveling back to the United States after fleeing the war-torn nation.
"There's a lot of fighting everywhere," Chmerkovskiy said on social media. "Streets are crazy. At one point I got arrested… but all good, promise. That was probably the least traumatizing moment in this whole thing as far as Ukraine is concerned, but for me it was just a reality check … a crazy reality check."
It's not clear who arrested him or the details of the incident.
Chmerkovskiy had been in Ukraine before Russia invaded while trying to film "World of Dance UA," according to reports.
Later, he wrote on Tuesday that it is in a "hotel in Warsaw," the capital of Poland after fleeing via train.
"We're heading to Warsaw (hopefully). Train to Lviv was not an option," Chmerkovskiy wrote on Instagram earlier this week. "The situation at the train station is insane. AT first it feels manageable, but it gets A LOT worse when it comes time to actually board the train. Long story but all I can say now is that I'm a big man with nothing but a backpack it's TRAUMATIZING."
Chmerkovskiy, who is a U.S. citizen, said that while he was trying to escape, he saw a young boy say goodbye to his father.
"What finally broke me is when I was watching an eight-ish year old boy, hysterically crying and not wanting to let go of his father. Verbatim: 'if you stay I want to stay too because if they kill you I won't be able to help,'" he said via social media.
According to the United Nations Refugee Agency, about 660,000 people have left Ukraine since Russia invaded last week.

Follow
Jack Phillips is a breaking news reporter at The Epoch Times based in New York.