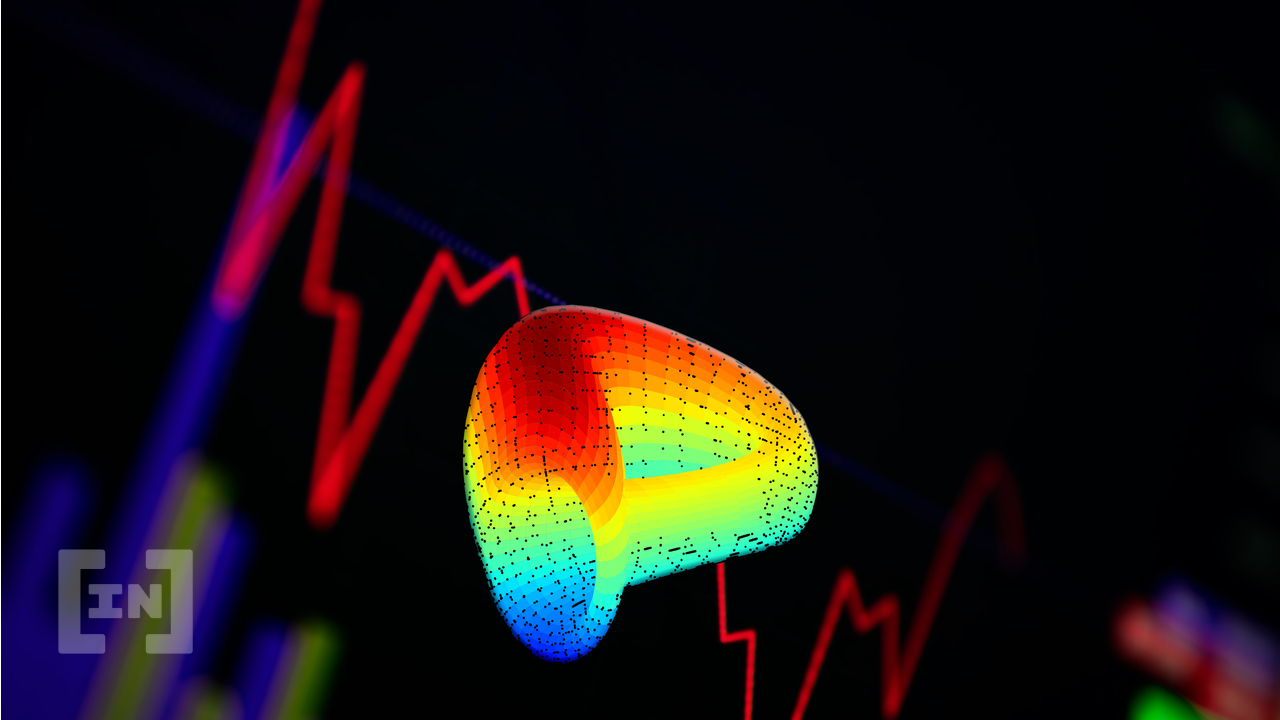 Curve total value locked (TVL) fell steeply in the second week of May due to decreased investor interest in decentralized finance (DeFi).
Curve was the decentralized application with the most value locked for a long time. According to Be[In]Crypto Research, Curve has lost 61% in total value locked since the start of the year.
On Jan 1, it had a TVL of approximately $23.25 billion, and this declined to around $8.92 billion on May 13.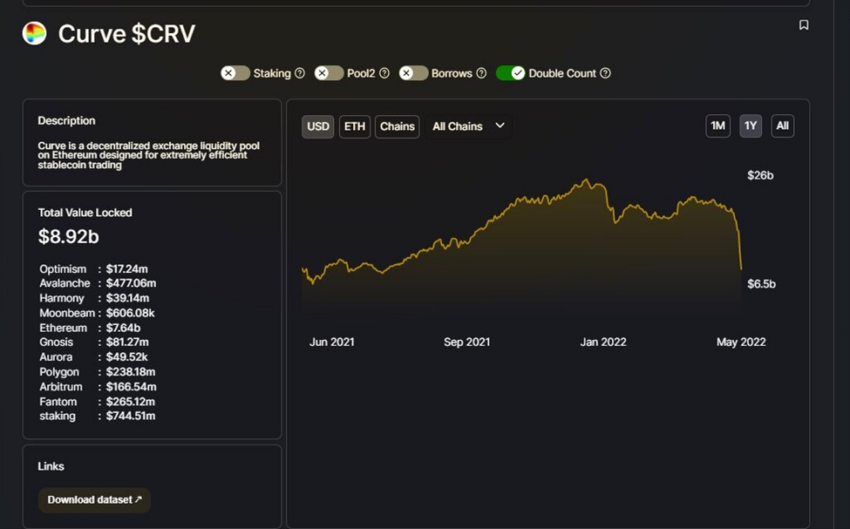 Launched in 2020, Curve is a decentralized exchange (DEX) for stablecoins (sUSD, DAI, EURS, USDC, USDT, UST, BUSD, and GUSD) which uses an automated market maker (AMM) to manage liquidity.
Why the decline in TVL?
TVL fell steeply due to a crash in the overall total value locked on the blockchains the DApp is deployed on.
TVL on Ethereum at the start of the year was in the region of $20.53 billion. The bearish trend of the market saw a 62% drop in this figure to around $7.64 billion on May 13.
Curve TVL on Avalanche on Jan 1, was approximately $1.26 billion. On May 13, the total value locked of CRV was $477.06 million, a 62% decline in five months.
The total amount staked was around $2.21 billion at the beginning of the year. This figure dropped by 66% to $744.51 million on May 13.
The total value locked in CRV on Fantom was in the region of $588.89 million on Jan 1. In the second week of May, this figure dwindled by 54% to around $265.12 million.
On Arbitrum, Curve TVL was approximately $450.38 million at the start of the year. Decreased investor interest in TVL saw a plunge of 63% to $166.54 million within the same period.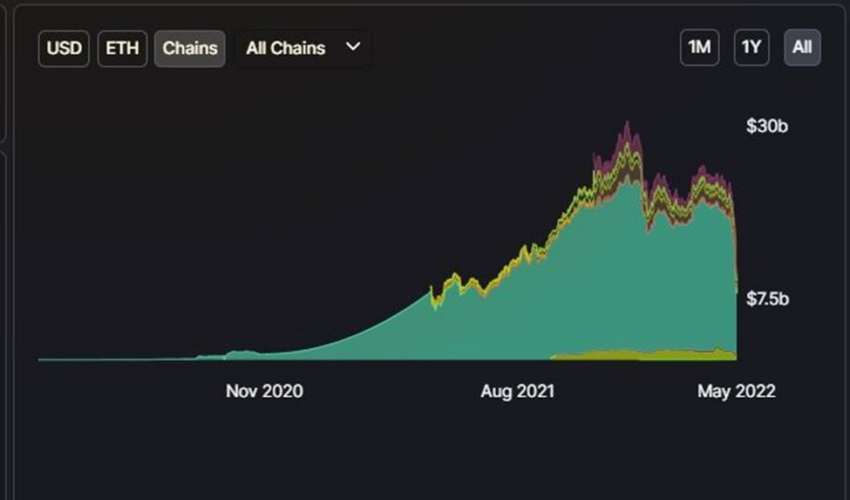 After plummeting by more than $14 billion thanks to the aforementioned chains, Curve has lost its place in line to Lido and MakerDAO.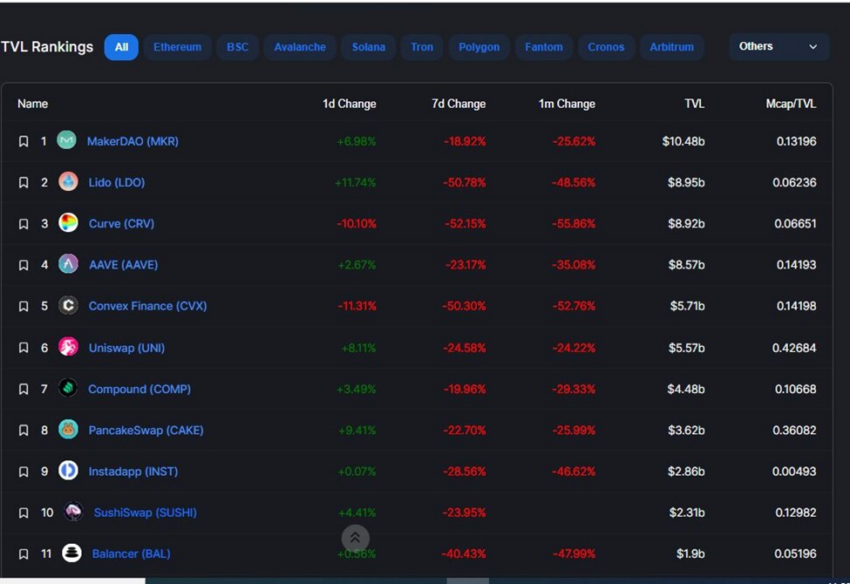 With that said, despite the declining TVL, CRV still holds the lion's share in value locked over Aave, Convex Finance, Uniswap, Compound, PancakeSwap, Instadapp, SushiSwap, and Balancer.
Curve price reaction
CRV opened in 2022 with a trading price of $5.35. The coin reached a yearly high of $6.74 on Jan 4 and was exchanging hands for $1.53 at publication time.
Overall, this equates to a 71% loss in the price of CRV since the beginning of 2022.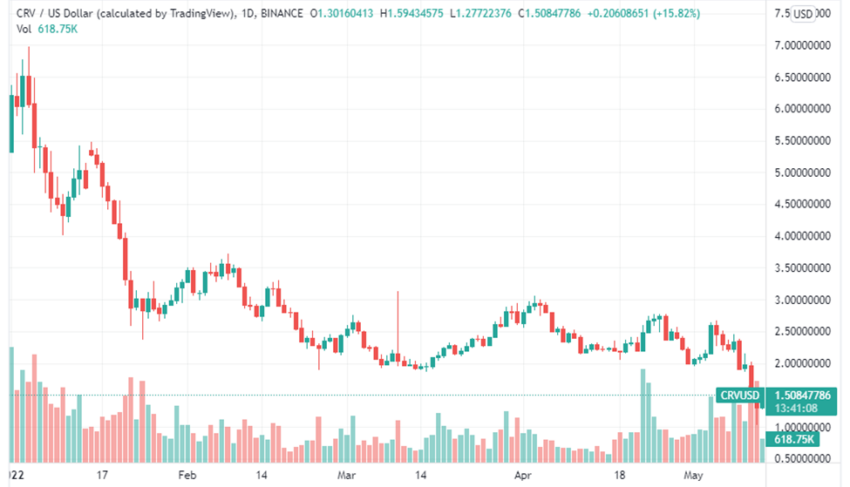 Disclaimer
All the information contained on our website is published in good faith and for general information purposes only. Any action the reader takes upon the information found on our website is strictly at their own risk.