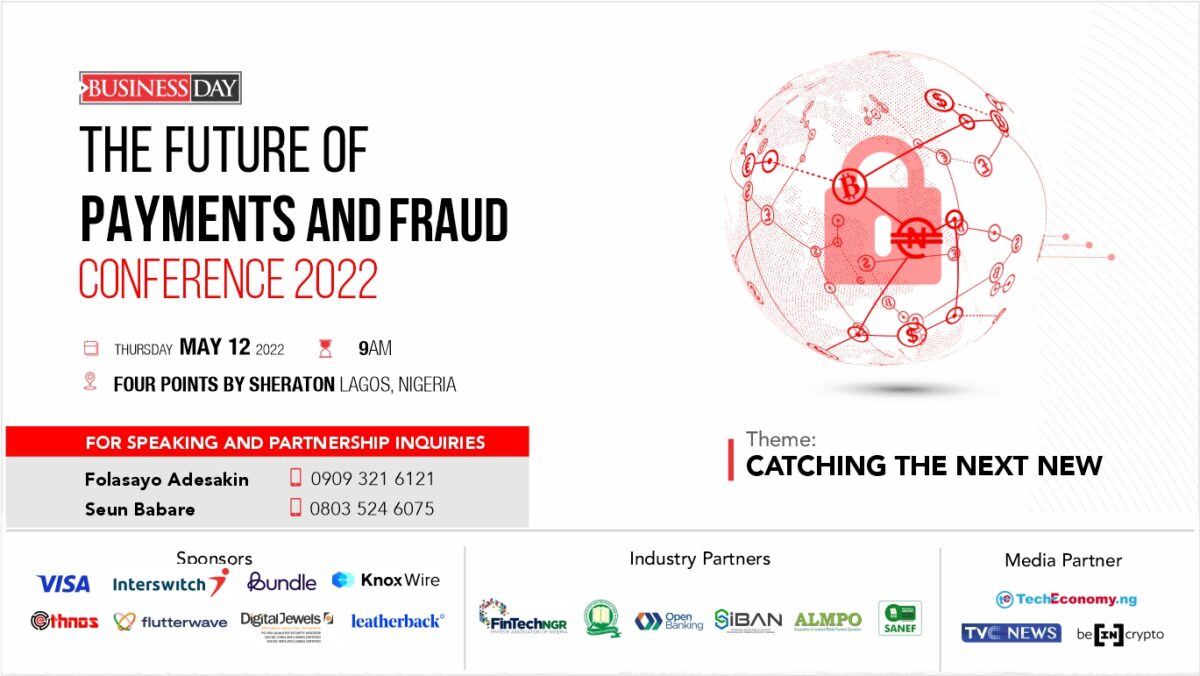 To bring the Future of Payments and Fraud Conference to life, BusinessDay will provide experts and thought leaders in the National Payments System, as well as views from global industry leaders at the Four Points Hotel by Sheraton, May 12, 2022.
According to a report by KPMG, the payments landscape has gone through significant transformation in recent years. Technological advancements have led to step changes in innovation, with payments becoming faster, on both a local and global scale, cheaper, easier, and more convenient.
This has not gone unnoticed by the regulators who are now looking into how regulation needs to adapt to meet these changes. As business and customer needs evolve, it is clear that the payments ecosystem must be agile and open to innovation without sacrificing the financial stability that the infrastructure is built on.
With huge interest from South Africa, Kenya, Egypt, USA, UK, Canada, Estonia, and so many other countries, the event will highlight discussions around What is the next big thing in Payments? Digital Financial Services Adoption: Securing the Access Points against Fraud, Digital Identity: Building a collaborative firewall against fraud and other paper presentations.
The special guests and speakers for this event include Aishah Ahmad, Deputy Governor FSS CBN, and YakubuOseni, Chairman Senate Committee on ICT and Cybercrime National Assembly, Andrew Uaboi, Country Manager VISA Nigeria, Emmanuel Babalola, Chief Executive Director, Bundle Africa, Akeem Lawal, Managing Director, Payment Processing and Transaction Switching (InterswitchPurepay), Jonah Adams, Managing Director Infrastructure and Managed Services (InterswitchSystegra) Interswitch.
Kareem Adebayo Olatoye, Motunrayo I. Joseph-Hunvenu from the Faculty of Law, Lagos State University, Peter Ejiofor Chairman/CEO Ethnos IT Solutions Limited, OluAkanmu, President and CEO, OPay Nigeria, UduakUdoh, Chairman ACAEBIN and Group Chief Audit Executive, First Bank of Nigeria Limited.
RonkeKuye, Chief Executive Officer Shared Agent Network Expansion Facilities Limited (SANEF), Ibrahim Toyeeb, CEO, Leatherback, AdedoyinOdunf, MD/CEO Digital Jewels Ltd, Adedeji Olowe, Trustee, Open Banking Nigeria and Founder Lendsqr, BabatundeOghenobrucheObrimah, Chief Operating Officer, Fintech Association of Nigeria, Ihenyen, President, Stakeholders in Blockchain Association in Nigeria (SIBAN) and Lead Partner, Infusion Lawyers, Clifford Niemand, Chief Operations Director, KnoxWire.
Other industry leaders include Simeon OgunnubiNofa, Chief Operating Officer, AjoCASH, TayeAwofiranye, Managing Partner Trusted Advisors, C.S.E. NuruBuhariDalhatu, Head, Digital Forensics Unit/ Advance Fee Fraud Section 1, EFCC, Lagos Command, AbikureTega, CEO Kumo Africa, AIG FCID Alagbon Nigeria Police Force, TokunboTaiwo, Group Chief Technical Officer (CTO) Digital Jewels Ltd, MobolajiOriola, Senior Partner Allen and Brooks, Frank Eleanya, Editor, BusinessDay Media Limited, Peter Oluka, Chief Editor Techeconomy.ng and Nimma Jo- Madugu, Partner, Kenna Partners will moderate the sessions at the event.
The conference is sponsored by VISA, Bundle Africa, Interswitch, Ethnos IT Solutions Ltd, KnoxWire, Digital Jewels, Flutterwave, and LeatherBack. With Industry partners such as Association of Licensed Mobile Operators of Nigeria (ALMPO), Fintech Association of Nigeria (FINTechNGR), Open Banking Nigeria, Association of Chief Audit Executives of Banks in Nigeria (ACAEBIN), Shared Agent Network Expansion Facilities (SANEF), Stakeholders in Blockchain Technology Association of Nigeria (SIBAN), and TechEconomy and BeinCrypto as media partners.
Click here to register.
Disclaimer
All the information contained on our website is published in good faith and for general information purposes only. Any action the reader takes upon the information found on our website is strictly at their own risk.