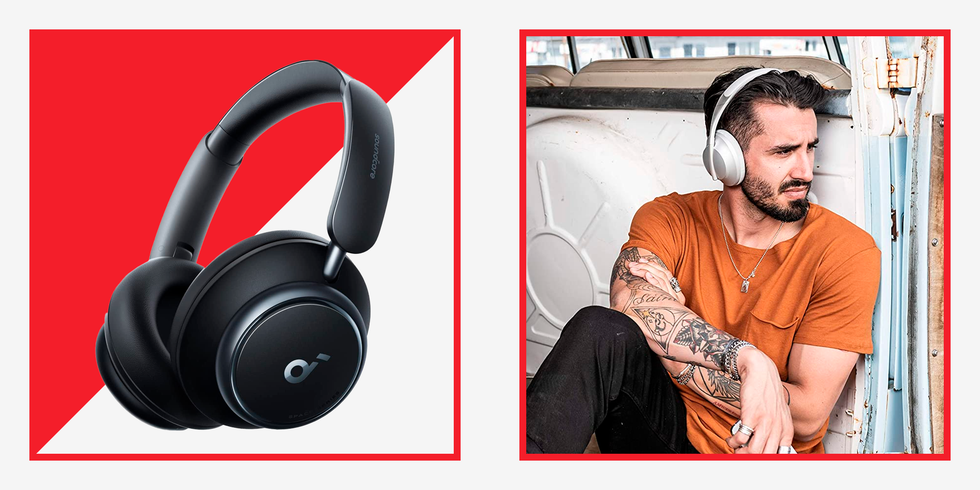 Best Travel Headphones Overall
Bose Noise Canceling Headphones 700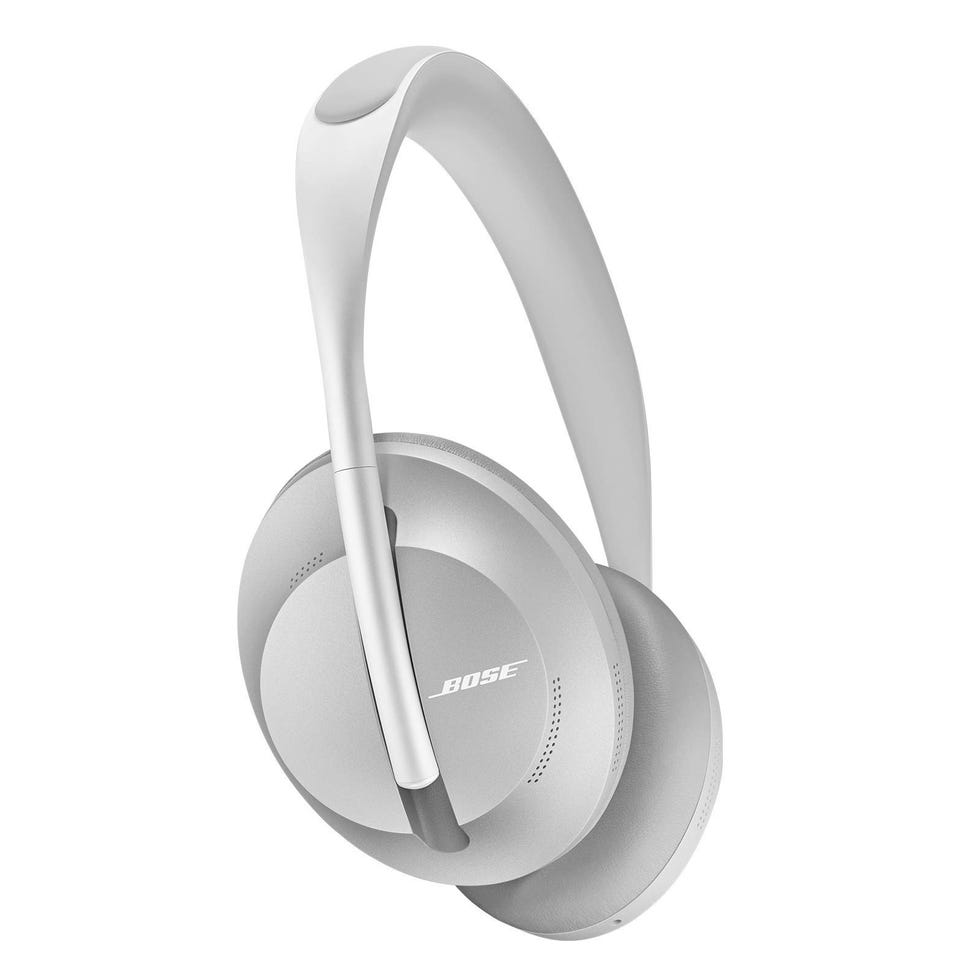 Best Travel Headphones Overall
Bose Noise Canceling Headphones 700
Cons
Battery life could be longer
Lightweight, durable, and driven by performance, the Bose 700 showcases what has made the brand such a staple in travel bags for years. For starters, the 700 has a seriously good level of noise cancellation (11 different levels!) that can drown out everything from crowd noise in a cafe to jet engines roaring on an airplane. You also get 20 hours of battery life, which is long enough to run all the way through long haul flights.
It's true the performance of the 700 can be compared several other pairs of headphones on this list (there's actually one or two pairs that has them beat on sound quality alone), however what the 700 does exceptionally well is comfort. The band that sits on the head is thin and lightweight, which helps prevent fatigue when wearing for hours watching movies on the plane or listening to podcasts in the car. The ear pads also have what feels like the perfect shape and cushioning on the ear. Second, the 700 has actual button controls, making the headphones user friendly in the times you don't want to use its touch controls. And last, the 700 comes in a price point that packs a ton of value. Now, we realize $400 is no number to call "affordable" but the fact these headphones outperform many of the top-of-the-market headphones that are north of $500 gives assurances you're getting your monies worth.
Travel headphones should be approached as an investment if you want smoother, more comfortable travels. Going all-in on a noise cancelling pair like these will give you hours-long comfort so you can enjoy all your entertainment.
Read more: Best Travel Pillows
| | |
| --- | --- |
| Battery life | 20 hours |
| Weight | 8.8 ounces |
| Colors available | 2 |
The Close Second, Best Overall
Sony WH-1000XM4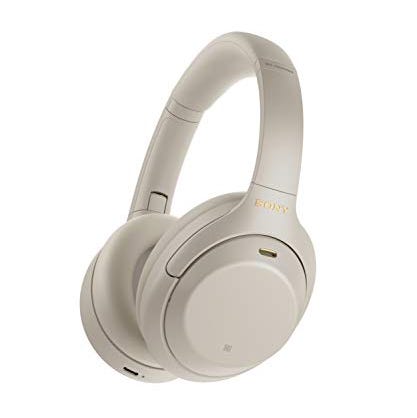 The Close Second, Best Overall
Sony WH-1000XM4
Now 21% Off
Cons
Not as comfortable as the Bose 700
In many ways, the XM4 from Sony stands toe-to-toe with the Bose 700. The noise cancellation on the XM4 is about that same as the 700, blocking out deep bass and loud muffling from cars, planes, and more. The sound quality of the XM4 is also elite, with clear audio for music, movies, and podcasts.
But what the XM4 does better than the Bose 700 is in sound quality is bass. The XM4 just bumps in a bass-heavy way that makes listening to certain genres of music much more enjoyable—like hip-hop and pop. The XM4 also beats the Bose 700 is battery life with a steady 30 hours of run time, compared to the the 700's 20 hours.
So why is the XM4 a close second? Well, the Bose 700 is frankly more comfortable thanks to it's thin build and gentle positioning of the headband and ear pads. But if you are willing to sacrifice comfort for a bit better performance and a longer battery life, then the XM4 is the choice for you. Just be aware you might need to pop the headphones off after a couple hours of wearing to give your head and ears a rest.
Read more: Best Workout Headphones
| | |
| --- | --- |
| Battery life | 30 hours |
| Weight | 9 ounces |
| Colors available | 3 |
Best Value Travel Headphones
Soundcore Anker Space Q45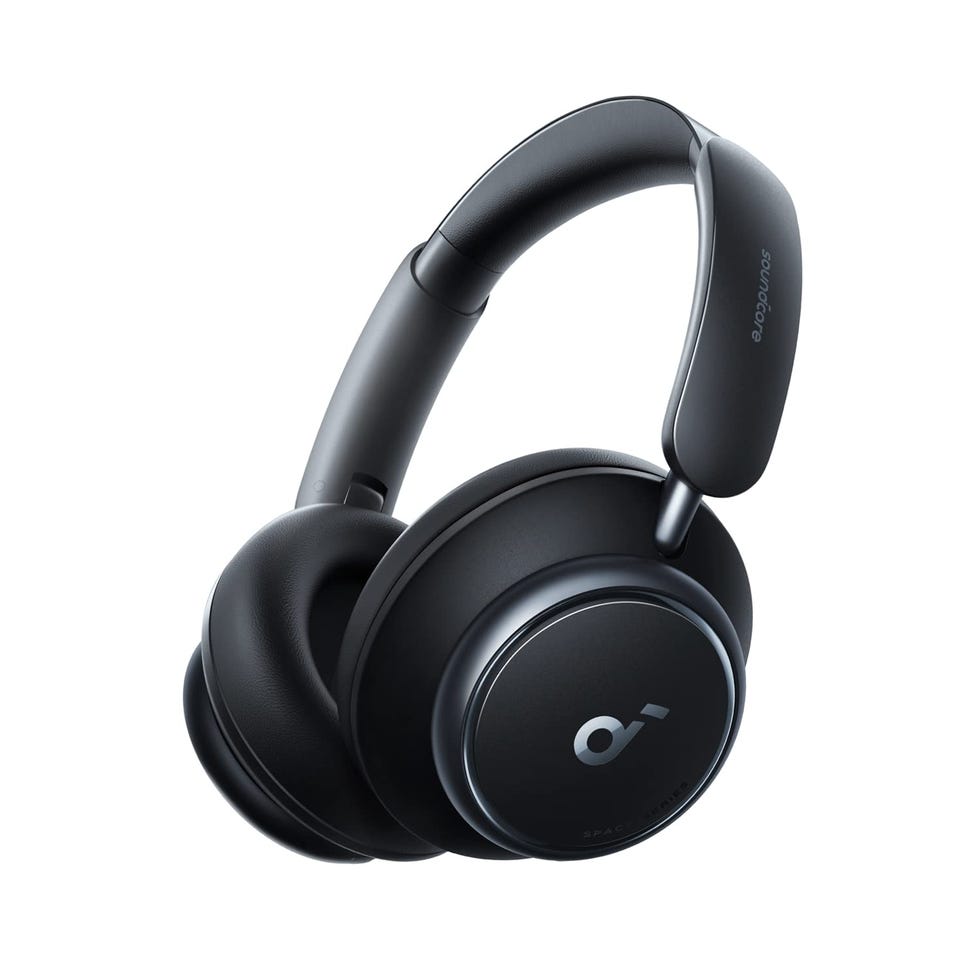 Best Value Travel Headphones
Soundcore Anker Space Q45
You can save some money on your travel gear and get quality performance by buying a pair of Anker Space Q45 headphones. The Q45 packs an impressive level of noise cancellation that performs well on planes, and they have a great battery life of up to 50 hours with noise canceling on. Other features on the Q45 includes an accompanying app you can control the EQ on and an ability to choose between five noise canceling levels.
What we love the most is the sturdy build and friendly price point of the Q45. They are a little bulky and the sound quality is not as supreme as the other headphones on this list, but they nonetheless provide solid noise cancellation and perform much better over any other headphone you can find for $150.
These are also a great buy if you have a premium set of earbuds but have yet to get a pair of over-ear headphones to partner them with.
Read more: Best Outdoor Speakers
| | |
| --- | --- |
| Battery life | 50 hours |
| Weight | 10.4 ounces |
| Colors available | 3 |
Advertisement – Continue Reading Below
Best Audio Quality
Bowers & Wilkins Px8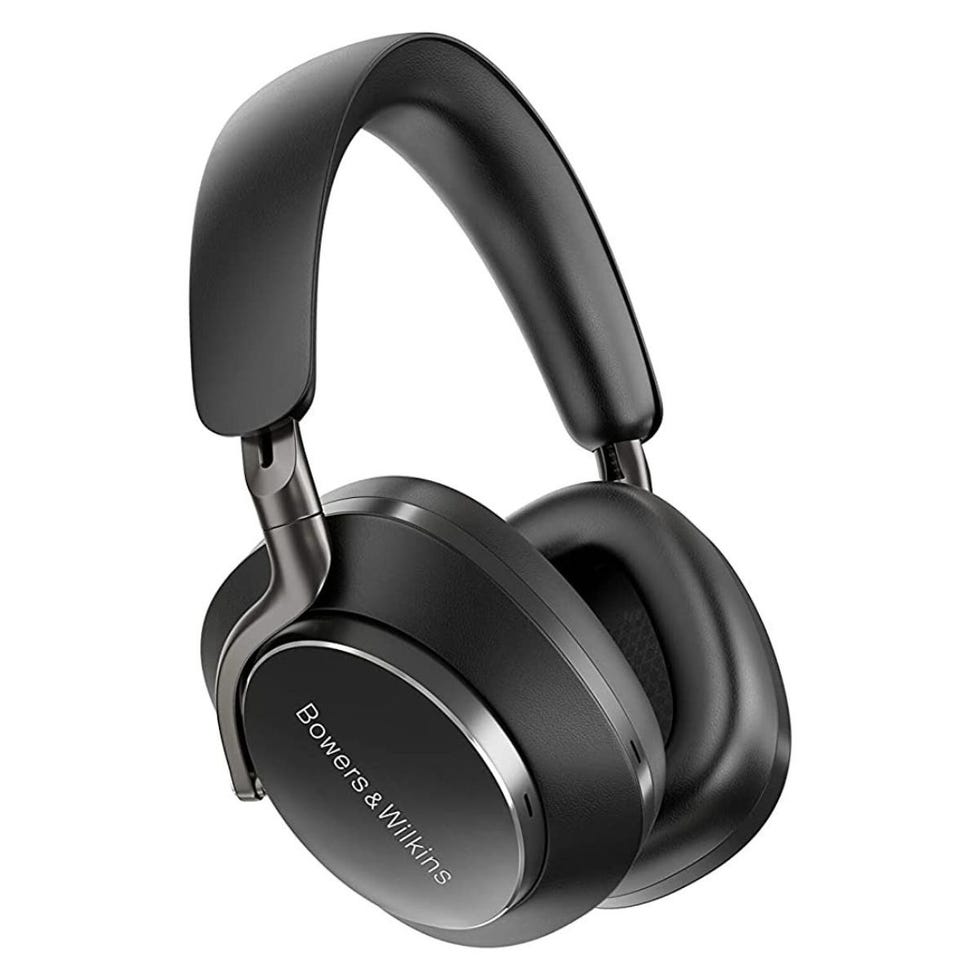 Best Audio Quality
Bowers & Wilkins Px8
If you're looking for a Rolls Royce level of performance and comfort, then you've come to the right place. The Px8 over-ear headphones are widely regarded as having some of the best audio quality around, and we can confirm that is in fact true. Inside the headphones is a 24-bit DSP (digital signal processing) chip that helps create elite noise cancelation for music, movies, podcasts, and more. The Px8 also offers a unique addition of carbon fiber to its drivers (called a Carbon Cone) to make the sound much more rigid and help create crystal clear audio to the highest frequencies. The Carbon Cones can therefore help capture every single droplet of sound for a fully immersed experience.
To have this kind of listening while traveling is, well, pretty dang awesome. The Active Noise Cancellation performs like a champ too and can be controlled via your phone through the B&W app. We haven't even got to mention the aluminum frame and cushioned ear pads, which are comfortable and sturdy enough to handle constant long-haul wear. The last detail to point out is the awesome battery life of up to 30 hours; an impressive feature that's hard to find on headphones like these with such a high level of performance.
The glaring downside to these headphones are the price point. The Px8 is the most expensive offering from B&W and the most expensive headphones on this list, yet we believe because of how high they achieve in performance and luxury they deserve recommendation. Ultimately, we see the Px8 fit for audiophiles who are passionate about their music and for business travelers who are on the road often.
Read more: Best Travel Shoes
| | |
| --- | --- |
| Battery life | 30 hours |
| Weight | 11.4 ounces |
| Colors available | 2 |
Most Stylish
Apple AirPods Max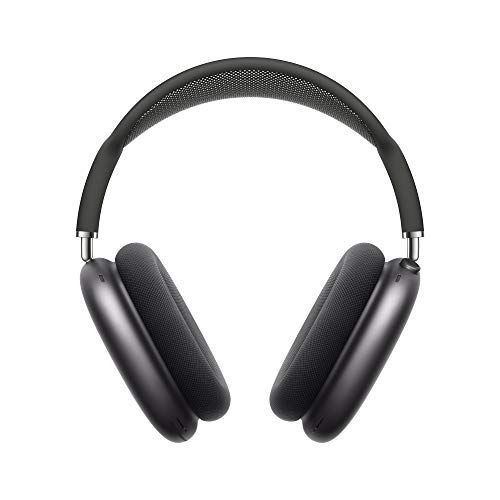 Most Stylish
Apple AirPods Max
Now 13% Off
The most stylish and most seamless headphones for iPhone users, the AirPods Max combine high design with performance in a way that's almost unique in-and-of-itself. With the AirPods Max you get Active Noise Cancellation that drowns out plane engines and locks you into your deep and rich tunes. We found the AirPods Max work well for watching TV shows and movies on your phone, as well as for listening to music and podcasts when going for morning walks to explore a new city you're trying to get familiar with.
In many ways the AirPods Max provide similar audio performance to most of the headphones on this list. What they do exceptionally well is they blend right into the Apple ecosystem and will immediately pair with your phone when put over your ears. You have the Transparency Mode button you can press to let in surrounding sounds in (great for keeping awareness when walking), and you also have the nice little volume toggle button that makes it easy to turn your volume up or down. The magnetic ear pads have a nice airy comfort other headphones do not have, and they can be swapped out over time with ease as they wear down. The metal mesh on the headband is a good design note in the way it allows air in to keep your head cool too.
One major downside is the AirPods Max is inherently heavy due to the materials used. Apple tried to compensate for this by adding the metal mesh on the headband but the fact is if you wear these headphones for more than a couple hours at a time your head and neck can start getting tired. The headphones are also tight on the heads of people who have larger domes, which is really bothering when trying to watch movies on a flight. The price point is more elevated than one would like too.
However, if you can deal with the discomfort after long periods of wear, and you can buy-in on the price or get these headphones on sale, then the AirPods Max are a nice investment for travel. They really do have solid performance, and they have the best pairing for iPhone users and the best style of all the headphones on this list.
| | |
| --- | --- |
| Battery life | 20 hours |
| Weight | 13.6 ounces |
| Colors available | 5 |
What to Consider When Buying Travel Headphones
Noise Cancellation: All travel headphones should have some level of noise cancellation. Buying a pair of headphones without the tech is just going to be a pain to use for hours on end, plus the fact you'll be turning up the volume to try and drown out noise around you is not good at all for your ears. Some headphones have multiple levels of noise cancellation you can switch over to, while others have special active noise cancellation that will adjust to the environments around you in real time. It's worth mentioning once you start hitting that headphone price point of around $400 that most of the noise cancellation is at a premium level that won't be drastically improved further unless you buy headphones that are for professional use—which would not be the case in the instance of buying for travel.
Weight: Travel headphones should obviously be comfortable, but a key detail on travel headphones that can make or break their overall comfort is weight. Even the slightest bit of weight can quicken fatigue and create discomfort, and so when you're planning on wearing headphones for long periods of time its essential to stick to a pair that's not going to make your head or neck tired after an hour or two of use.

Battery Life: The more battery life, the better. However we believe you can sacrifice some battery life when traveling to gain in areas of comfort and performance just because you're likely going to be so close to outlets/power banks for quick charging—if you ever need to do so.

Microphone: Most over-ear headphones have decent microphones for video calls and phone calls these days, but some of them combine their noise cancellation in with the microphone to produce an excellent mic quality. The travel headphones with the best microphone quality on our list would be the Bose 700, the Sony XM4, and the AirPods Max,

Advertisement – Continue Reading Below
Why Trust Us
The MH tech and gear team is constantly testing all of the latest headphones to keep up with new new headphone innovations and releases. We test and review our headphones by taking them out into real world environments first, followed by a hands-on inspection here at our office in New York City. Through the entire process, we rate performance and material quality, while also looking for potential flaws and unique features we find worthy of bringing to buyers attention.
In the past three years, we have tested and reviewed well over 50 pairs of headphones and published our very best recommendations in our evergreen roundups. We also highlight our favorite new headphone releases in our annual Fitness Awards, Tech Awards, and Outdoor Awards.
How We Selected
Our MH commerce team thoroughly researched and tested 20 pairs of headphones ranging in all different price points. We evaluated headphones based on design, durability, special features, style, and price point. We also considered how each pair of headphones performed in all types of travel settings, from flying to driving, to taking the train to walking.
The list above represents our honest picks for the best travel headphones in 2023.
John Thompson
Gear and Commerce Editor
John Thompson is the Gear and Commerce Editor at Men's Health, where he covers fashion, grooming, gear, and technology. He was previously the Style & Gear Editor at BroBible.com, and a commerce writer for TheManual.com. His interests include shopping for rare vintage clothes and following his favorite baseball team, the Kansas City Royals.